LayerPlay - Introducing Art into Interior Spaces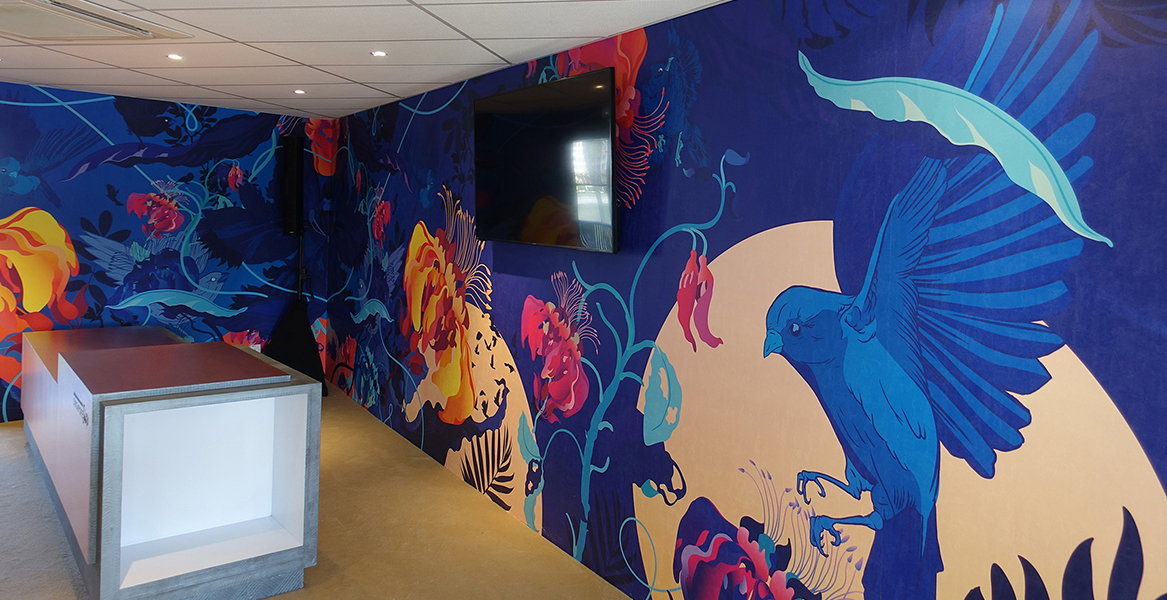 Artistic flair at the Singapore Suite at the F1 Grand Prix 2016 came courtesy of the collaboration between LayerPlay, Singapore Tourism Board, Graphic Design Agency: OuterEdit and Designer Kristal Melson who came up with the artwork concept.
From bespoke designer goods to custom-made furniture that are a perfect fit for your home, real luxury in the modern context increasingly means personalization.
Home-proud owners and designers who take pride in curating every little detail of their desired spaces will be thrilled by what Printerior can offer.
The concept isn't new but LayerPlay founder Ho Yeow Liang recalls facing challenges in finding suitable local contractors with a project that he was working on some years ago.
Subpar designs and shoddy workmanship were seemingly the norm. Unwilling to settle for poor quality work, Yeow Liang also saw there was a market opportunity and set up LayerPlay in 2016.
Printerior (or printed interiors) refers to custom printed wallpapers and wall art using the latest digital printing technologies. The impressive results have won many fans the world over and some European hotels even go to the extent of digitally printing their entire hotel room interiors.
Offering digital on-demand printing for interior design, indoor living settings and spaces, LayerPlay is Singapore's first Printerior specialist which uses the latest print technology coupled with fresh digital artworks to create gallery-grade bespoke pieces. It is also currently the only firm that is able to produce exact fit customized designs.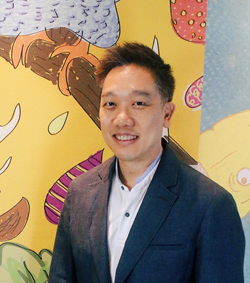 LayerPlay Founder Ho Yeow Liang
''As someone who appreciates paintings and drawings, I've always toyed with the idea of simulating the feeling of awe and inspiration you get when look at a magnificent piece of art. What if you can take this immersive effect and introduce it to a more intimate and private setting for everyone to admire? ", says Yeow Liang.
What sets LayerPlay apart from the competition is the print technology and inks used. The company uses water-based inks – instead of typical solvent-based inks. This eliminates the emission of chemicals and volatile organic compounds (VOCs) seen in mass market solvent-based printable products. LayerPlay product range is "GREENGUARD GOLD ®" certified. The health advantages of the inks used ensure that its 100% safe for the family and does not leave any negative impacts on our surroundings.
Other than its inks and print technology, the material specifications of its Wall Décor products are second to none. Sourced only from the most reputable suppliers in Europe, our material boasts "Class O" Fire-rating & "Micro-venting" competencies, very much suited for tropical climates and temperatures in Asia. Endorsed under the "Bio-Pruf ™", this guarantees the prevention of bacteria, mold and mildew.
A subsidiary of Strategic Colour Press Pte Ltd, a full-fledged printing company specializing in Colour Management, Off-set & Large Format Digital Printing Services since the 90s, LayerPlay's product offering is revolutionising the way designers work.
Armed with full customisation features such as the ability to crop, modify or change colour, Layerplay helps to foster creativity and experimentation. This also translates into shortened production lead times, enabling automation of large workloads as well as economies of scale.
A strong spirit of collaboration lies deep in LayerPlay's DNA and the firm plans to continue working with industry collaborators, local and international artists and designers across various creative disciplines, over the long run to create spectacular and exclusive print projects.
Its close partnership with a multi-disciplinary team of dedicated consultants and creatives from architectural firms and interior design companies, has enabled LayerPlay to transform a humble residential abode, commercial property or retail front into conversational pieces. Notable projects by the company include the F1 Grand Prix 2016, Duo Residences, WeWork Co-working Space as well as a diverse range of clients ranging from residential, commercial and real estate sectors.
Apart from customised prints, LayerPlay offers a wide range of curated ready-made designs from over 70 international and local artists / designers.
Driven by a strong passion for the print medium, LayerPlay has since expanded its range of wall décor solutions from wall coverings, canvas, poster prints to fabric stickers and curtain blinds.
LayerPlay's ultimate goal is to be the leading wall authority in the region and things are looking good — in August this year, LayerPlay has expanded its operations into Yangon, Myanmar.
This is just the beginning for the ambitious firm planning to embark on new business opportunities in emerging markets across Asia Pacific.