Singapore Pavilion goes to Seoul: KOFURN 2018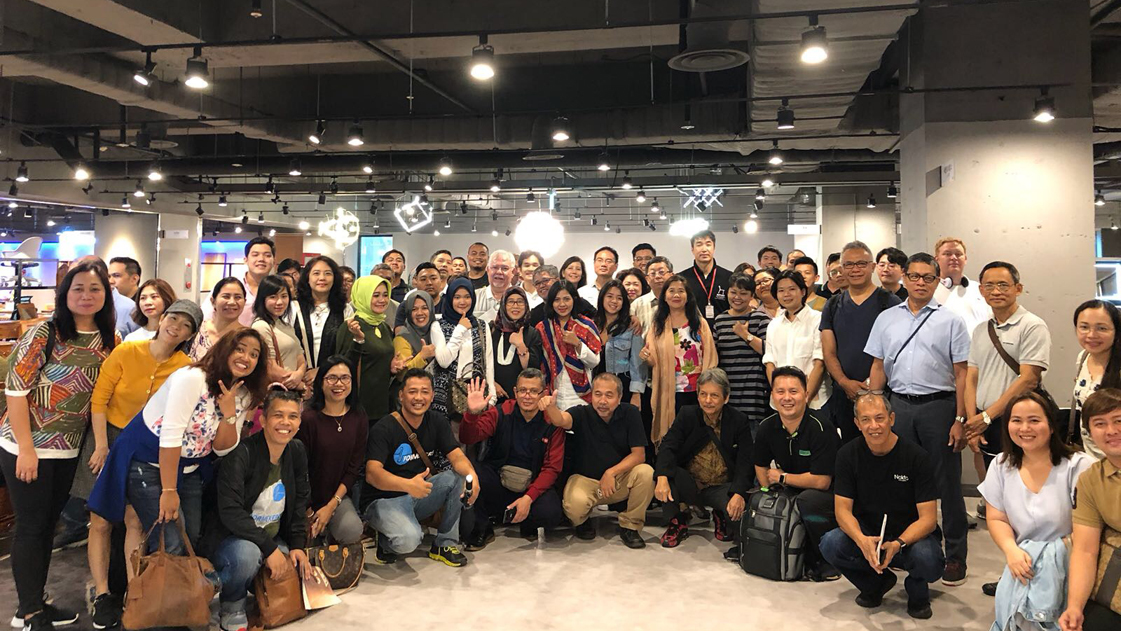 Singapore was one of 14 participating countries at KOFURN 2018, a maiden experience for all our exhibitors. Pictured above are some of our local exhibitors with fellow delegates from the ASEAN region.
Blessed by its close proximity to China and Japan, Korea plays a strategic role as a gateway to these countries. Foreign imports have also been increasing under the South Korean government's open trade policies.
Nine of our industry players recently headed to KINTEX, Seoul, Korea from 29 August to 2 September for the Korea International Furniture & Interior Fair (KOFURN 2018): 4321 Design Pte Ltd, Fraction Design Studio, Greenlam Asia Pacific Pte Ltd, Haleywood Industries Pte Ltd, Office Planner Pte Ltd, Ovas (Singapore) Pte Ltd, Opium Co Pte Ltd, StudioNorm Design Consultants Pte Ltd (StudioNorm x Starchie) & TraDesk Pte Ltd.
Organised by the Korea Federation of Furniture Industry Cooperatives (KFFIC), a nonprofit organisation under the SME Administration, KOFURN is the largest furniture exhibition  in the country. It provides a trade platform for the many artists, designers, and manufacturers showcasing products such as wall & floor products, windows and doors products, blinds, lighting, indoor landscape architecture, floriculture decoration, indoor fountains, interior related-products, etc. in the architecture & designing, and furniture industries.
The Singapore Pavilion was organised in partnership by SFIC, Enterprise Singapore (ESG) and  ASEAN-Korea Centre (AKC). Under  the ASEAN Trade Fair Programme, support rendered to the shortlisted ASEAN exhibitors included areas such as accommodation, booth space with basic shell scheme construction, local transportation and  freight forwarding.
High exhibition costs are a typical bane to SMEs exploring new trade platforms to showcase their wares overseas. The strong support by AKC has thus been an invaluable opportunity for upcoming brands and young designers especially.
For Fraction Design's Celine Ng, the trip was well worth and she had managed to garner interest from potential buyers:
"KOFURN was a heartening experience. Our prototypes were well-received and we discovered new avenues – buyers expressed interest to place our pieces in cafes, although our original design was targeted  for homes," says Celine, KOFURN  being her maiden trade show and proved to be a good learning journey.
Fellow designer from StudioNorm, David Tham, was also part of the entourage that took up a booth space at the show. An excellent coincidence as both studios have a current collaboration with another brand, Starchie. To achieve the optimal visual effect, the combined Fraction Design with Starchie X Studionorm booths had provided a seamless display that was greater than the sum of its parts.
With ever evolving consumer tastes and furniture buying trends, there is a constant pressure to roll out new products. Testing prototypes before it hits the market is a crucial step to minimise risk and there is no better platform for companies to unveil their new collections at trade shows.
A spokesperson from OVAS Singapore praised the subsidised platform as  "an interesting opportunity which allowed SMEs to test and expand to new markets. Such subsidies are welcome as they help to offset the usual high costs of tradeshow participation."
The opportunity to get up close on doing business in South Korea through local workshops and visits, and participate as exhibitor in the Korea International Furniture & Interior Fair (KOFURN) had proven to be draw for the participating companies:
"Through participation at this tradeshow, we have managed to grow our local business contacts and gain a better understanding of the market," says a representative from Office Planner.