Job Development Partner Programme
Jobs Development Partner Programme (JDPP) is a government initiative that's launched in April 2022 to help SMEs accelerate industry transformation and spur job creation and job redesign.
In partnership with Singapore Business Federation (SBF), the Singapore Furniture Industries Council will be spearheading the JDPP to support our furniture SMEs in their transformation journey.
How JDPP works
---
• It's a complimentary holistic advisory service provided by an Industry Transformation Advisor (ITA).
---
• For participating SMEs, our ITA will partner you to:
Review your existing landscape and transformation readiness
Identify company needs and gaps
Recommend solutions
Connect you with solution providers and government grants
Provide project management support
Review skills transformation of your manpower to support your business transformation
---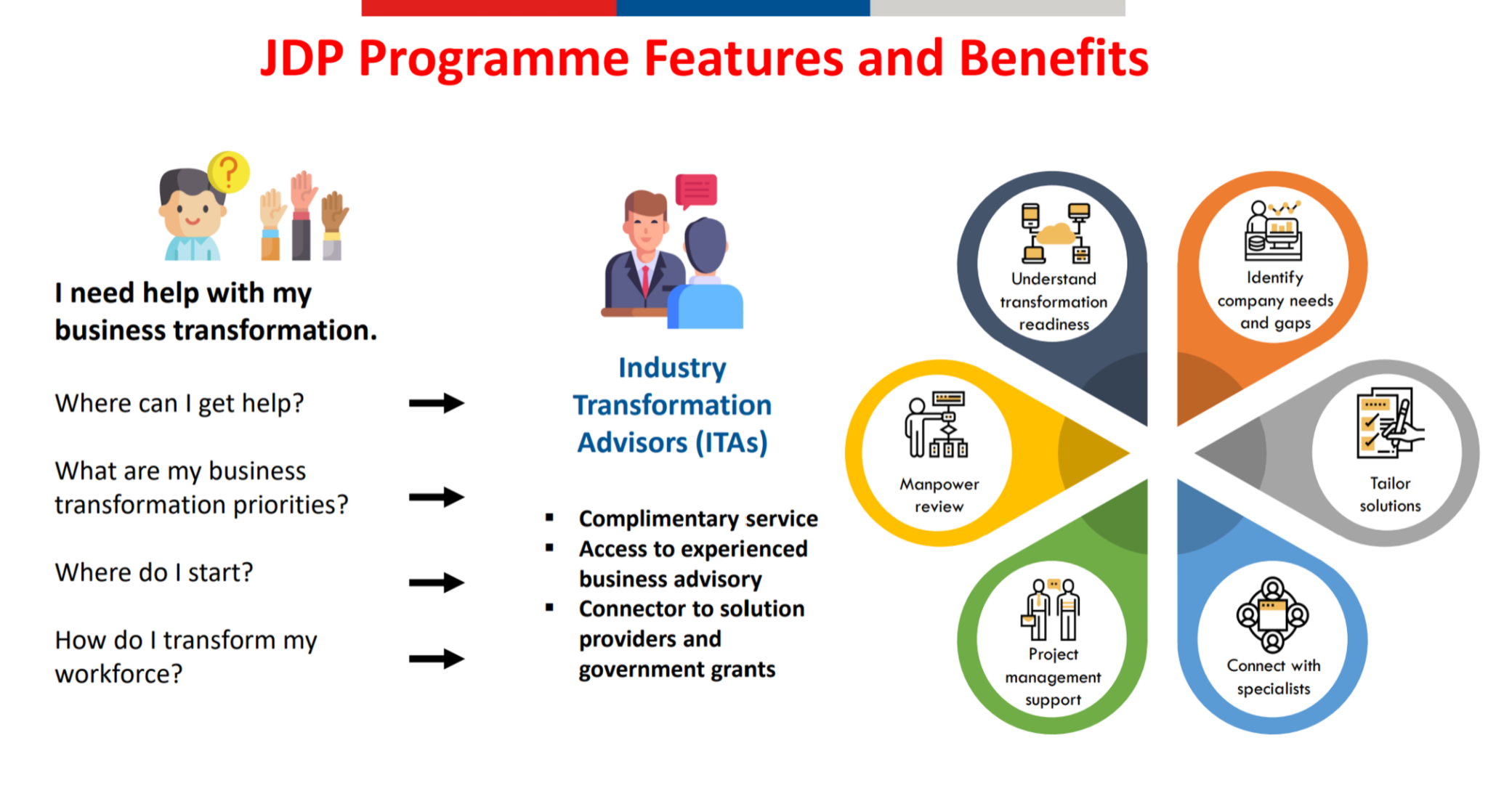 For further information, please contact:
---
Profile of SFIC's Senior ITA
Management consultant since year 2002.
Experienced and hand-on in developing Business and Operations Transformation Roadmap for companies to achieve sustainability goals which include workflow process / job redesign, operations restructuring with productivity improvement management, Industry 4.0 transformation and human capital competency improvement. Business development and partnership. Financial Management for business growth and project costing.
Been assisting SMEs on Singapore Government Grant Application, drafted Project Proposal, managed Project Implementation and Project Closure Report since year 2012 to date.
Professional & Academic Certifications
Professional Scrum Master I (PSM I) Certification – Agile Project Management.
Professional Singapore Certified Management Consultant from Tuv Sud PSB Pte Ltd.
Certified Productivity Consultant (CPC) in Food & Retail Sector from Japan Productivity Center (JPC) & Singapore Productivity Center (SPC).
ACTA (Advanced Certificate in Training & Assessment) Certification by WDA.
Master of Business Administration (MBA) from Imperial College London School of Management.
Bachelor of Mechanical Engineering (Honours) from Queen's University Belfast (UK).
---
Expression of interest form
---