Held annually at the Kuala Lumpur Convention Centre, Malaysia, the exhibition is widely recognised as a leading event that draws together South East Asia's fraternity of architects, interior designers, developers, urban planners, engineers, academicians, students and various related industry professionals. ARCHIDEX is jointly organised by the Malaysian Institute of Architects (Pertubuhan Akitek Malaysia or PAM) and C.I.S Network Sdn Bhd, a leading Malaysian trade and lifestyle exhibitions organiser.
South East Asia's most successful annual industry trade event for the architecture, interior design and building fraternity – ARCHIDEX (International Architecture, Interior Design and Building Exhibition) has continually been reaping phenomenal success and garnering steady growth through strategic planning and partnerships since its introduction in 2000.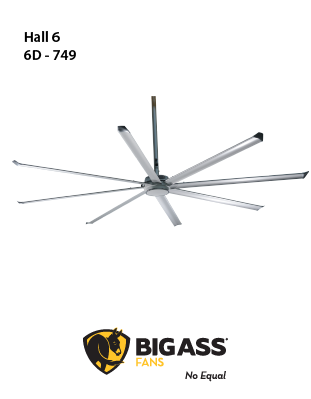 Big Ass Fans always had one goal: to build the best fans for the hardest working people. Big Ass Fans keep you up to 6° C cooler, but they also reduce A/C usage and improve workplace safety. Available in diameters ranging from 1.3m to 7.4m, Big Ass Fans are manufactured using industrial-strength components and backed up by the best warranties in the business.
Big Ass Fans pioneered whisper-quiet fans for commercial spaces, developed directional fans and launched a residential fan brand, Haiku.
Headquartered in US, Big Ass Fans has offices in Singapore, Australia, Malaysia and Canada to serve worldwide.
Mr Faizal Zaini
+603 5565 0888
info.my@bigassfans.com
www.bigassfans.com/sg/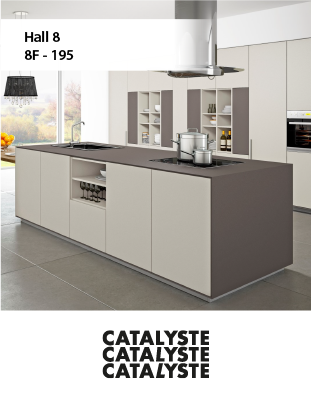 Based in Singapore, Catalyste believes in disrupting, re-inventing, revolutionizing the status quo.
We re-imagine traditional processes by building unique networks with leading interior surface brands.
We delve readily into uncharted markets and create practical, ingenious solutions that last.
The result: transformation and enduring value.

Visit us at Archidex 2018 and experience firsthand the innovative appeal of Dekodur Distil's Flux, Magic Touch Collections and Alvic.
Mr Tony Chua
+65 9627 3883
tonychua@catalyste.co
catalyste.co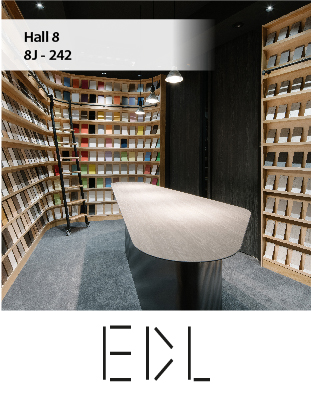 EDL is the leading specialist of high pressure laminates in Asia. The EDL story is one of ideas – great, insightful ideas that have shaped the company and its vision to what it is today. Just as laminates are more than paper and finish, our brand is more than just our product.
Going beyond the surface, we combine science and intuition to create design-centric, quality-driven laminates that endure the passage of time. Our product range has since expanded to include FENIX NTM and EDL Compact. Everything we do is guided by a simple philosophy: To inspire experiences, one space at a time.
Ms Daphne Lim
+65 63690990
daphne.lim@edleuro.com
www.edleuro.com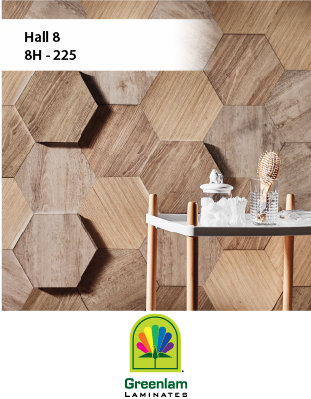 Among the world's top three producer of laminates, Greenlam Laminate brings a legacy of exceptional artistry, unsurpassed quality and unyielding passion for excellence to the surface design.
– Major Products/Services Laminates, Compact
Ms. Kathy Moh
+65 6365 9138
marketing.sg@greenlam.com
www.greenlam.com/sg/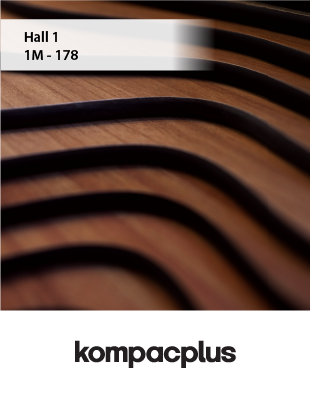 Your journey to endless possibilities.
KompacPlus brings the balance between sustainability and aesthetics. These innovatively designed panels are crafted with precision and built to outlast a lifetime – making it the material of choice for those who seek the ideal aesthetic experience.
Headquartered in Singapore, KompacPlus also has a presence in the growing Malaysia market.
#ExperienceKompacPlus
Ms Brenda Wong
+65 6842 0335
enquiry@kompacplus.com
www.kompacplus.com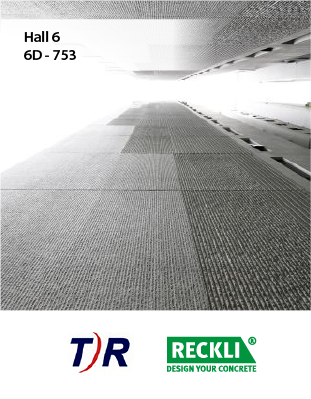 TR Formliners Pte Ltd is the exclusive agent for RECKLI's products in Singapore & Malaysia. With more than 250 formliner designs & an ability to offer unique individual bespoke ideas, RECKLI has helped to texture many building facades, long recognised as a building's flagship. Its high standard of aesthetics and quality make TR Formliners a strong partner for the design of architectural concrete.
Mr. Darryl Lee
+65 6297 7981
darryl@technorite.com.sg
www.reckli.net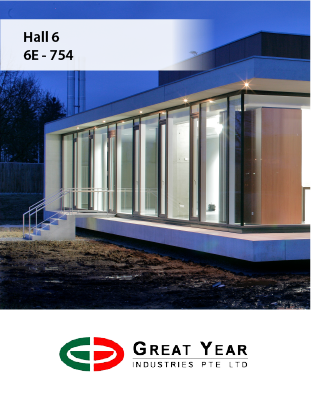 Great Year Industries (GYI), established in 1980, has a proven track record of over 20 years in the space management sector in the interior and construction industries.
As a sole agent for the German's ABOPART brand in Asia, we have trained a team of skilled engineers and technicians to upkeep the name of our principal's reputation in this specialized field of supplying operable walls.
ABOPART walls are manufactured with great precision and latest technology to meet the soundproofing requirement. Acoustically insulated with ratings ranges from STC 40 to STC 55, ABOPART walls have been manufactured according to DIN EN 20 standards and tested by TUV, The German Testing Institute., Barricading noise from one side to the other is a prime concern for many users.
ABOPART walls has this feature of modern day space management where such state of the art insulation properties allow different events to be held in adjacent areas with minimal noise disturbances to either parties.
Mr Alex Yap
+65 9199 1688
alexyap@greatyear.com.sg
greatyear.com.sg