#Sustainability Snapshot: Danielle of Just Anthony
Supporting the Circular Economy whilst Spreading the Love for Vintage Chinese Furniture
---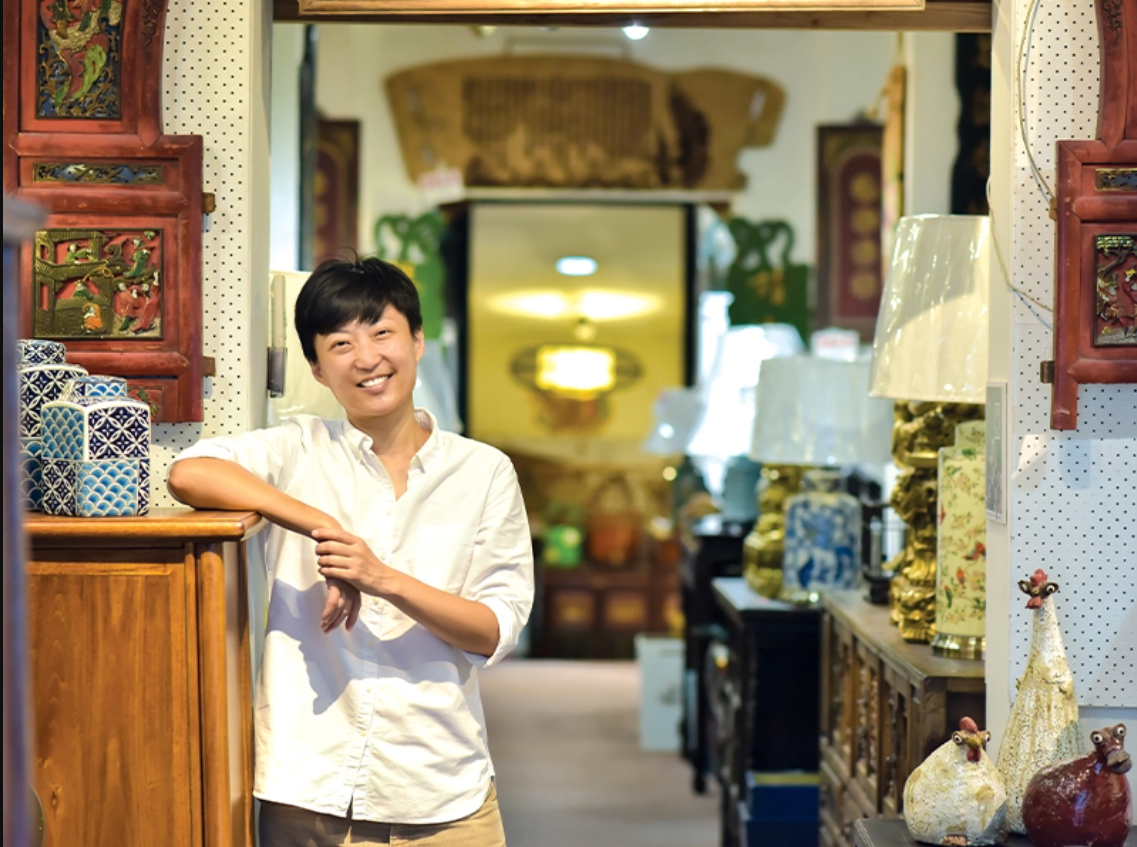 Ms Danielle Lee (Photo: Expat-Living)
To Danielle, the significance of sustainability cannot be ignored by businesses, especially as the younger generation is becoming increasingly conscious about this.
Cognizant of this, her team at Just Anthony is currently focusing on minimising waste & supporting the circular economy.
In terms of minimising waste by reusing packaging, Danielle's team has been reusing packaging materials from their suppliers, like bubble wrap and cardboard, for their clients. They have also been taking back boxes and packaging material from their customers for reuse. Hence, the team has not purchased packaging for years, enabling them to enjoy considerable cost savings.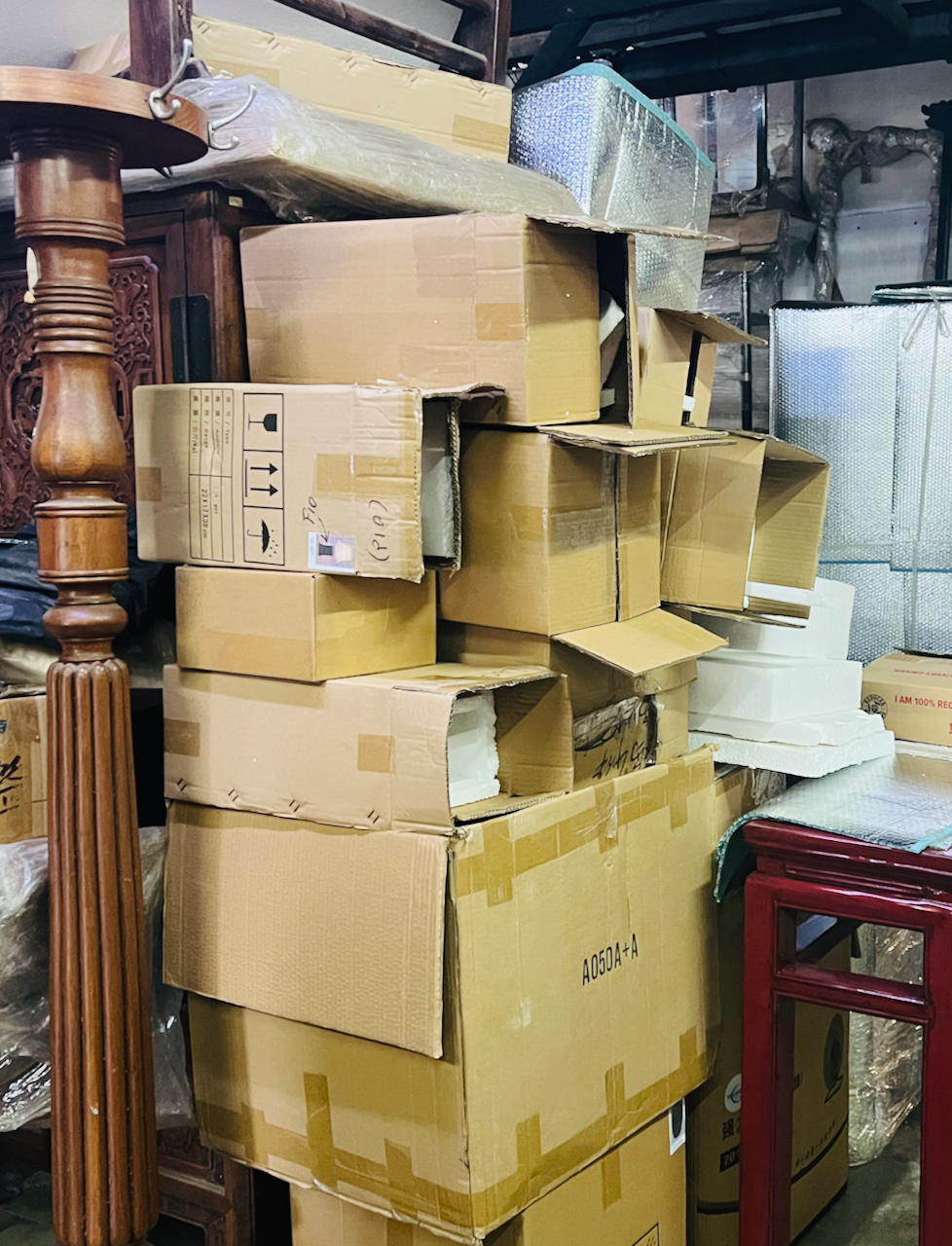 The cardboard box and packaging material corner in Just Anthony's warehouse, where employees take and deposit packaging materials on a daily basis
Just Anthony has also been supporting the circular economy through upcycling furniture. A substantial 30% of their business is upcycling furniture materials into new products for customers -- like smaller furniture, table lamps and wall carvings. This has enabled the team to offer smaller products that can cater to their clients' needs and fit into increasingly smaller homes in Singapore.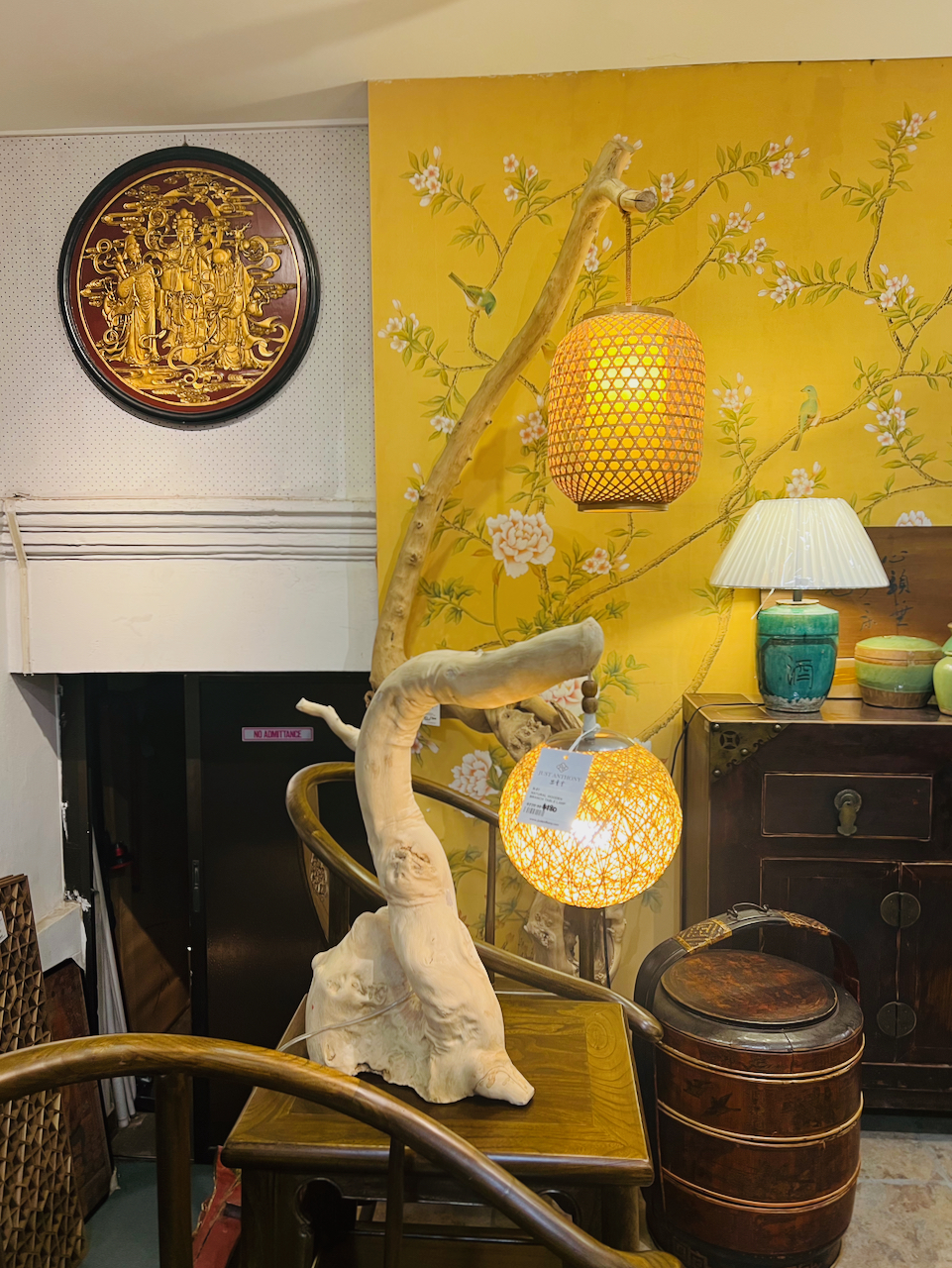 Hanging Table Lamp – an elegant statement piece with added character from the use of irregular wood offcuts
The beginnings of the antique furniture business & plans moving forward
Danielle's father started Just Anthony as an antique furniture business around 30-40 years ago. Initially, he was attracted to join the industry not because of sustainability, especially as the concept was still very nascent back then. He was drawn to the space because of the creativity that the industry offered, in terms of curating and pairing furniture pieces together and refurbishing and upcycling them to suit customers' needs.
After Danielle took over the reins for the business and decided to sign Just Anthony up as a member of SFIC, she started receiving regularly sustainability news and resources through SFIC group chats. This has spurred her to take some time to explore and learn about sustainability more consciously.
Now that she understands a bit more about how antique and vintage furniture and upcycling fits into holistic business sustainability, she expresses that she will continue to look into how she and her team might advance other aspects of economic, environmental, social and governance sustainability. For instance, Just Anthony may resume monthly or regular visits to our furniture suppliers' facilities in China, just like pre-COVID. Making these trips can ensure that workers are paid on time and that there is no child or forced labour, whilst strengthening the company's close relations with their long-term, inter-generational suppliers.
~
Let's have a tour around Just Anthony's showroom and meet some of Danielle's favourite antique, vintage and upcycled pieces!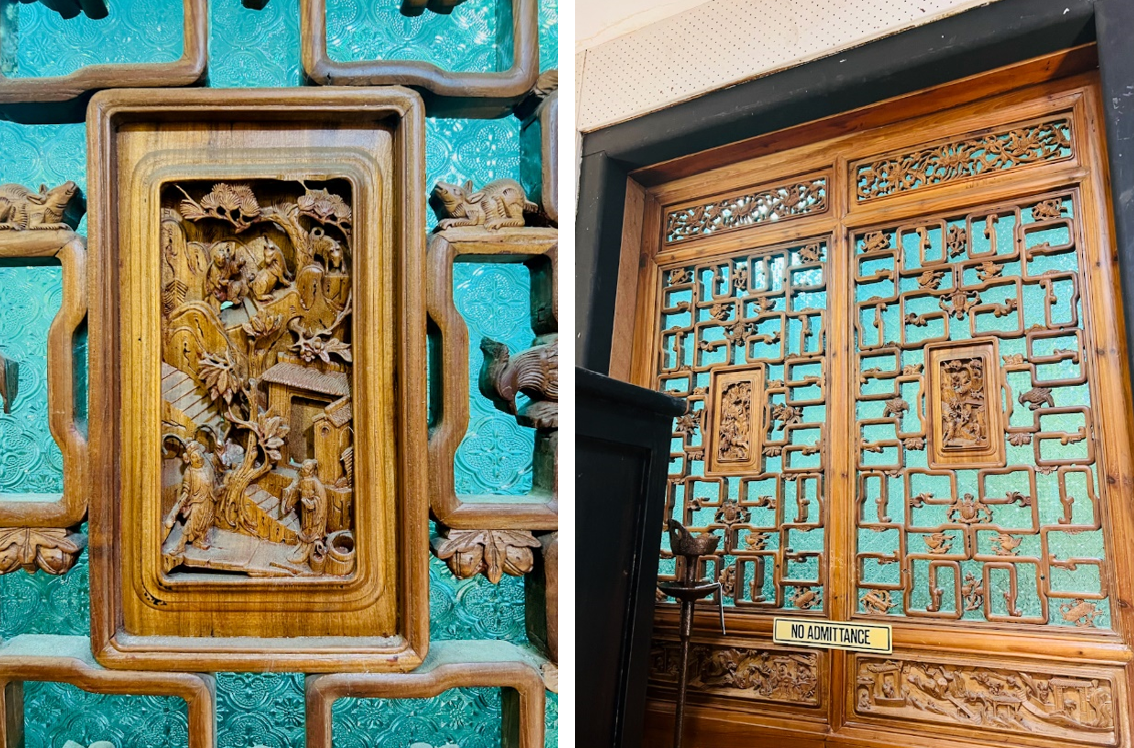 Welcome to the door of Danielle's office. She really loves the intricate carvings on it, which tell of various myths and other stories set in ancient China.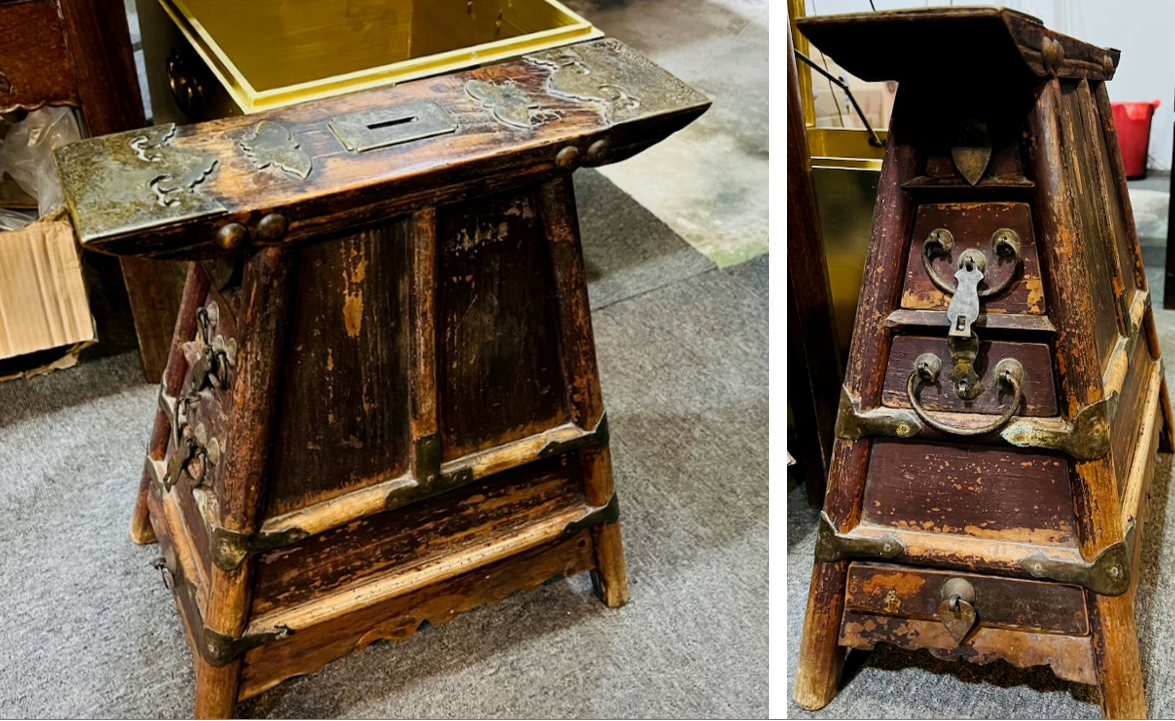 Here is one of Danielle's favourite pieces in the store currently, a Barber's Stool. In ancient China, barbers used these as customer seats and wooden cabinets simultaneously. They stored their haircut and styling tools in the different components, and inserted their proceeds throughout the day into the coin and note slit at the top.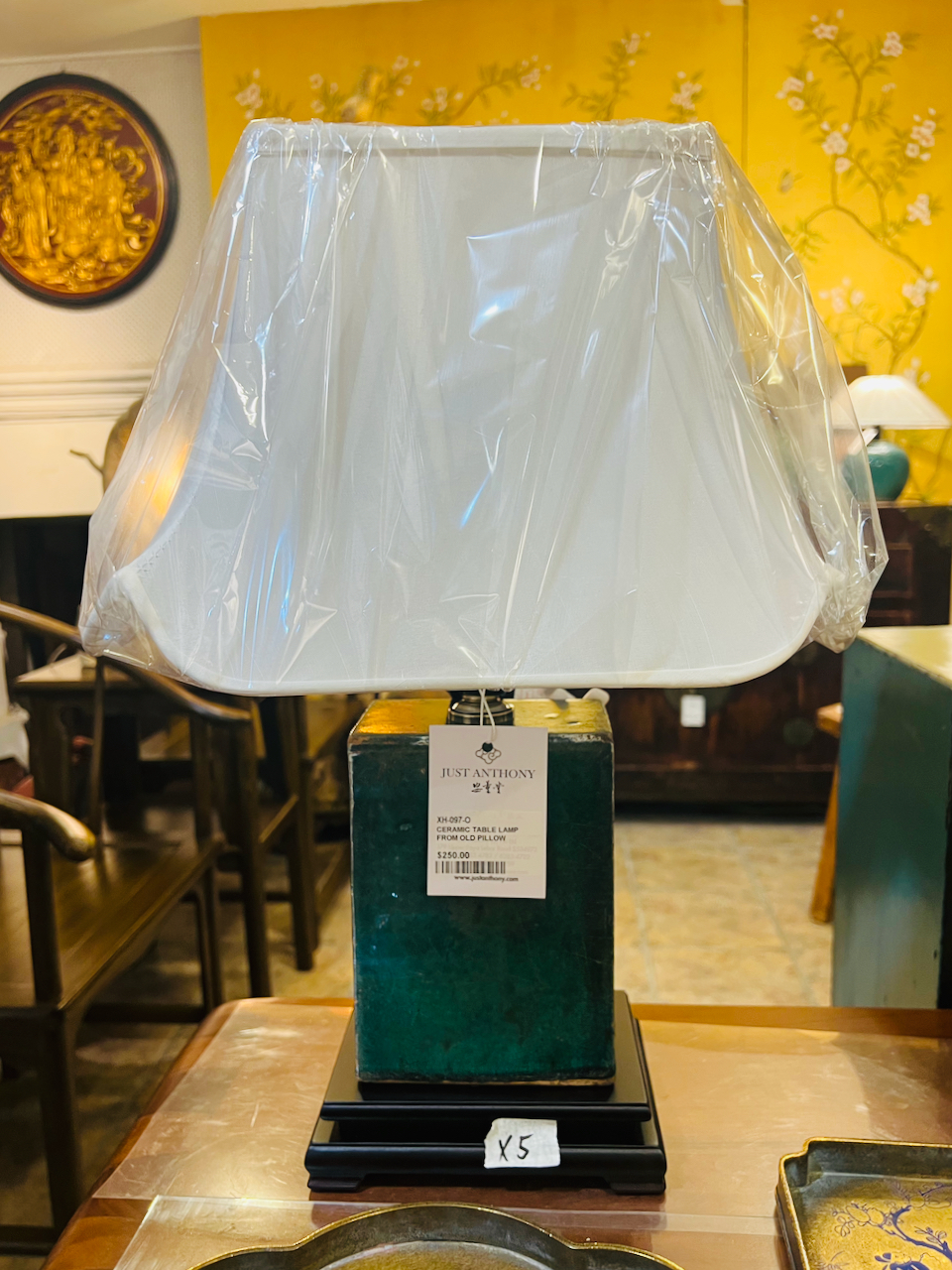 Another smaller furniture piece that Just Anthony has in stock is this ceramic lamp. It was upcycled from old pillows characteristic of that time.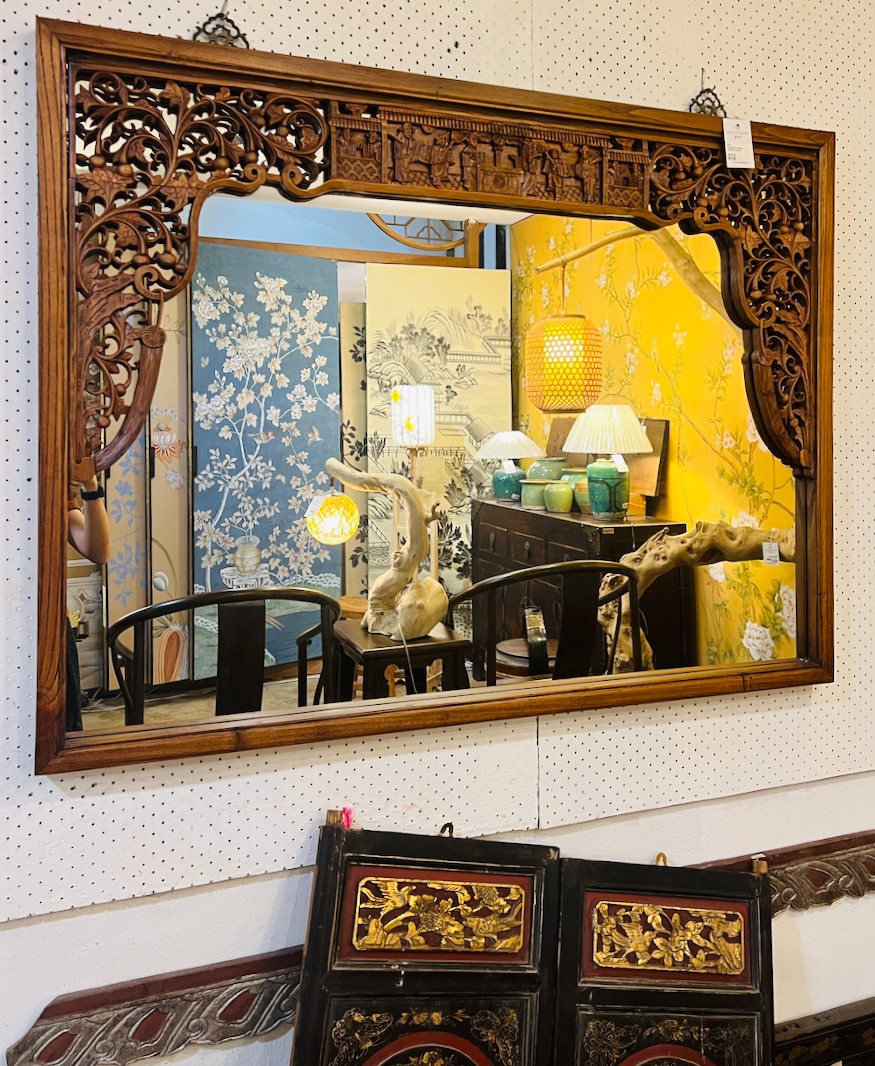 Here is one of Just Anthony's signature pieces – a Zhejiang Carved Mirror Frame, adorned with upcycled wooden carvings from a vintage bed.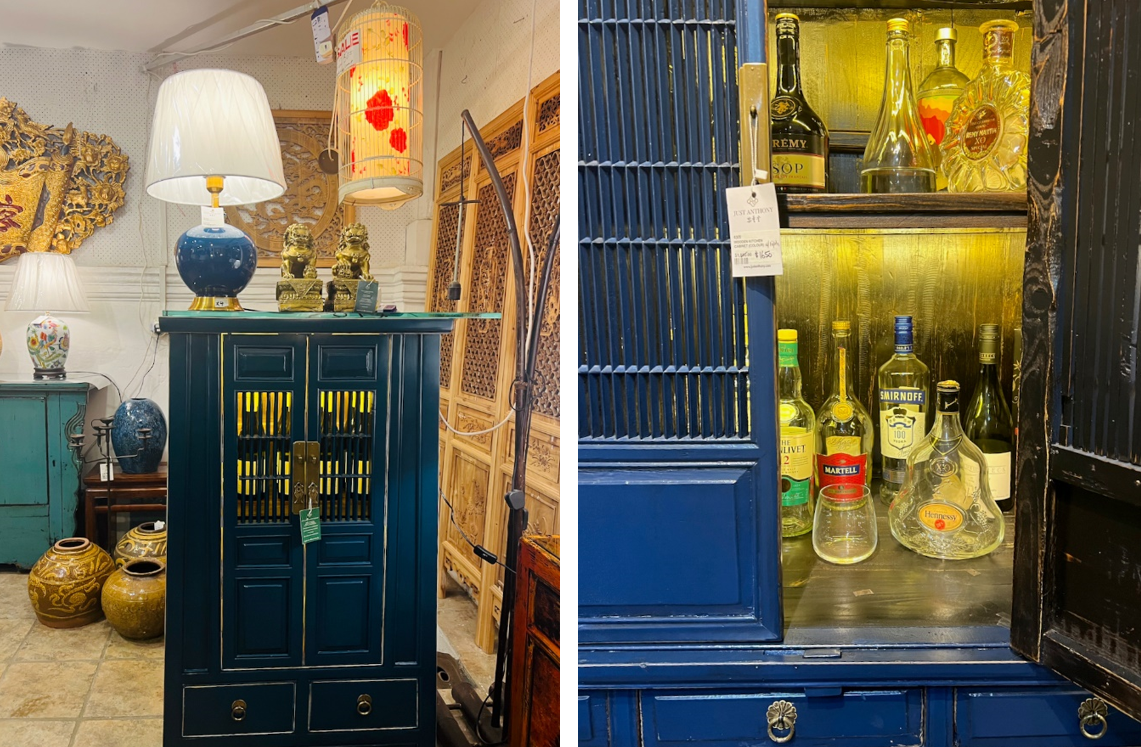 Meet another of Just Anthony's signature pieces -- a display cabinet upcycled from old door carvings. Inspired by creative young interior designers whom they collaborated with, the team styled these as alcohol cabinets for the modern homeowner's needs.
In closing, Danielle remarks, "To me, the future of the antique, vintage and second-hand furniture industry is more and more sustainability-centric. Especially as the younger generations are more and more connected about their purchasing decisions!"
----------------------------------------------------------------------------------------------------------------------------------------------------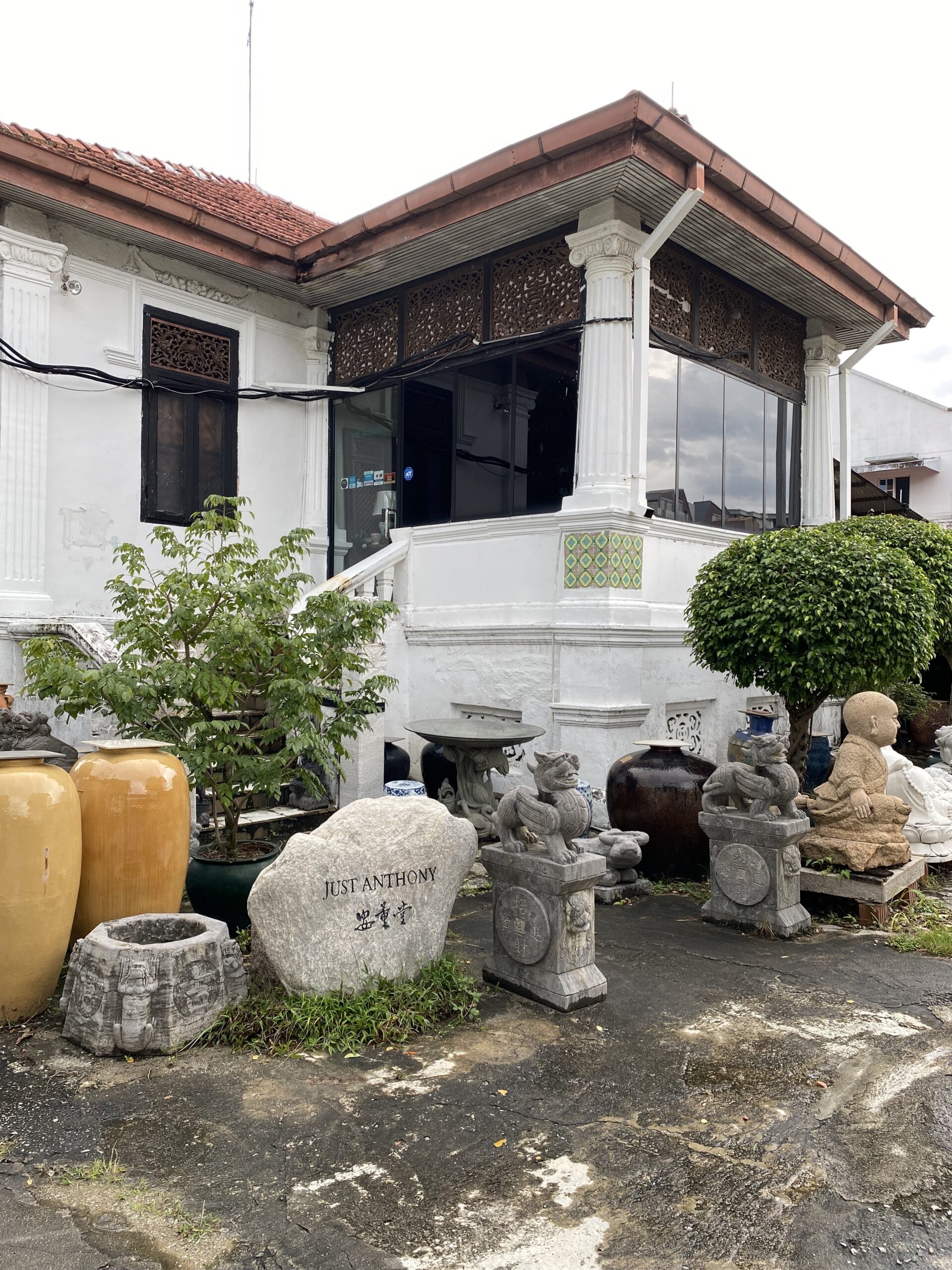 Entrance of the Just Anthony Showroom (Photo: Just Anthony)
Introduction to Just Anthony:
Founded in the 1970s, Just Anthony is a purveyor of Chinese antique furniture and products. To date, Just Anthony carries one of the widest ranges of Chinese antique furniture and accessories in Singapore. Just Anthony prides itself on honesty, reliability and experience in the world of Chinese antiques, offering its loyal customer base with the knowledge and information on antiques.
Website: http://www.justanthony.com/
Type of Furniture Company: Retail
Products:
Antique furniture and accessories
Sustainability Themes:
Circular economy, waste reduction, upcycling
Environmental Initiatives:
Repairs/retouches and markets antique products to give them a second life
Upcycles old tiles and parts to convert into table lamps
Reuses/recycles packaging materials like cardboard and bubble wrap
----------------------------------------------------------------------------------------------------------------------------------------------------
---