#Sustainability Snapshot with Pepperwall
Upcycling and Recycling Materials into Aesthetic Panels and Gifts
---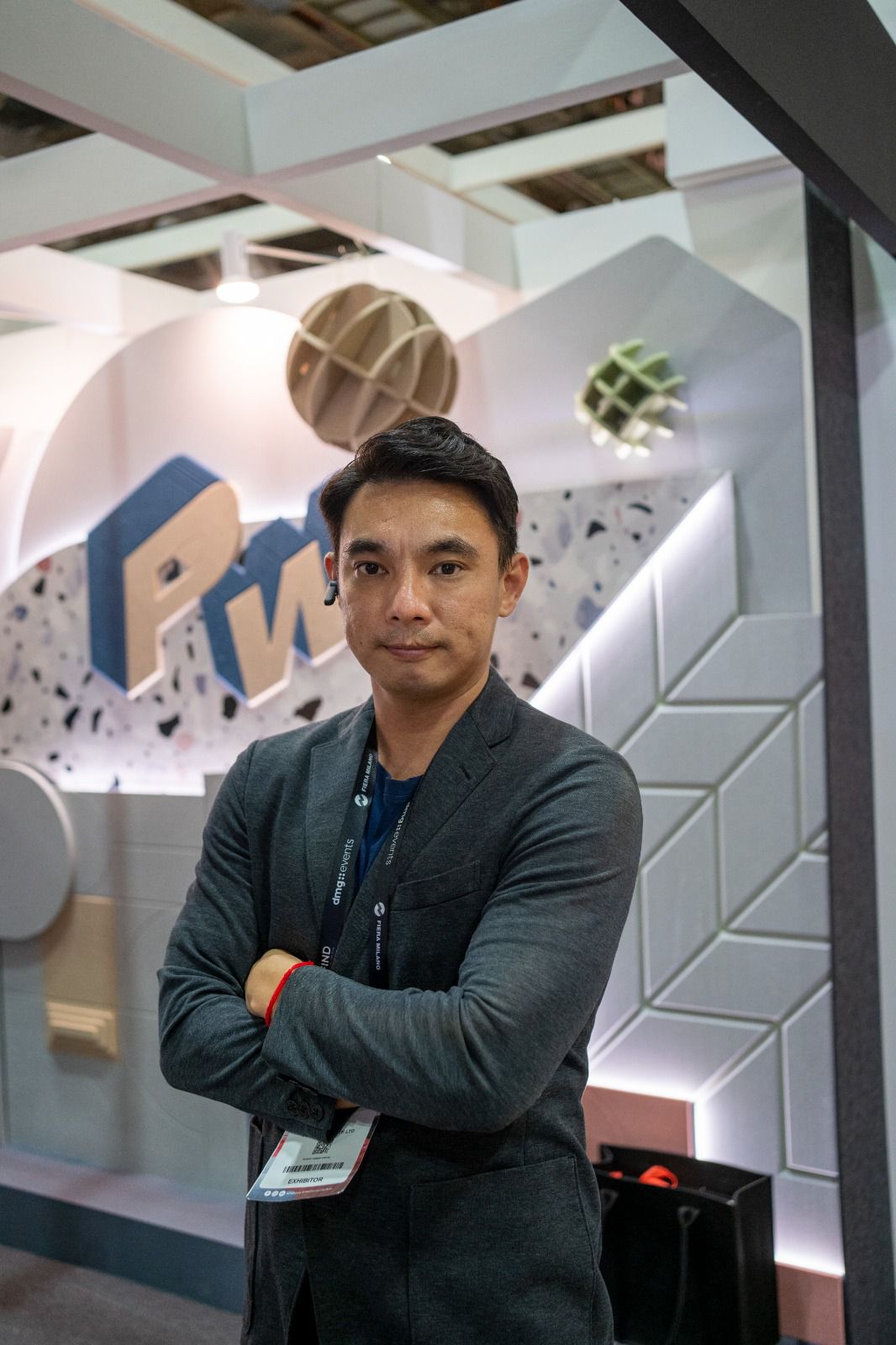 Nr Nigel Yap, Director of Pepperwall
How might panels be made more sustainable? Nigel's panel and wallcovering company Pepperwall offers one possible solution -- leveraging recycled polyester fibres made from post-consumer plastic bottles to make aesthetic acoustic panels of different colours and patterns.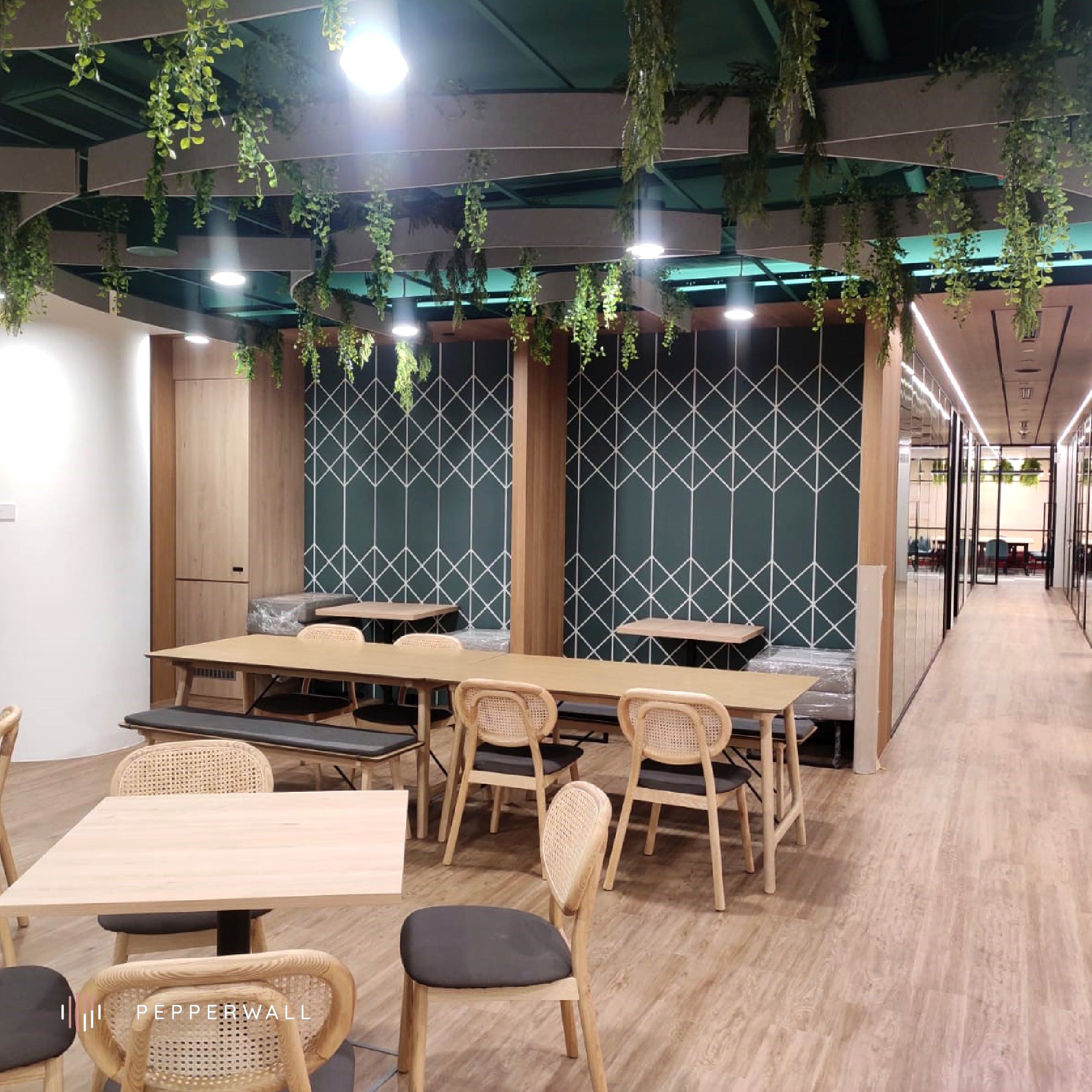 Pepperwall's HEART Acoustic H9-55 panels -- printed with V-Grooves to replicate the old-school gate
Leveraging the Business Opportunities of being More Sustainable
Nigel candidly shared that the business opportunities rather than sustainability concerns first spurred him to expand into the acoustic panel business. His supplier from China just happened to offer more sustainable recycled acoustic polyester fibre panels.
As the Singaporean government has been increasingly focusing on procuring more environmentally friendly products and materials, Pepperwall looked into getting certified for the SG GreenLabel in 2020. Now, all their acoustic wallcoverings and panels are certified with the SG GreenLabel. This has enabled them to get much better opportunities to win governmental contracts; it's almost like a requirement for any company that wants to work on governmental projects now.
As increasing numbers of their designer-clients have been enquiring about more environmentally friendly materials, Nigel and the Pepperwall team started to more consciously look into greening their products and business operations.
Exploring New and Innovative Sustainability Initiatives
The recently concluded FIND Design Fair Asia 2022 gave Pepperwall an impetus to experiment with more creative sustainability initiatives — they gave out mini animal figures that were upcycled from their acoustic panel/wallcovering offcuts as door gifts at their booth.
Pepperwall's polyester fibre crocodile door gift made from acoustic panel/wallcovering offcuts
Having learnt more about the value of holistic ESG (environmental, social and governance) sustainability from SFIC, Nigel plans to read up more on potential ESG sustainability initiatives that Pepperwall can adopt, using SFIC's extensive sustainability resources. Some social sustainability topics that he is looking into include employee and consumer health and well-being, and more socially responsible supply chains that are free from forced labour and child labour.
Nigel is also leading the Pepperwall team in a sustainability-centric R&D project, which aims to make their panel components more easily reusable or refurbishable. If this succeeds, Pepperwall will be able to significantly reduce the waste that is usually associated with office renovation, demolition and construction projects. If you are interested in collaborating on this or other sustainability R&D projects, please reach out to Pepperwall! 🙂
Pepperwall's R&D sample of a mini stool made from polyester acoustic panels
----------------------------------------------------------------------------------------------------------------------------------------------------
Pepperwall's Veil Felt, used to create a lush canopy in an office
Introduction to Pepperwall:
Established in 2015, Pepperwall has become a leading curator of the latest paper, vinyl, textile & acoustical wallcoverings for both professional and residential interiors. Our clientele ranges from designers, architects, to even home owners.
Website: https://www.pepperwall.net/
Type of Furniture Company: Materials, Components & Services (MCS) and Design
Products:
Accessories and Decorative Items, Ceiling, Lighting, Office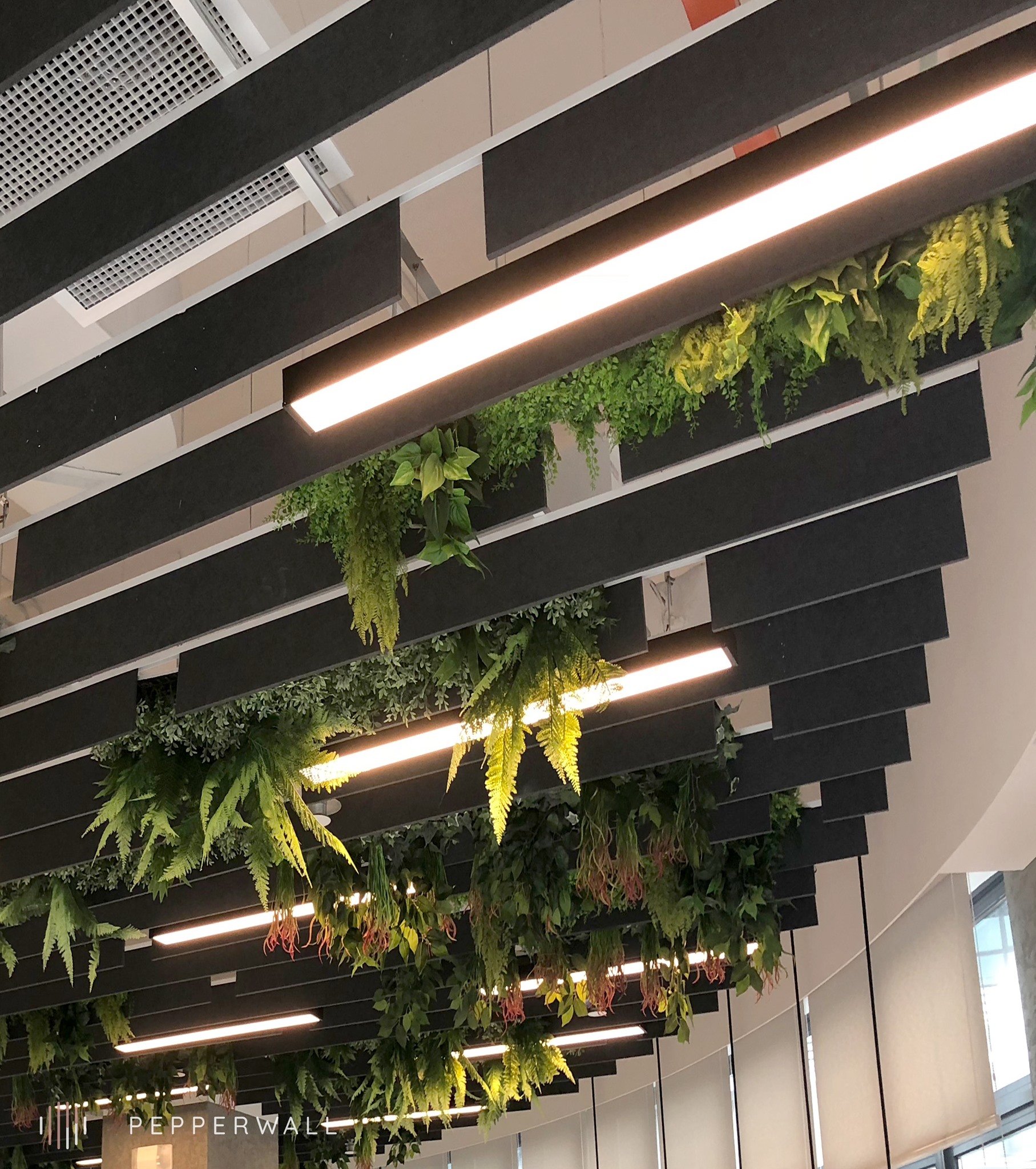 Pepperwall Ceiling Baffles with Plants in an Office
Sustainability Themes:
More environmentally friendly materials, waste reduction, circular economy
Sustainability Certifications:
SG GreenLabel (for all acoustic wallcoverings and panels)
Environmental Initiatives
Acoustic panels use polyester fibre made from recycled post-consumer plastic bottles
Upcycles acoustic panel/wallcovering offcuts as door gifts for events

Pepperwall's polyester fibre turtle and dog door gifts, made from acoustic panel/wallcovering offcuts
All photos are courtesy of Pepperwall unless otherwise stated.
----------------------------------------------------------------------------------------------------------------------------------------------------
---