#Sustainability Snapshot with Pamela of Scene Shang
Marrying Heritage, Aesthetics & Sustainability
---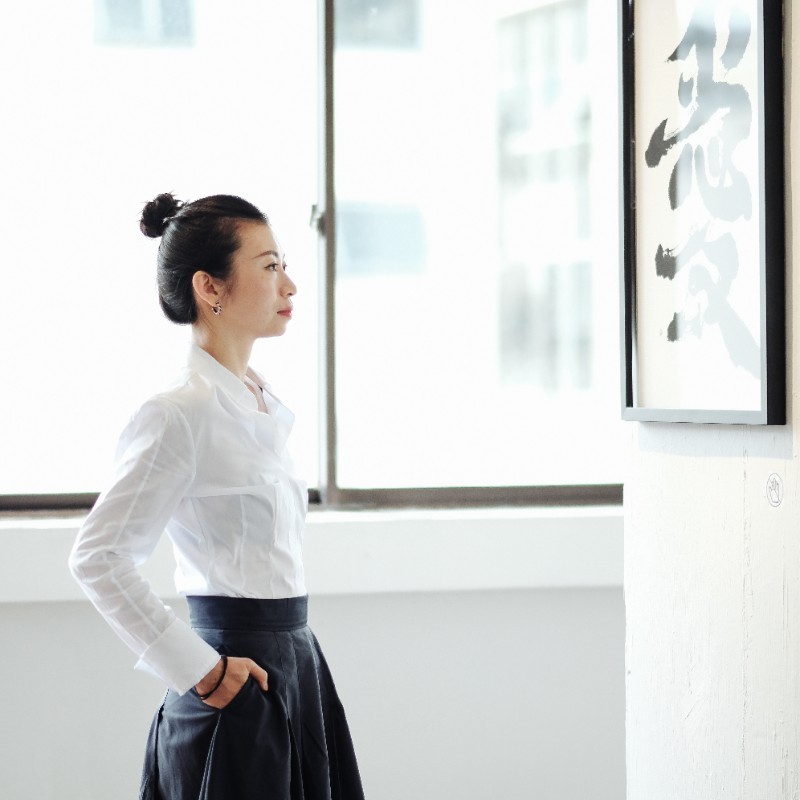 Ms Pamela Ting, Co-Founder and Director at Scene Shang
Scene Shang (新赏) is a Singaporean furniture brand with a name that has a meaningful play on words. Their English name alludes to the founders' respectful tribute to the artistic style and scene of ancient Chinese dynasties, through promoting the art via a business that does not discount the value of sustainability. On the other hand, the brand's Chinese name translates into 'new appreciation', which reflects the company's wish to renew the new generation's appreciation of their Asian roots and heritage. Scene Shang is also a homonym for 心上 (on your heart, aka something dearly treasured), 新尚 (new style/fashion) and 欣赏 (admiration), which are all related to the company's mission to create beautiful products that marry aesthetics, heritage and sustainability.
To Pamela and the Scene Shang team, sustainability means having a bit more transparency about how materials are being processed, ensuring that workers are treated well and making sure that the business' production process has a less negative impact on the environment. Whilst not all customers specifically ask them about their sustainability initiatives, they are heartened that some customers ask for minimal packaging -- which reflects their efforts at being more sustainable as individuals.
When Scene Shang first started out, Pamela and her co-founder Jessica were already consciously incorporating sustainability in their overall business, driven almost entirely by their personal interest in being more sustainable as a business. After a few rounds of research, they eventually narrowed down their choice of materials to rattan, aluminum, synthetic woven fibres and other more sustainable materials.
Pamela shares that she is thankful to have been able to partner with stakeholders and makers that align with her and the team's values. For instance, through a contact from SFIC, Scene Shang started working with an Indonesian supplier for more sustainable woven fibre products.
Scene Shang's THE LITTLE ONE Cane Chair & THE LADY Cane Chair, made from sustainable rattan.
When asked about which Scene Shang products she would recommend for consumers who are seeking more sustainable options, it was challenging for Pamela to decide on any specific one. She shares, "All of Scene Shang's products are made with both social and environmental sustainability in mind, so it really depends on each individual's personal preferences."
Scene Shang's bestsellers are their Yang and Teng Collections, which are made of aluminum and synthetic woven fibres that can be recycled. Pamela's personal favourite is the XUAN Table, which is a modern mahjong table that is modular, foldable and marries aesthetics and tradition. The XUAN table hopes to overturn the common perception of mahjong tables being challenging to display in contemporary homes.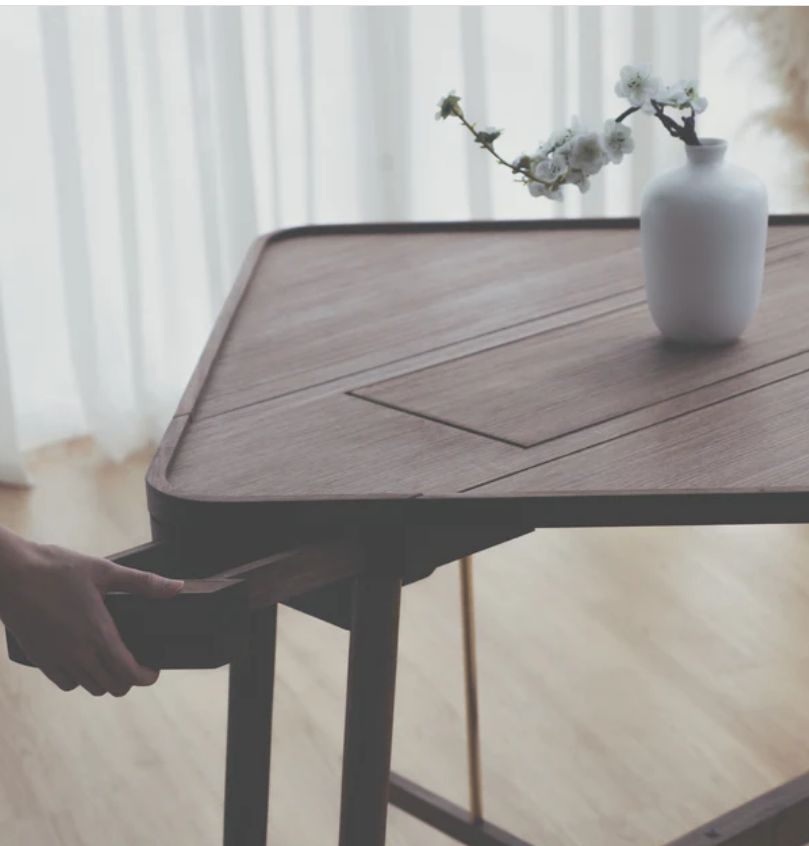 Pamela's personal favourite -- The XUAN Table.
Moving forward, Scene Shang would like to completely do away with packaging sometime in the future. Additionally, the team is constantly looking out for more makers to partner with, who have an eye for design with the use of more sustainable materials. They are exploring alternative materials for their furniture like recycled glass and marble offcuts, which are in line with the circular economy.
To fellow SFIC members on their sustainability journey, Pamela would like to say: "Sustainability shouldn't just be a buzz word. You need to really understand the value of sustainability and buy into it, before you can effectively influence your customers to join you on your sustainability journey."
----------------------------------------------------------------------------------------------------------------------------------------------------
Scene Shang x Ying The Label - THE GENTLEMAN Cane Chair in 'Dare To Love' Blush Satin, which combines sustainability, the art of tradition and modern aesthetics.
Introduction to Scene Shang:
We design homeware and furniture, with a vision to develop the brand to encompass an entire lifestyle experience, bringing the underlying value of embracing our roots in good living.

Our designs are inspired by real people with real stories and forged from an innate desire to create indelible memories that are both immersive and emotive.

We work closely with traditional artisans from Asia to reimagine the silhouettes of yesteryear for the urban home, each with its own story to tell.
Cluster: Design & Retail
Core Sustainability Theme: More environmentally friendly materials
Products: Rattan furniture
Environmental Initiatives:
Uses greener materials like 100% recyclable woven synthetic fibre and aluminum frames, bamboo, water hyacinth & rattan

Rattan is a fast growing, climbing palm plant that depends on forest trees to grow. The harvesting of rattan for furniture-making helps to prevent deforestation.

More info available here
Social Initiatives:
Visits third-party factories to engage with furniture makers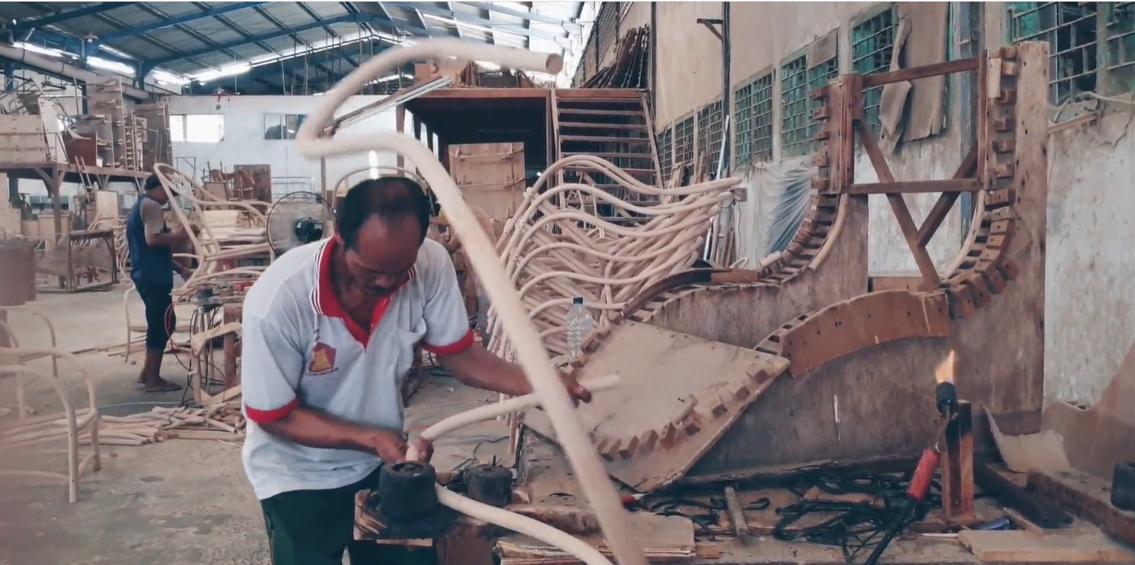 A maker in an Indonesian workshop that Scene Shang partners with. The craftsman skillfully bends rattan into the shape of a lounge chair, moving together with the rattan piece like a taichi master. (Read more about the process here)
All photos are courtesy of Pamela and Scene Shang.
----------------------------------------------------------------------------------------------------------------------------------------------------
---