#Sustainability Snapshot with Angela of SNS
Growing a Purpose-Driven Company
Thinking about what the company should stand for led us to pursue holistic sustainability
---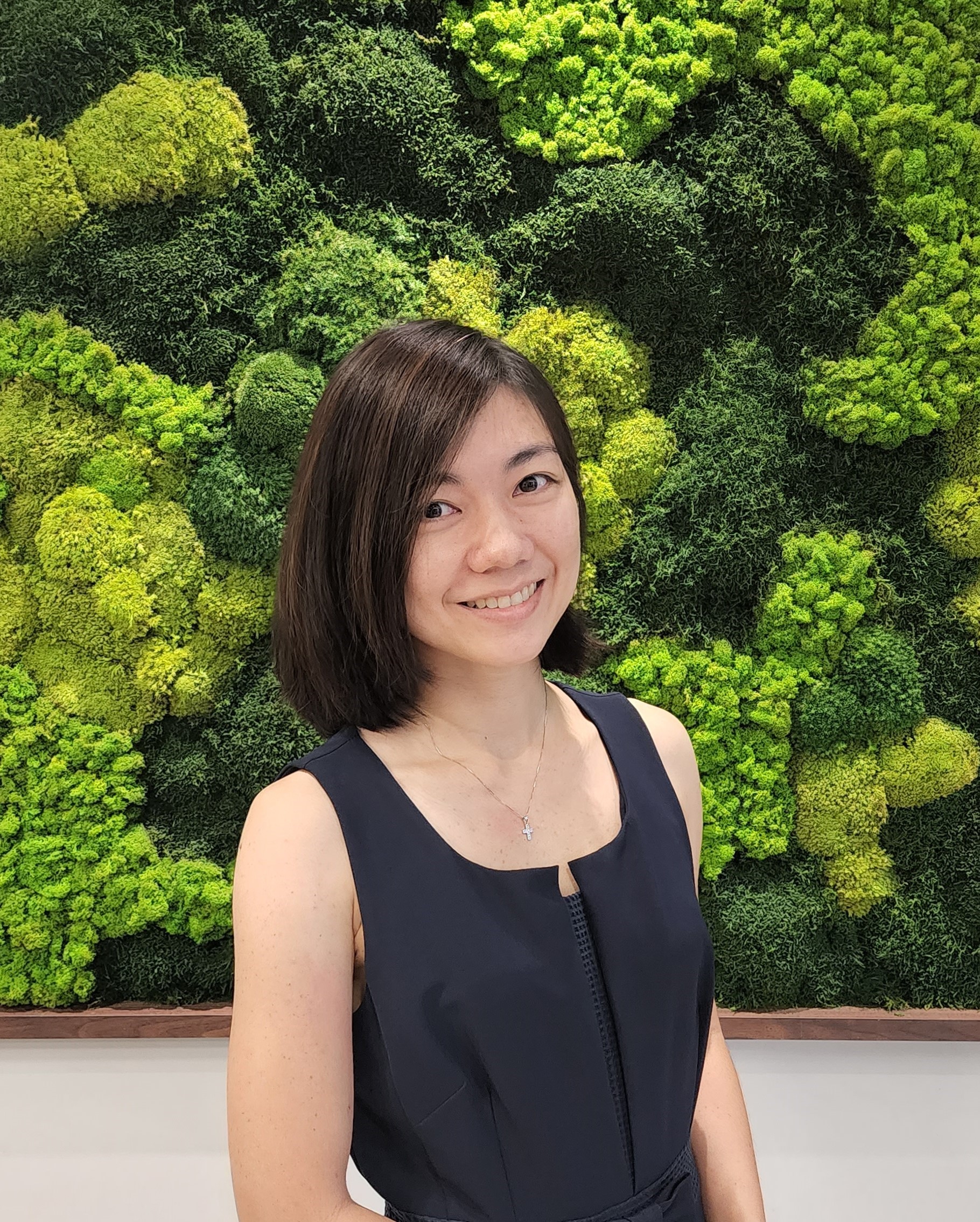 Angela Siah, General Manager of SNS (Photo Credit: Angela)
Having recently become a parent, Angela is ever more committed to strengthening sustainability as the core value of her business. "I don't want my children to grow up being criticised by their peers in school because my business is pollutive," she shares.
Furthermore, having experienced all the different anxieties and worries of a parent first-hand, Angela now has a strong sense of mission to provide fellow parents of young children with peace of mind during their home renovation. She takes pride in her work in SNS, knowing that what SNS has made available for the market is absolutely safe for young children.
Angela began exploring sustainability in earnest in 2017. The business stability at that time gave her and her team more bandwidth to think deeper about what their business should be about -- in terms of the values they stand for and how they can differentiate themselves from other firms in the space.
Angela's background in chemical engineering has made her more aware and concerned about the environmental impacts of the chemicals used in the industry, even prior to joining the company. This was actually one of the key drivers that first spurred her to look into her business' environmental impact.
One of the first decisions which Angela and her team made for environmental sustainability was to apply for the SG Green Building Product (SGBP) certification. They chose to apply for this out of the other local green labels that were available at that time, as its set of criteria was and still is more industry-specific and holistic. SGBP's criteria includes an evaluation of their business processes and accounts for their stakeholders across the supply chain. Angela's team specifically focused on local green labels like SGBP as they wanted to highlight their Singaporean identity while showcasing their accreditations -- when the time comes for them to engage with more stakeholders based overseas.
SNS' SGBP Certificate (Photo Credit: SNS)
Recently, Angela's team has been exploring how their business can work towards carbon neutrality. Their carbon reduction roadmap will be on their revamped website, which is slated to be launched in July.
To collect data and understand more about their current carbon footprint, Angela and her team have engaged with many of their suppliers. They realised that the largest chunk of their carbon footprint comes from shipping, which has led them to start prioritising suppliers that are geographically closer to them.
Besides carbon, Angela's team is also looking into procuring more recycled resin to make their laminates. Currently, 10-30% of the resins they source are recycled materials, depending on their dynamic availability. Procuring more recycled resin is a challenging project as recycled resins have yet to become readily available in the market. However, they are determined to keep working on this as they believe in the value of supporting the circular economy.
Beyond these internal sustainability projects, Angela would love to explore partnerships to research and develop new decorative materials from recycled sources. They would love to explore more opportunities to collaborate with the government, fellow SGBP certification applicants and other stakeholders to drive the awareness of environmental certifications amongst Singaporean consumers.
Furthermore, Angela would like to look into how she can help reduce the waste that the local furniture industry generates. There is a wasteful industry norm of printing and discarding tens of thousands of catalogues every year, which translates into a significant carbon footprint and massive wastage of paper, ink and other environmental resources. To ameliorate this, Angela's team is providing more advisory services to their clients, so that they can understand their clients' needs better, narrow down the samples they hand out to their clients and minimise the need to print and hand out full catalogues. However, Angela shares that it would be more impactful to set up a system that makes returning catalogues for reuse easier for consumers. It would be even better if fellow laminate companies could join her to form a coalition, which can commit to limiting the number of catalogues they print and distribute every year.
To fellow SME business owners who are on various stages of their sustainability journey, Angela would like to say: "Let's not wait for the big boys to move the needle. We have in our hands the power to take a step forward and do our part for our environment!"
-----------------------------------------------------------------------------------------------------------------------------------------------------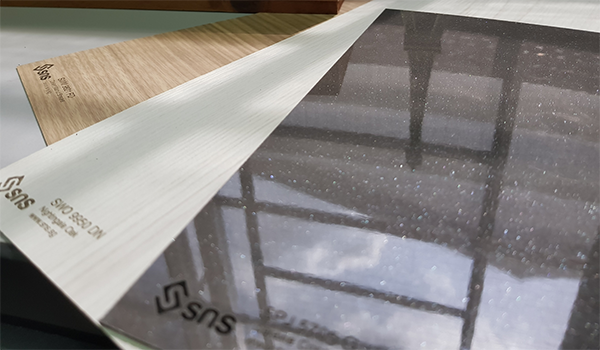 Samples of SNS laminates (Photo Credit: SNS)
Introduction to SNS:
We are all about safe surfaces and beautiful spaces. As laminate specialists, our collection of beautiful laminates is healthier for you, safe for your children and greener for the environment. Our products are extremely low in VOCs, certified antimicrobial and sourced responsibly. In space-scarce Singapore, our laminates are also multifunctional, allowing easy cleaning, doodling and play. We aim to create interesting, beautiful spaces that are purposeful for the users, while encouraging exploration and play for the little ones. Feel safe and breathe easy with SNS.
Cluster: Materials, Components & Services (MCS)
Sustainability Themes:
Health & safety, carbon management, environmental management, circular economy, environmentally-friendly materials, waste reduction
Sustainability Certifications:
SNS is among the first high pressure laminates companies in Singapore to achieve the highest possible rating (4 Ticks, Leader) under the Singapore Green Building Product (SGBP) labelling scheme.
ISO 14001 (Environmental Management System)

SNS and all of SNS' manufacturing facilities are certified with ISO14001:2015.

FSC (for sourced paper)
More Sustainable Product Feature (Health & Safety): SNS HealthShield™
This high-pressure laminates collection uses proprietary technology that enables the laminated surfaces to actively eradicate various microbes, without harming the human body. Backed by tests against leading international standards, JIS Z2801-2010 and ISO 21702:2019, SNS HealthShield™ is proven to reduce bacteria count and virus infectivity by more than 99.9% after 24 hours. This protection can last the lifetime of the laminates when properly maintained.

The collection is also certified to be extremely low in volatile organic compounds (VOCs) emissions that are harmful to developing organs, which makes it extremely suitable for use in spaces designed for young children such as childcare centres and baby rooms.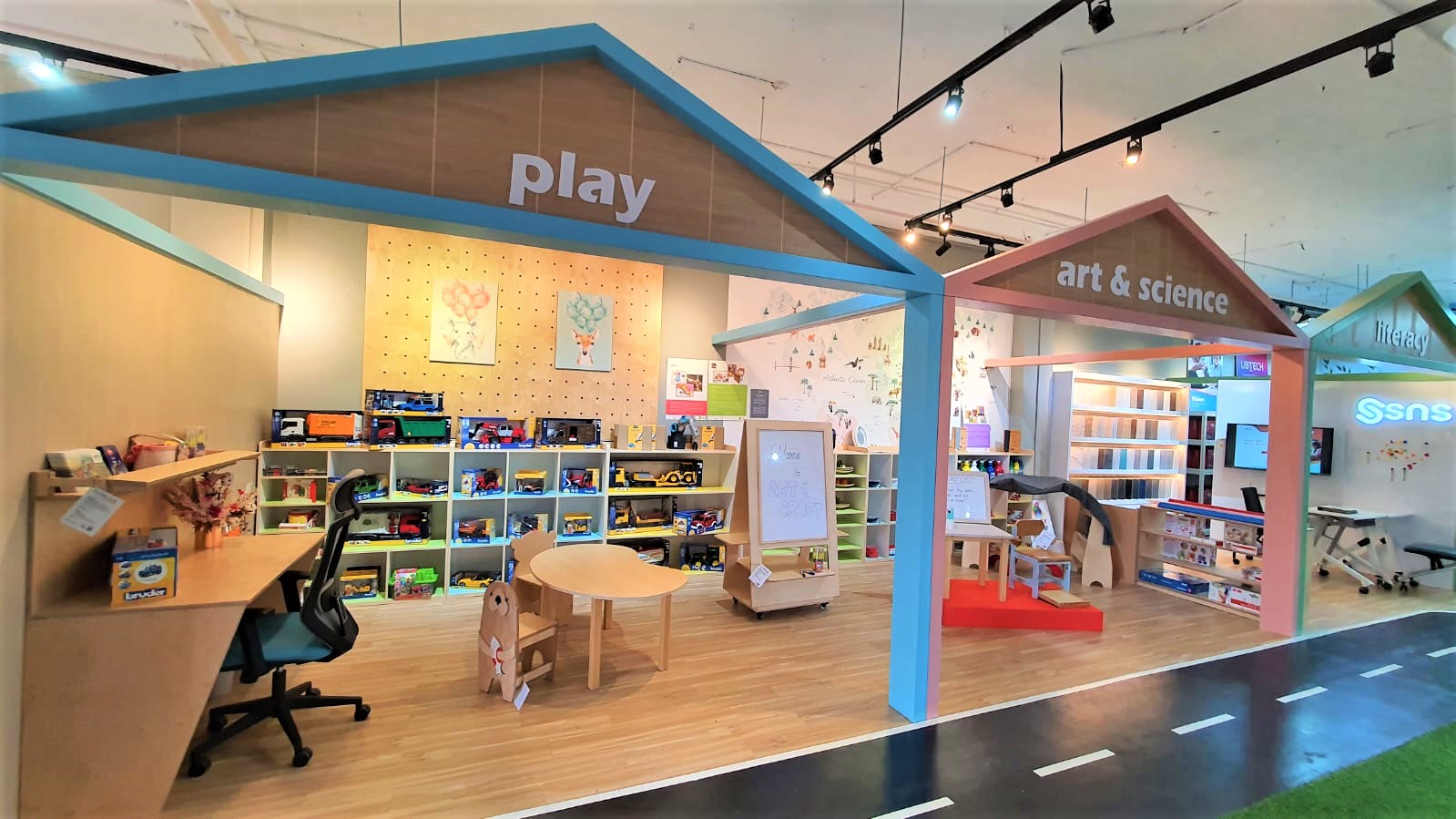 SNS laminates on display at Playscape @ Edupod (Photo Credit: SNS)
Environmental & Social Initiatives:
Sources recycled resin as far as possible. Currently, 10-30% of their sourced resins are recycled, depending on their dynamic availability.

Prioritises suppliers that are geographically closer to minimise carbon emissions.

Provides more advisory services to clients, so that they can understand clients' needs better, narrow down the samples that they hand out to them and thereby minimise the need to print and hand out full catalogues. This minimises waste and the consumption of environmental resources to produce the catalogues.

Signed the Alliance for Action on Sustainable Spaces Low Formaldehyde Commitment Statement

Plants 1 tree for every 10 sheets of laminates sold.

SNS works with Eden Reforestation Projects, who has forest experts on the team to ensure proper forest management. Eden also advances SDG1 (no poverty) by offering underprivileged local communities with more opportunities for economic self-sufficiency, improved health and education. They execute their planting programmes in multiple locations, including Indonesia and the Philippines.
Upcoming Environmental Initiatives:
Exploring roadmaps towards carbon neutrality. SNS' carbon reduction roadmap will be on their revamped website, which is slated to be launched in July.

Looking into procuring more recycled resin.
-----------------------------------------------------------------------------------------------------------------------------------------------------
---