#Sustainability Spotlight: ARDEX-QUICSEAL Singapore
Quick Read: Innovating for More Sustainable, High-Performance Products
---
\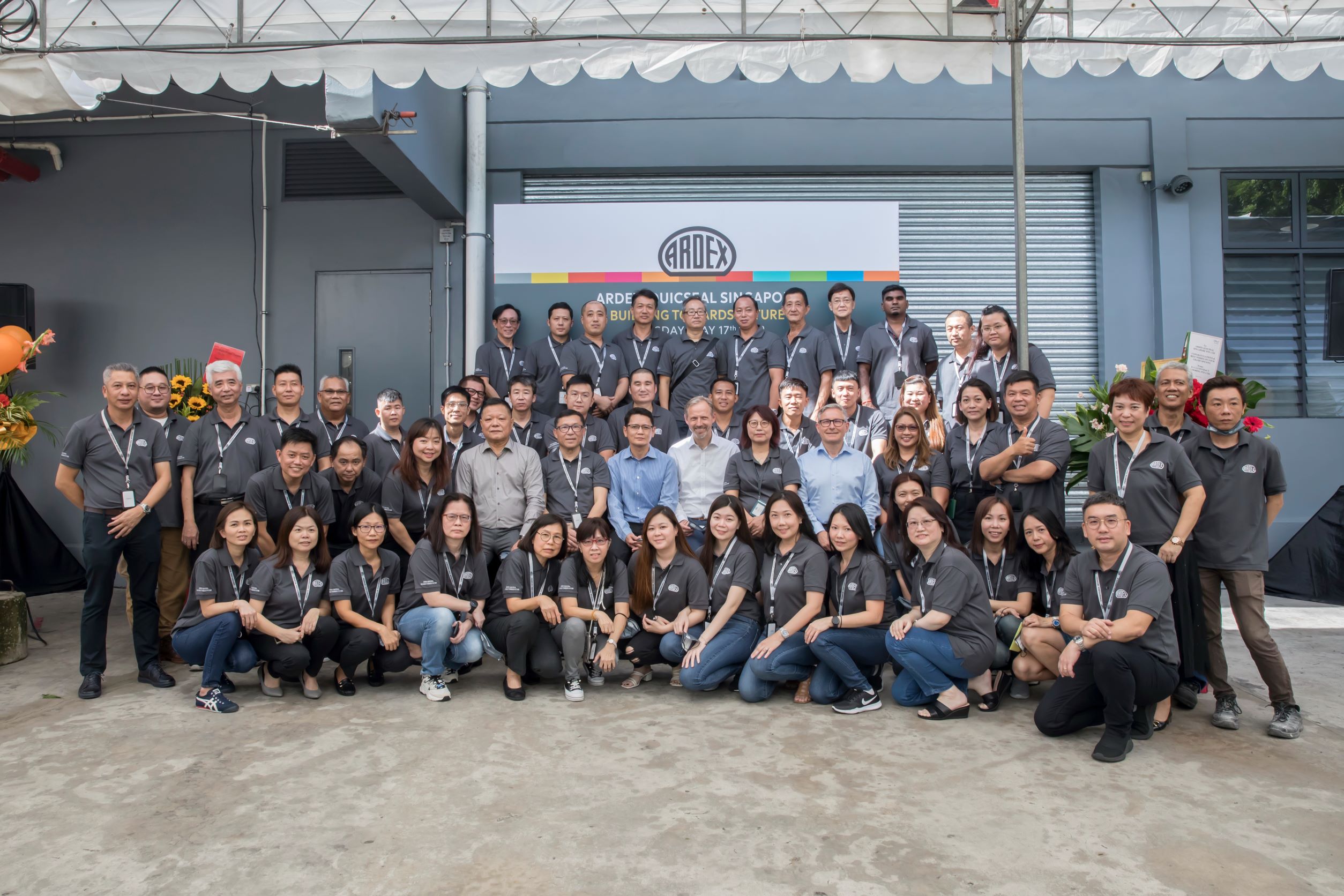 ARDEX-QUICSEAL Singapore Team
At ARDEX-QUICSEAL, a company specialising in building chemicals, sustainability is pursued particularly in terms of waste reduction, material recyclability, carbon management through minimising transport needs, and the optimisation of energy and resource efficiency.
To the ARDEX-QUICSEAL team, sustainability primarily means developing greener products and manufacturing processes, as part of a holistic EESG (economic, environmental, social and governance) sustainability strategy and framework.
In pursuit of more environmentally sustainable products and application processes, ARDEX-QUICSEAL developed and incorporated their unique RAPIDRY Formula Technology into their products. This technology enables projects to be completed faster, reducing carbon-emitting trips back and forth to the building site.
Furthermore, ARDEX-QUICSEAL's cement-based products are mixed with water on the construction site, reducing transportation carbon footprint and costs.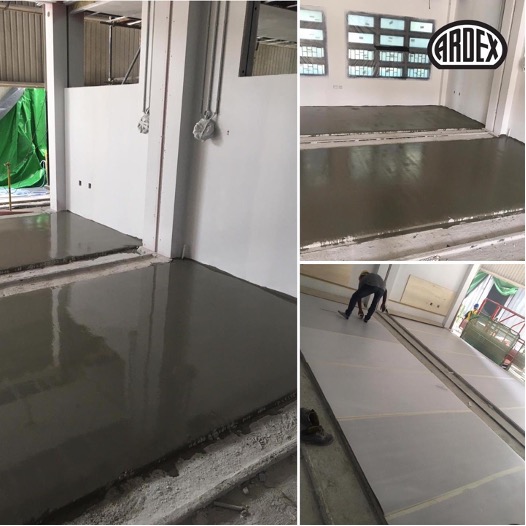 ARDEX-Quicseal's Product Application Process
Beyond continual R&D for their existing products and processes to advance their sustainability attributes and performance, ARDEX-QUICSEAL also looks into leveraging more sustainable materials for new products. They have just begun using recycled rubber and are currently looking for more environmentally friendly mats and cement alternatives.
Logistical processes are not missed at ARDEX-QUICSEAL -- they transport their products in wooden pallets and encourage their clients to contact them to collect the wooden pallets back. This practice is in line with circular economy principles.
Beyond working on sustainability within the company, the ARDEX-QUICSEAL team expresses that it is also key to communicate the value of more sustainable products made with more sustainable processes to consumers. This is crucial to increase the demand for more sustainable products and advance sustainability across the built environment industry.
------------------------------------------------------------------------------------------------------------------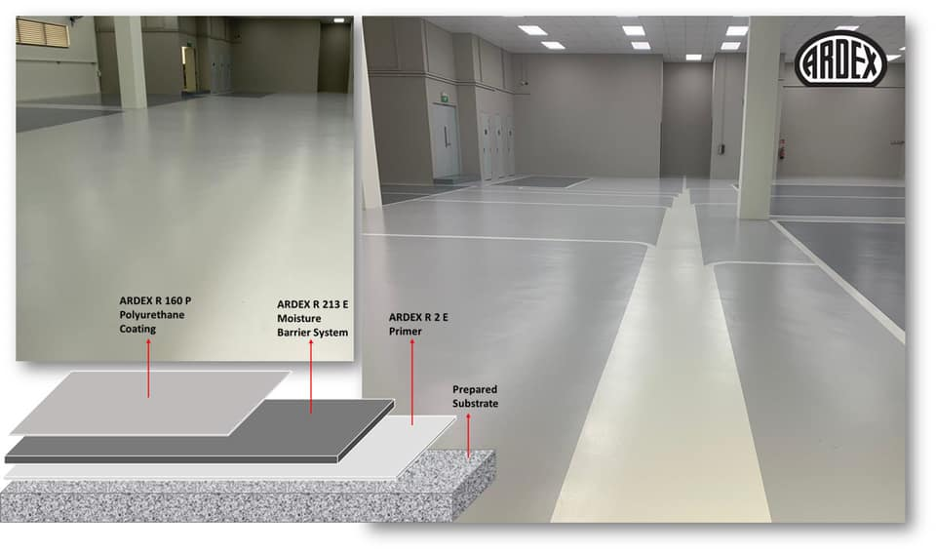 ARDEX-QUICSEAL Products Layered for a Project
Introduction to ARDEX:


ARDEX-QUICSEAL Singapore Pte Ltd is a wholly owned subsidiary of ARDEX in Germany. We have been the quality leader for building and construction industry for 70 years. We offer excellent building chemical with supreme processing reliability and are the brand of choice for installers and wholesalers. ARDEX today is still an independent family-owned business. Our permanent efforts to achieve market-shaping innovations and retaining our most important tradition: uncompromising quality; is something that we guarantee by applying the latest rigidly enforced quality assurance procedures.
With our strong internal growth and acquisitions in foreign markets today, ARDEX has achieved a worldwide presence through 71 subsidiaries, 38 production sites and 3,900 employees in over 50 countries on all continents, boasting a virtually end-to-end presence in our core market of Europe and Asia Pacific. We strive to meet the needs of consultants, specifiers, contractors and distributors through our high-performance products/system.
Website: https://ardex.com.sg/ardex/sustainability/
Type of Furniture Company: Materials, Components & Services (MCS)
Sustainability Themes:
Waste reduction, recycling, environmental management, energy management, resource efficiency, environmentally and socially responsible supply chain, environmentally-friendly materials, carbon management, health and safety, human rights, child labour
Sustainability Certifications:
ISO14001 (Environmental Management Systems; certified by DNV)
ISO 50001 (Energy Management; Germany only)
Products: Building chemicals
Environmental Initiatives:
Waste Management

Waste Reduction

"High coverage ARDEX-QUICSEAL products cover larger surface areas with less material, which cuts down on processing, transport and packaging waste.
Recycling

Made from carefully selected raw materials, virtually all ARDEX-QUICSEAL products are 100% recyclable, which saves natural resources.
Carbon Management

ARDEX-QUICSEAL products incorporating the unique RAPIDRY Formula Technology, enable projects to be completed faster; reducing carbon-emitting trips back and forth to the building site.
ARDEX-QUICSEAL cement-based products are mixed with water on the construction site, reducing transportation carbon footprint and costs.
Resource Efficiency

High performance ARDEX-QUICSEAL subfloor smoothing compounds deliver flat, level surfaces, which means far less adhesive is required to fix the final floorcovering.
Once installed, the extraordinarily long life of ARDEX-QUICSEAL products reduces the need for refurbishment and helps save resources.
ARDEX products designed for renovating existing buildings help reduce the strain on the environment, as refurbishment consumes far fewer resources than new build projects.
Energy Efficiency

By continually investing in state-of-the-art production technology for its manufacturing plants, ARDEX-QUICSEAL achieves significant energy savings."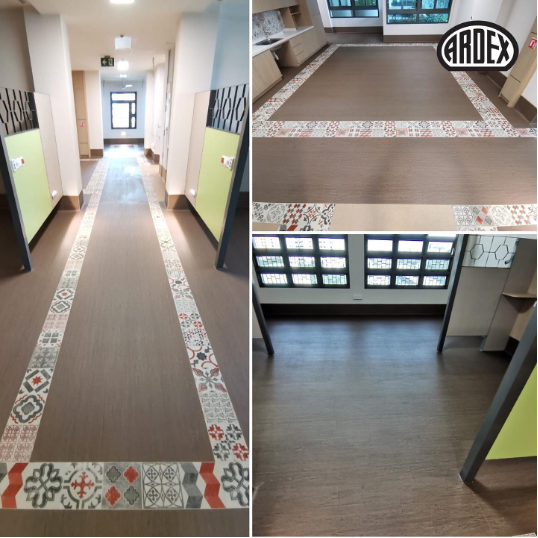 ARDEX-QUICSEAL's Smooth and Levelling flooring System with Luxury Vinyl Tiles
Social Initiatives:
ARDEX Group's international Code of Conduct includes a ban on child labour, which is based on the regulations of the International Labour Organization (ILO) and the UN Global Compact. The physical, intellectual, social or moral exploitation of children is explicitly prohibited.
Governance Initiatives:
ARDEX Group's sustainability strategy is guided by their stakeholder analysis. More details are available here.
ARDEX Group has a clear stance against corruption and bribery and requires their entire supply chain to comply with existing anti-corruption laws.
More details of the global group's efforts are available here.
All photos are courtesy of ARDEX-QUICSEAL unless otherwise stated.
---------------------------------------------------------------------------------
---