#Sustainability Spotlight: Evelyn of ChopValue
Value-Adding to Singapore's Circular Economy with a Local Microfactory
---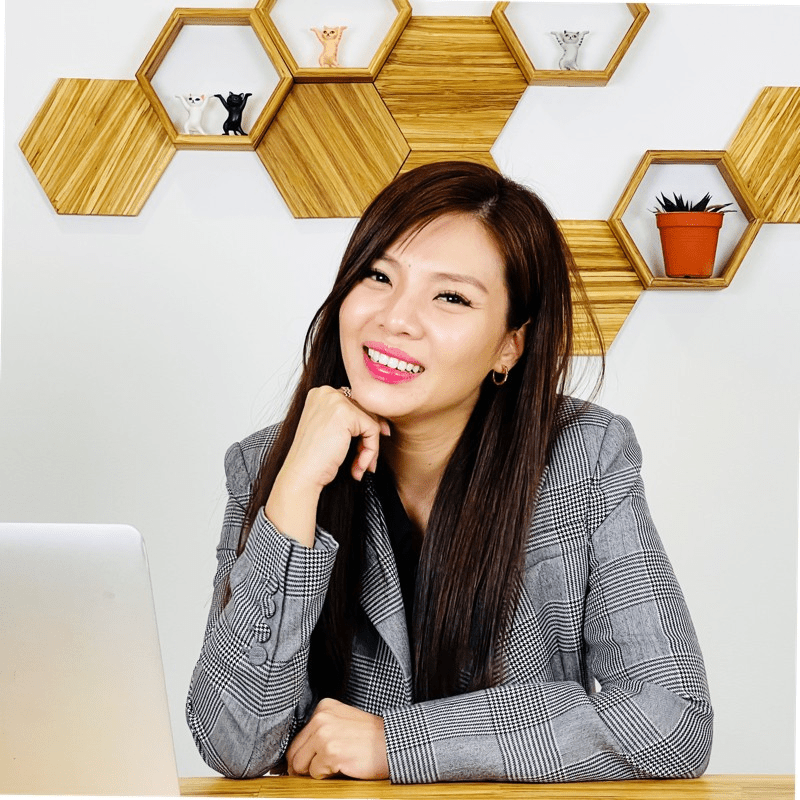 Ms Evelyn Hew
Founder of ChopValue
Managing Director of Smartcity Solutions
From Evelyn's perspective as a mother, entrepreneur and company leader, businesses that address sustainability are making important investments for the future.
"If running a sustainable business can provide us with a source of living at the same time, that's a perfect model for us," she adds. To her and Justin, who is her partner and ChopValue's managing director, sustainability also entails accounting for the financial sustainability of the business, so that its environmental and social sustainability can continue for the long-term.
Tackling Waste as a Mother and Entrepreneur
Evelyn's entrance into parenthood drove her to start becoming more conscious of the need for more sustainable business models. She wanted to do more to protect the environment where her children would grow up in.
Evelyn's and Justin's research and on-the-ground work for Smart City Solutions, which was founded in 2015, also made them much more conscious about the waste that society is creating. This gave them further motivation to pioneer sustainability through their SmartCity Solutions business, where they have been offering Internet-of-Things (IoT) solutions to public waste collectors to digitally transform the industry.
Whilst they were deploying RFID (Radio-Frequency Identification) tags on recycling bins as part of SmartCity Solutions' offerings, they saw for themselves the realities of recycling bin contamination in Singapore and how limited their impact may be in the near term. As such, they began researching for upcycling solutions that might better address society's collective waste and contamination problem in the current term.
These research efforts led them to come across ChopValue's sustainable business model in Canada, which upcycles used chopsticks into coasters, tables and other products. This discovery got them thinking about bringing the model over to Singapore.
Exploring the Potential of Upcycled Chopsticks
Across the past few months of running the business, Evelyn has been seeing a change in their clients' preferences over time. Performance, uniqueness and ability to start conversations used to be ChopValue's main selling point, which drove about 70% of their sales. Now, however, sustainability has increasingly become the key appeal, which Evelyn is heartened to see.
ChopValue's coasters have been particularly popular amongst their clients thus far, followed by their tables. All product designs are co-created by the ChopValue HQ and ChopValue Singapore team. Whilst the HQ team offers template designs, they give the Singapore-based team the freedom to customise their designs to cater to their clients' unique needs and preferences.

ChopValue designs on their e-catalogue
Some novel products that ChopValue's clients have asked for include ceiling art, photo stands, picture frames, poster stands and even a bedframe! Though the ChopValue team have not been able to accept all the customisation requests they receive, it has been interesting for Evelyn and the team to see the wide range of possibilities that upcycled chopsticks could be transformed into.
Amongst ChopValue's many projects, some of Evelyn and Justin's most memorable projects include creating Pico Art phone stands as door gifts for a DBS event, where the ChopValue team manually lasered every single one of the 500 attendees' names on the stands. They also enjoyed ChopValue's engagement with ipossible for a BMW iX structure, which was a very interesting LEGO-like design.
Other memorable projects include collaborating with Omnidesk, where Omnidesk developed the blueprint for a table design and ChopValue recommended the most suitable materials and geometric patterns. Evelyn and Justin also treasured the opportunity to produce products for Marina Bay Sands, where ChopValue was able to serve many consumers in a renowned retail space.
ChopValue's first F&B fit-out for AT feast - COMO Dempsey is particularly close to the ChopValue team's heart as well, as the project relates to the story of ChopValue and their connection with dining.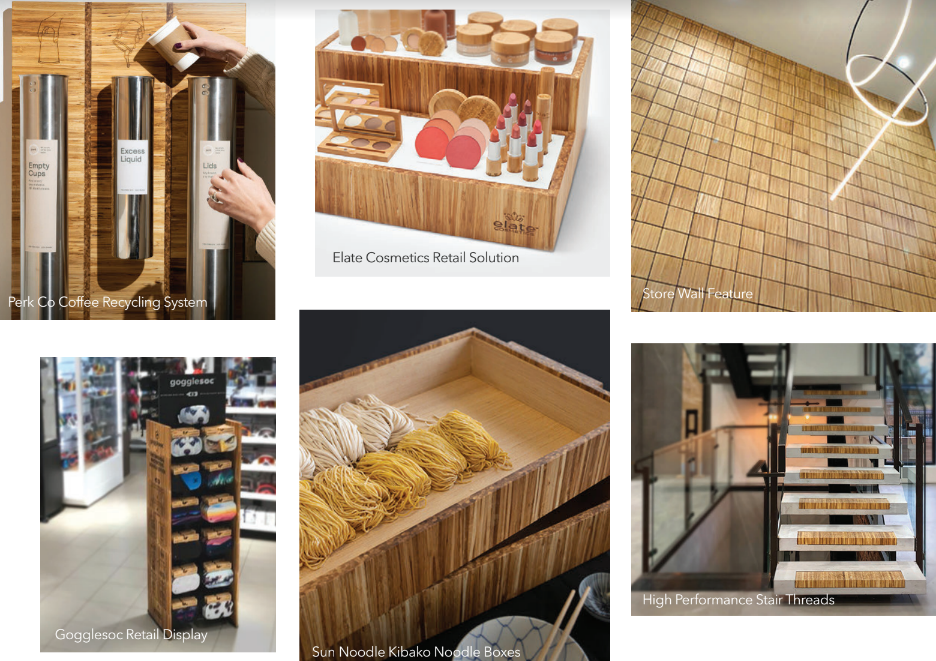 Some of ChopValue's other customisation projects
Overcoming the Ups and Downs
Beyond individual projects, an especially poignant memory for both Evelyn and Justin was the challenging process of setting up the whole factory, recipe and all through Google Meet, at the height of the pandemic. Due to the strict border restrictions during COVID-19, the ChopValue Canada team was turned away at the airport. Hence, the ChopValue Singapore team only had themselves to test their resin recipe in person and ensure that all their operations for the new microfactory were in order.
After completing the initial phases of setting up the microfactory, most of ChopValue Singapore's materials are now locally sourced. Hence, Evelyn's team has thankfully been more immune to global supply chain disruptions. However, sourcing locally has another set of substantial challenges.
It has been very labour-intensive for ChopValue's two team members to collect hundreds and thousands of used chopsticks from 107 restaurants, 4 hospitals, 2 office buildings and soon, 2 hawker centres across Singapore (and counting). These two team members and ChopValue's vehicle are out 6 days a week for multiple collective drives.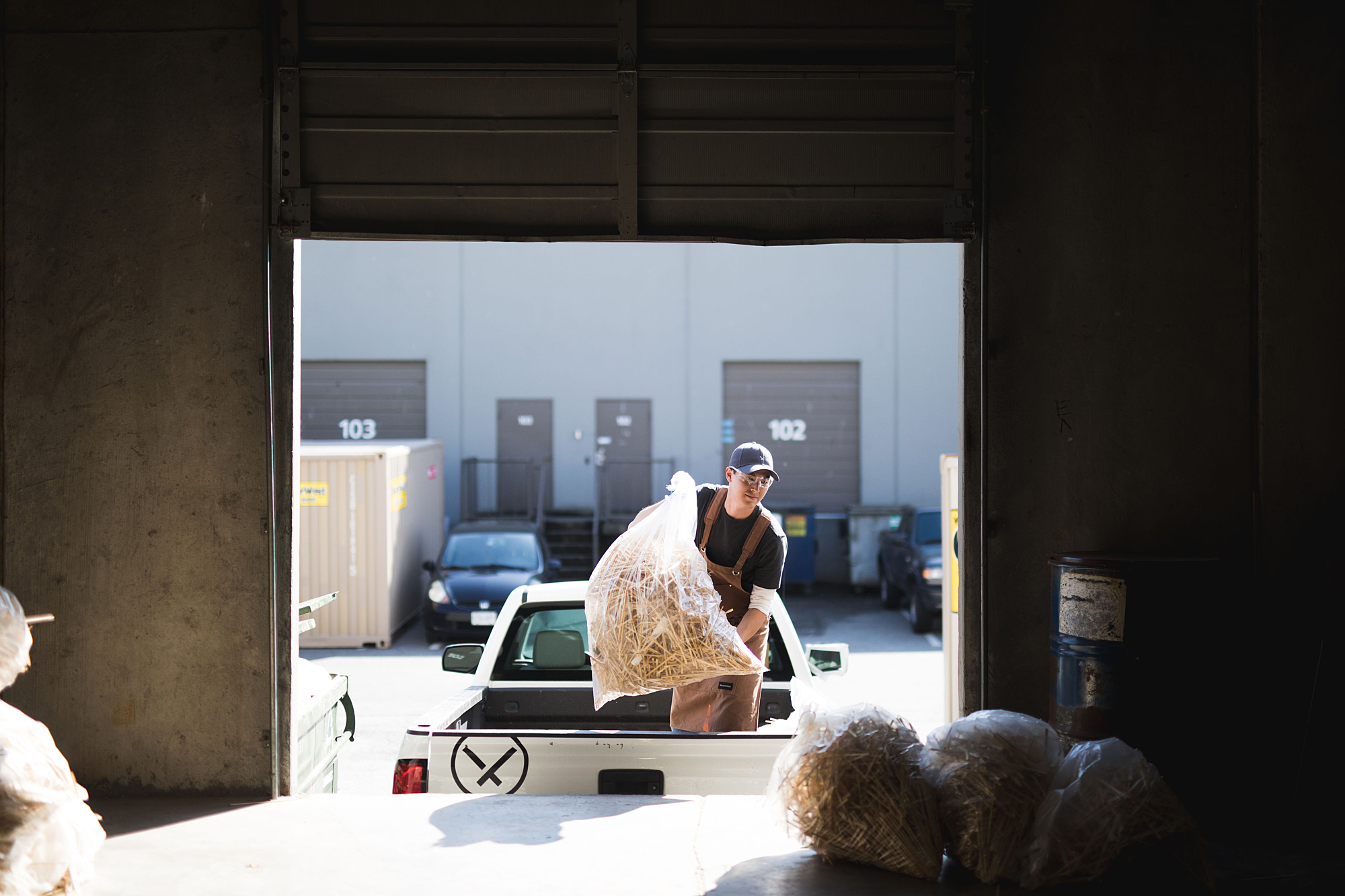 A ChopValue team member hard at work during a collection drive
Additionally, ChopValue's supply of used chopsticks, aka 'Urban Harvest', also fluctuates from time to time -- especially those from individual contributions, which usually increase after media engagements. This dynamism impacts ChopValue's capacity to plan their operations to a T.
Despite the challenges of sourcing locally and producing on-demand in a microfactory to optimise sustainability, Evelyn believes that Singapore's local waste problem should be tackled by locals as far as possible. Hence, she and the team are continuing to explore how they might leverage technology to overcome some of these challenges.
Throughout the ups and downs, Evelyn is thankful that his family and friends have been very supportive of her and ChopValue. Recently, ChopValue also received more financial support from a private investor. This investor has been in the sustainability field since the 1990s and the team is very grateful to have him on board.
Looking Ahead
Setting his sights ahead, Evelyn looks forward to the circular economy becoming a norm, to better waste segregation that can facilitate upcycling and recycling, and to more solutions addressing the waste problem we have at scale. She looks forward to seeing the government provide more support for more innovative circular economy businesses and initiatives. She would also like to see more individuals become more open to valuing and supporting handmade recycled products that save waste from the landfill.
With chopsticks as a start, the ChopValue team looks forward to exploring the upcycling of other waste materials in the future. However, as our collective waste problem is such a massive one, ChopValue would greatly appreciate closer collaborations with the government, larger corporations, SMEs, the public and other stakeholders, to scale up circular economy models and create complementary solutions to address our common sustainability challenges. We can do so much more together!
Check out ChopValue's most recent video interview with BBC here.
-----------------------------------------------------------------------------------------------------------------------------------------------------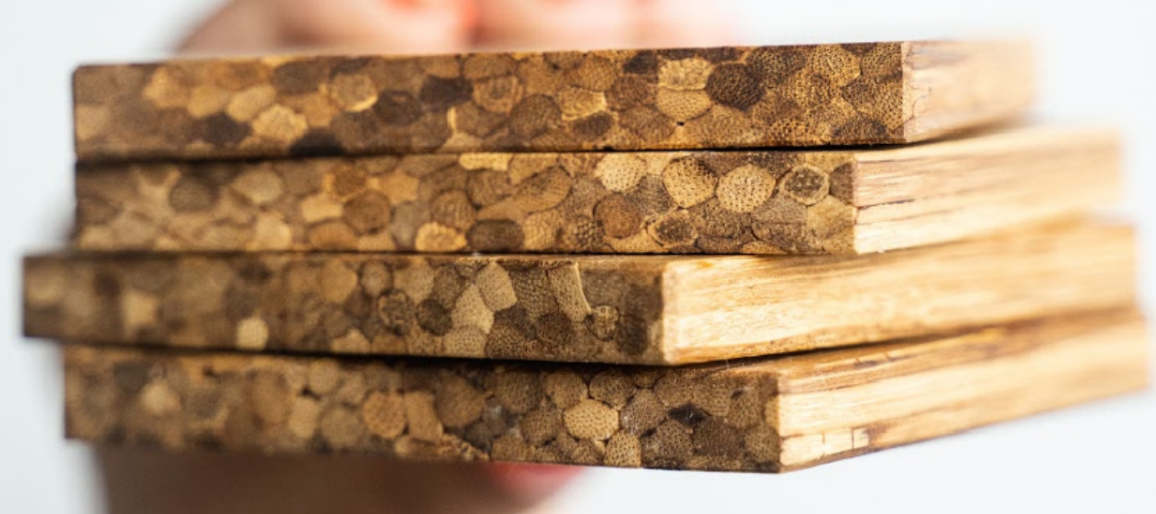 ChopValue tiles made from upcycled chopsticks
Introduction to ChopValue:
ChopValue SG gives used chopsticks a second life by transforming them into durable engineered products and designs.
The team collects 3 different types of used chopsticks -- wood, bamboo and carbonised bamboo.
After sorting and aligning the chopsticks by length into bundles, they are coated with low-formaldehyde resin. Then, the chopsticks are sanitised via heat through a 8-14 hour baking process, which produces no waste. Next the chopsticks are pressed into tiles, a process that takes 8-14 minutes to produce a set of four. Tiles of three different thickness can be produced. These tiles are then transformed into various products, including coasters and tables with customised laser engraving.
Though ChopValue's micro factory seems small, it can produce 10,000 tonnes of material per month.

ChopValue's manufacturing process
Clusters: Retail, Manufacturing & Design
Sustainability Themes:
Circular economy, recycling, inclusivity, waste management, carbon management, environmentally-friendly materials, health and safety, environmentally responsible sourcing
Sustainability Certifications:
B Corp Best For The World: Environment 2021 (more details here)
Aligns with the SDGs
Products:
Accessories and Decorative Items / Dining / E-commerce Platform / Kitchen / Living / Office
Environmental Initiatives:
Circular Economy:

All products are made from recycling used chopsticks.

Health & Safety:

Signed the Alliance for Action on Sustainable Spaces Low Formaldehyde Commitment Statement
Resin used in the manufacturing of chopsticks is free of toxic chemicals such as phenol and formaldehyde.

Waste Management:

Generates very little waste.
Separates short & long bamboo chopsticks before packing them together to reduce offcuts after they are processed into tiles.
The sawdust that is generated from sanding products is collected and reused as wood filler.
Resin is recycled until it has been fully utilized.
Manufacturing scraps are saved and used in other smaller products such as keychains and the Zero Waste table.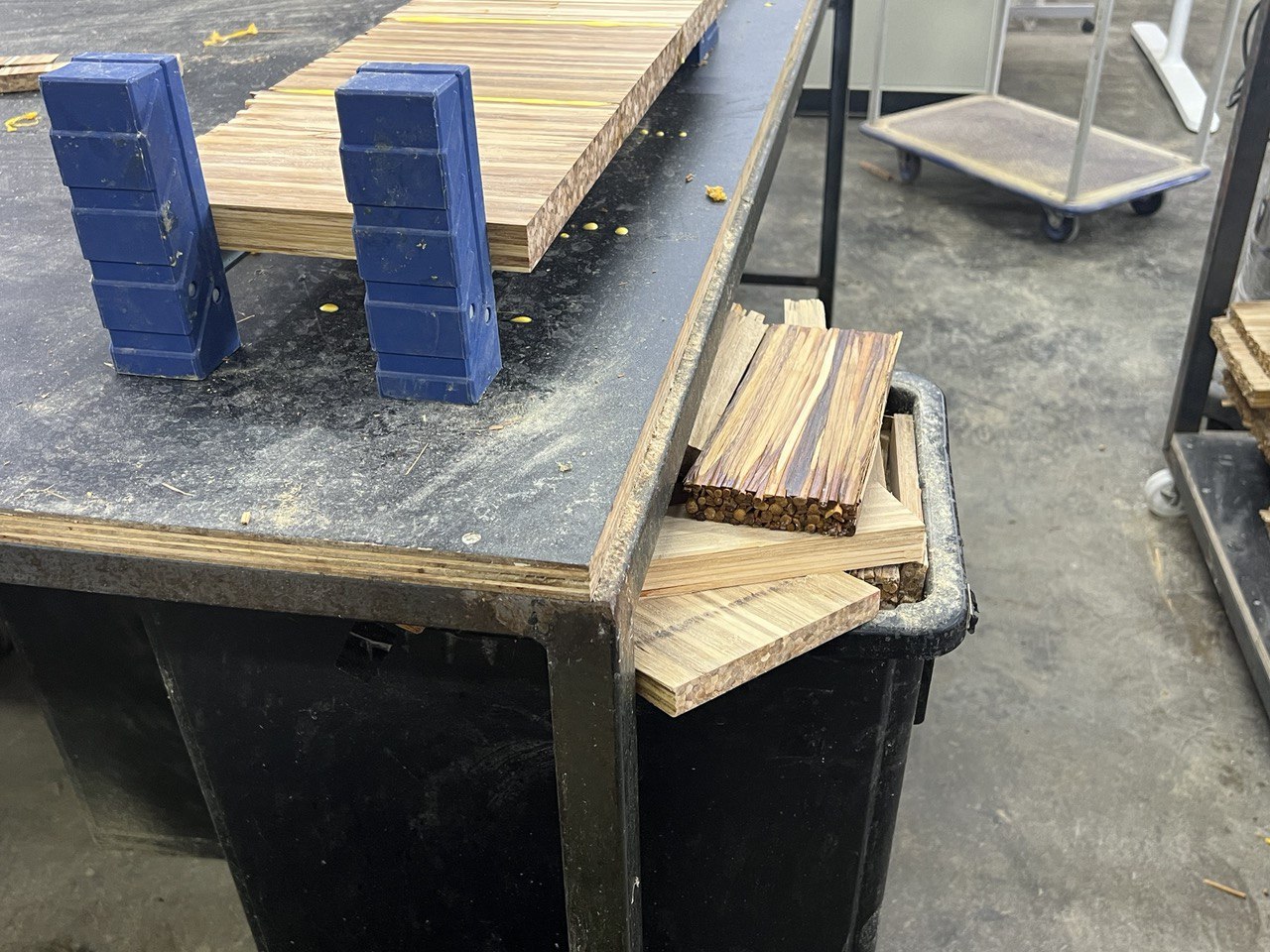 Manufacturing scraps are collected -- no material goes to waste! (Photo: SFIC)
Carbon Management:

Ensures that their production process maintains a low contribution to greenhouse gas emissions.
Reduce transportation emissions by fulfilling customer orders using the closest microfactory available.
Chooses locally produced materials as far as possible.
Aims to maintain their current carbon negative status.

Environmentally-Friendly Materials:

Products are packaged using biodegradable, starch-based peanuts and are wrapped in recycled paper; all packaging cards and labels are printed on recycled paper.
The oil used to finish final products is vegetable-based and environmentally friendly.
Read more on their impact report here.
Social Initiatives:
ChopValue is an equal opportunity employer. Their hiring practices are free of discrimination due to age, gender or other preferences.
ChopValue Location for Walk-In Donations of Chopsticks:
56 Loyang Way
#02-23
Loyang Enterprise Building
Singapore 508775
All photos are courtesy of ChopValue unless otherwise stated.
-----------------------------------------------------------------------------------------------------------------------------------------------------
---