#Sustainability Spotlight with First Sight Group
Designing and Building Children's Furniture and Play Equipment that Marry Social and Environmental Sustainability
---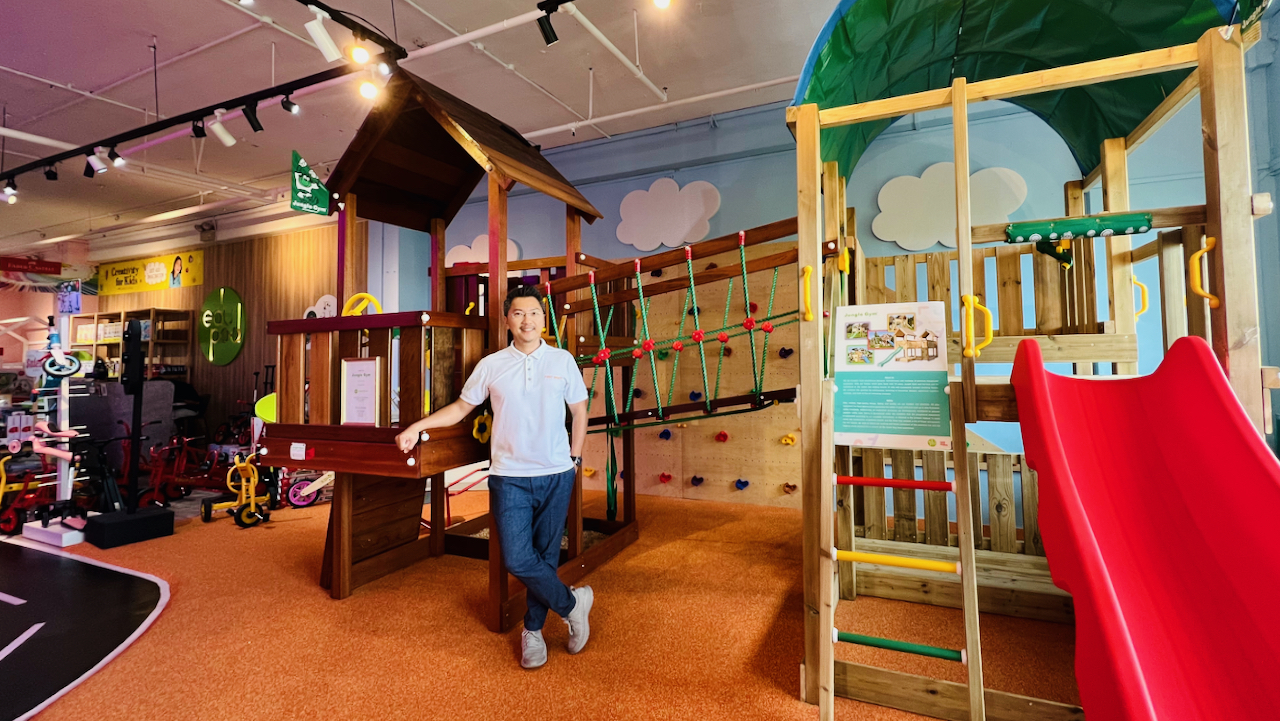 Mr Zak Lo, CEO of First Sight Group of Companies (Photo: SFIC)
Championing Sustainability, Fuelled by Business and Personal Drivers
Sustainability has provided a competitive advantage for First Sight Group – especially as a player in the educational space.
Their customers, which are educational institutions, have the mandate to advance sustainability in line with the national drive to decarbonise schools. Hence, the team at First Sight Group sees the need to keep up with their customers' evolving commitments for sustainability and work hand-in-hand with them to achieve common sustainability goals.
Besides consumers' rising demand for more sustainable products and services, Zak is fundamentally driven to champion sustainability due to his keen awareness that the Earth is suffering. The scientific evidence for this is getting clearer and clearer.
Moreover, becoming a parent has spurred Zak's personal desire to make the world a better place for his children and the future generations.
"We need a greater collective effort to ameliorate the environmental crisis," he shares.
Zak is thankful that all his staff actively support the company's sustainability drive. Their support has played a key role in strengthening the company's value proposition for their customers.
Exploring the Paths Less Trodden to Advance Sustainability
First Sight Group has been working on a multitude of projects for EESG (economic, environmental, social and governance) sustainability. On the environmental sustainability front, Zak has been developing an interest in advancing children's education on food security.
The First Sight Group's new showroom space PlayScape@Edupod has given Zak and his team the opportunity to testbed and showcase new products, which can help their clients in the educational space raise awareness about food security and its importance amongst school-going children.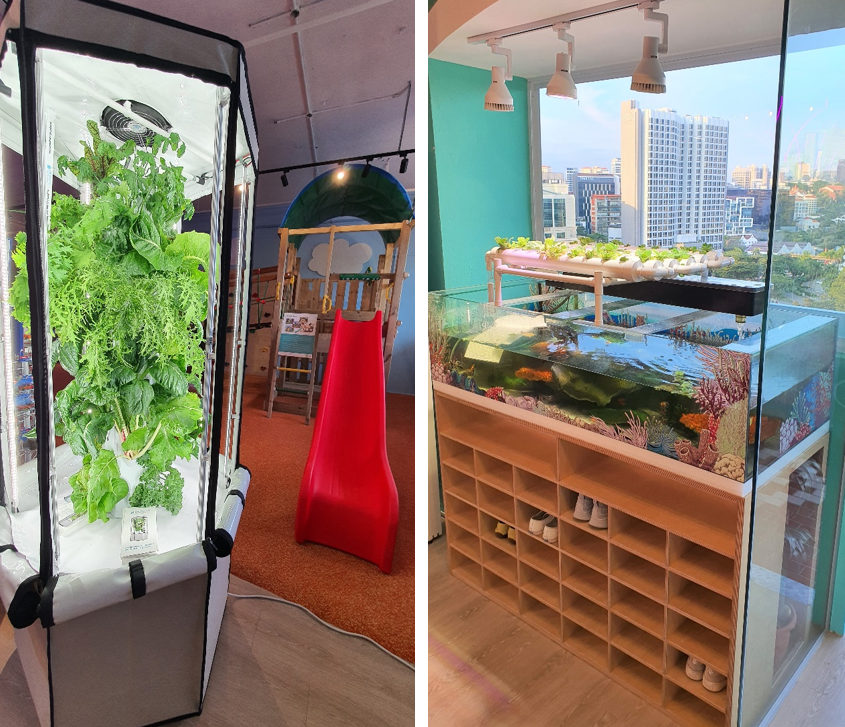 Vertical farming and aquaponic systems showcased at Playscape@Edupod
On the social sustainability front, First Sight has been zooming in on diversity and inclusivity. Their subsidiary company Edupod Singapore recently launched a line of inclusive furniture and play equipment for children with different requirements and learning abilities. The team plans to continue engaging in research and development for furniture products that most, if not all, children can enjoy.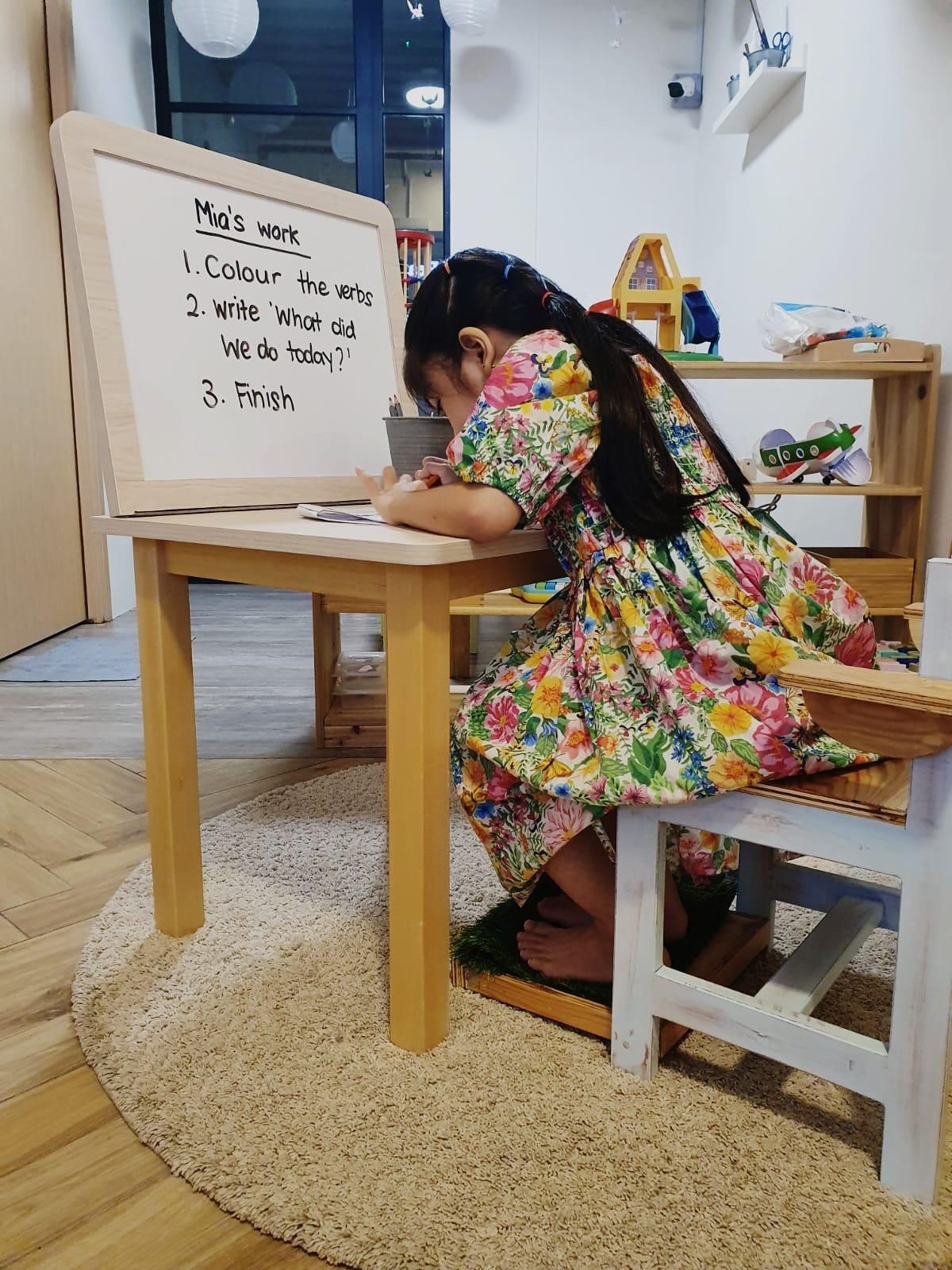 Edupod's Inclusive Chair and Table Set
As part of First Sight's holistic sustainability efforts, the team will continue to partner with local designers to explore how they might best marry local design and holistic sustainability into functional products that consumers will enjoy and value for a long time.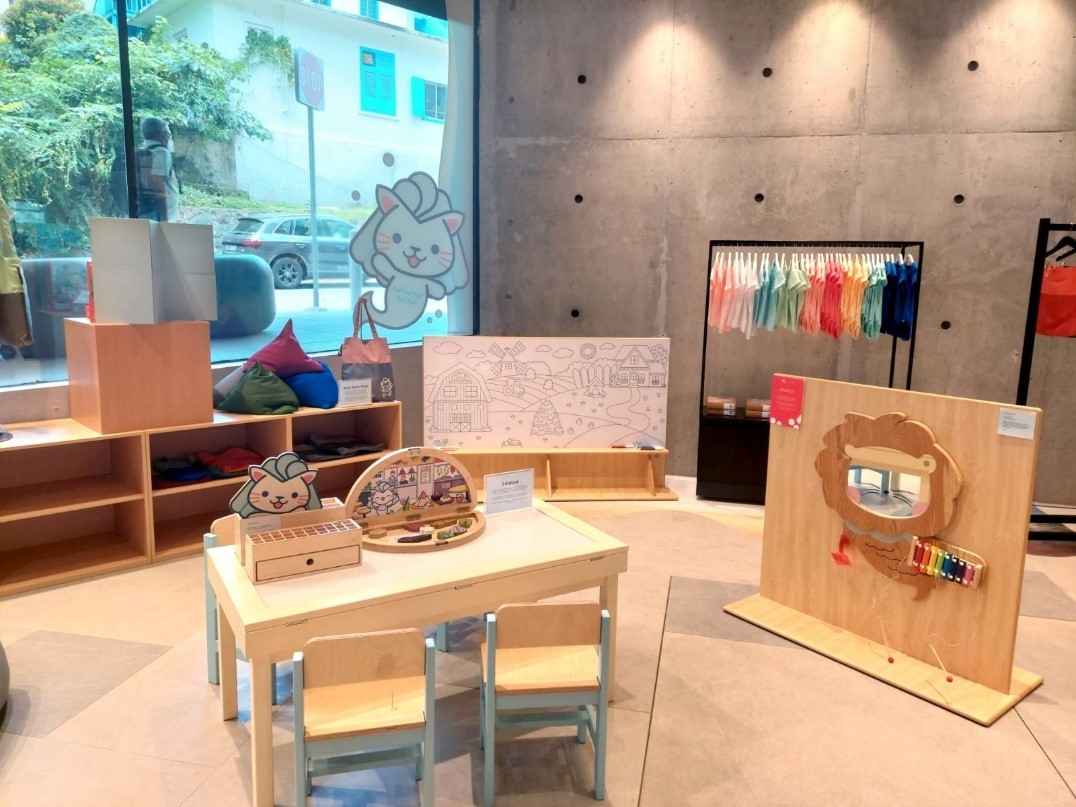 Edupod's Merli-theme range of children's furniture and learning resources – Merli Toddler Chair, Merli Mirror and Storage Box and Merli Velcro Food Tray. Merli is a well-loved Singaporean mascot. The furniture range uses more environmentally-friendly and non-toxic materials as far as possible.
----------------------------------------------------------------------------------------------------------------------------------------------------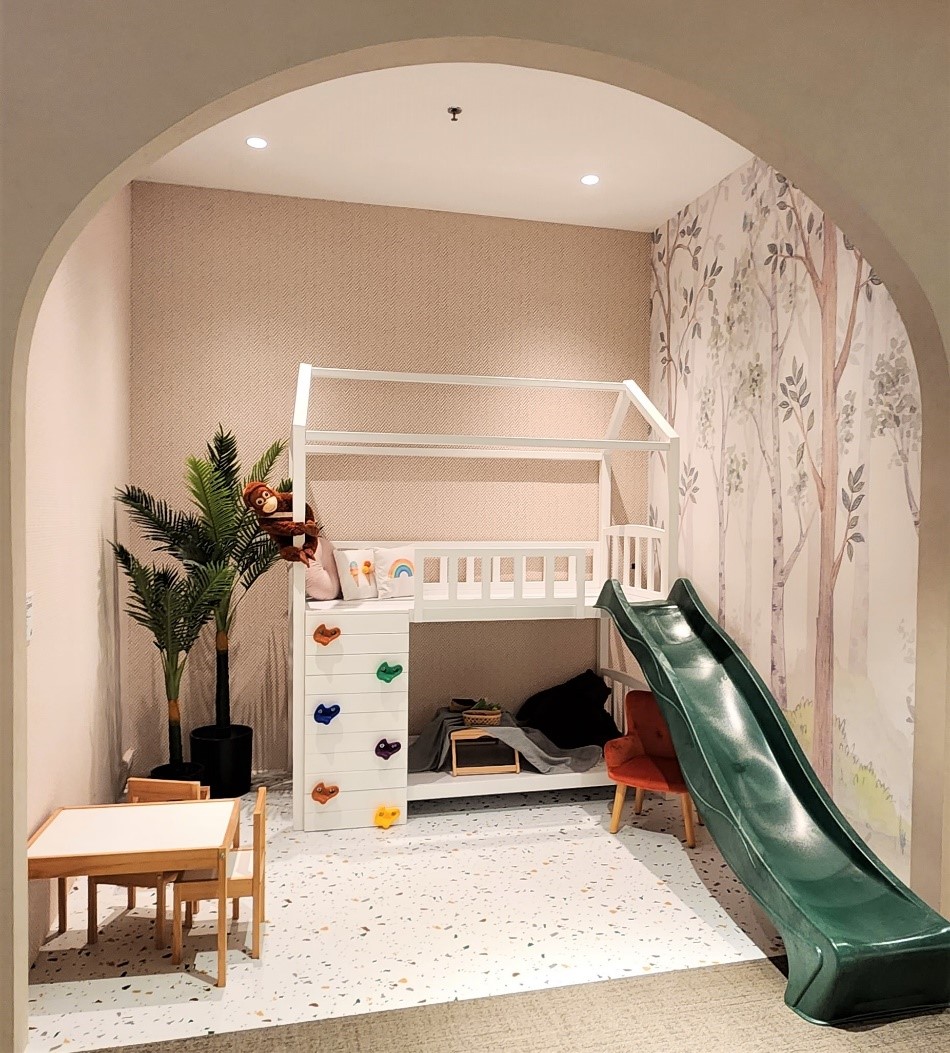 A Child's Bedroom with First Sight Group's Furniture
Introduction to First Sight International:
Founded in Singapore in 1999, FIRST SIGHT specializes in design, contract manufacturing, retrofitting and installation of interior fit-outs for children's spaces, government and international educational institutions.

FIRST SIGHT develops living and learning interiors for babies and children. All products are designed to create a safe and stimulating environment to support children's active, mental and social development needs.

FIRST SIGHT uses its knowledge of children to create the world best functional, playful and sustainable room solutions at affordable prices. its production facility has more than 60 dedicated and skilled employees, ensuring the highest quality children's furniture.
Introduction to Edupod (Sister Company):
Edupod is the market leader in the design, supply and distribution of children's furniture, playgrounds, protections guards and locks from early childhood to primary education institutions in Singapore and the Southeast Asia Region. We specialize in designing children's spaces and making furniture that conforms to safety requirements and regulations of the SPARK accreditation framework. We pride ourselves on strict quality control in ensuring their safety during usage.
We have over ten years of experience in Centre renovation, MSD Room design andbuild, Resource Management room design and build, murals that beautify the physical environment, interactive games to improve psychomotor skills and customized carpentry works.
At Edupod, we understand the need for fun and learning in a safe environment for our children. Our furniture and learning resources combine durability with functionality and interactive play. Sustainable designs that will stand the test of time and enhance the user's experience.
Introduction to Edufix (Sister Company):
EDUFIX understands that all buildings and properties needs to be constantly maintained because defects arising from wear and tear will cause inconvenience and loss of income for the owner/tenant of the property. Utilising latest technologies and sustainable industry practices, our skilled specialists will troubleshoot and provide repair and maintenance services to enable customers to focus on their core business efficiently.
Website:
Type of Furniture Company: Contract Manufacturing
Key Sustainability Themes:
Health & safety, environmentally-friendly materials, environmentally responsible sourcing, socially responsible sourcing, circular economy, waste reduction, diversity & inclusivity, community investment
Sustainability Certifications:
FSC & SLVK (all wood products)
Products:
Children's Interior Solutions, Playground, Furniture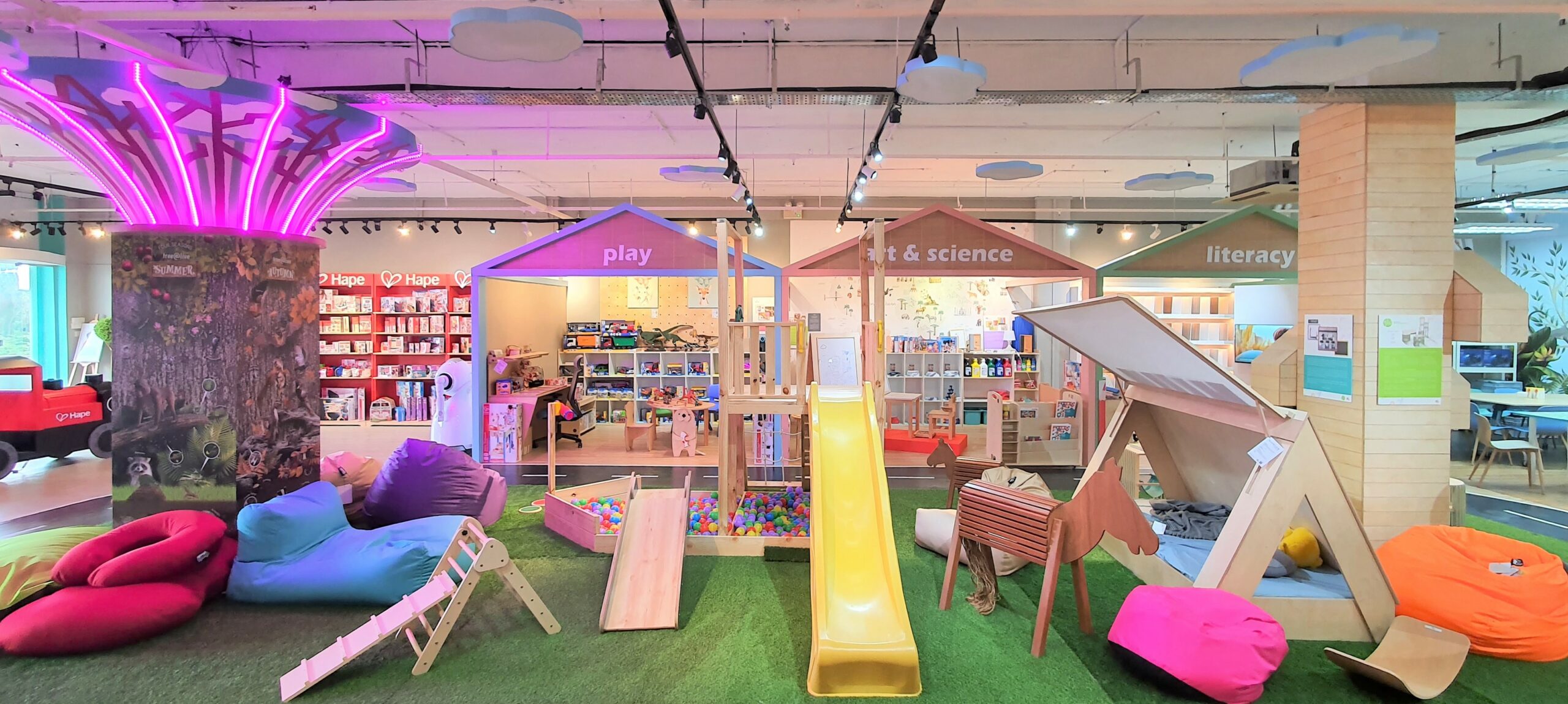 First Sight Group's Showroom
Environmental Initiatives:
Health & Safety

Edupod Singapore signed the Alliance for Action on Sustainable Spaces Low Formaldehyde Commitment Statement.
Edufix started using R.ANTISMELL by Raffles Paint for preschool maintenance projects in Oct 2022, which is almost 100% VOC-free and odour-free.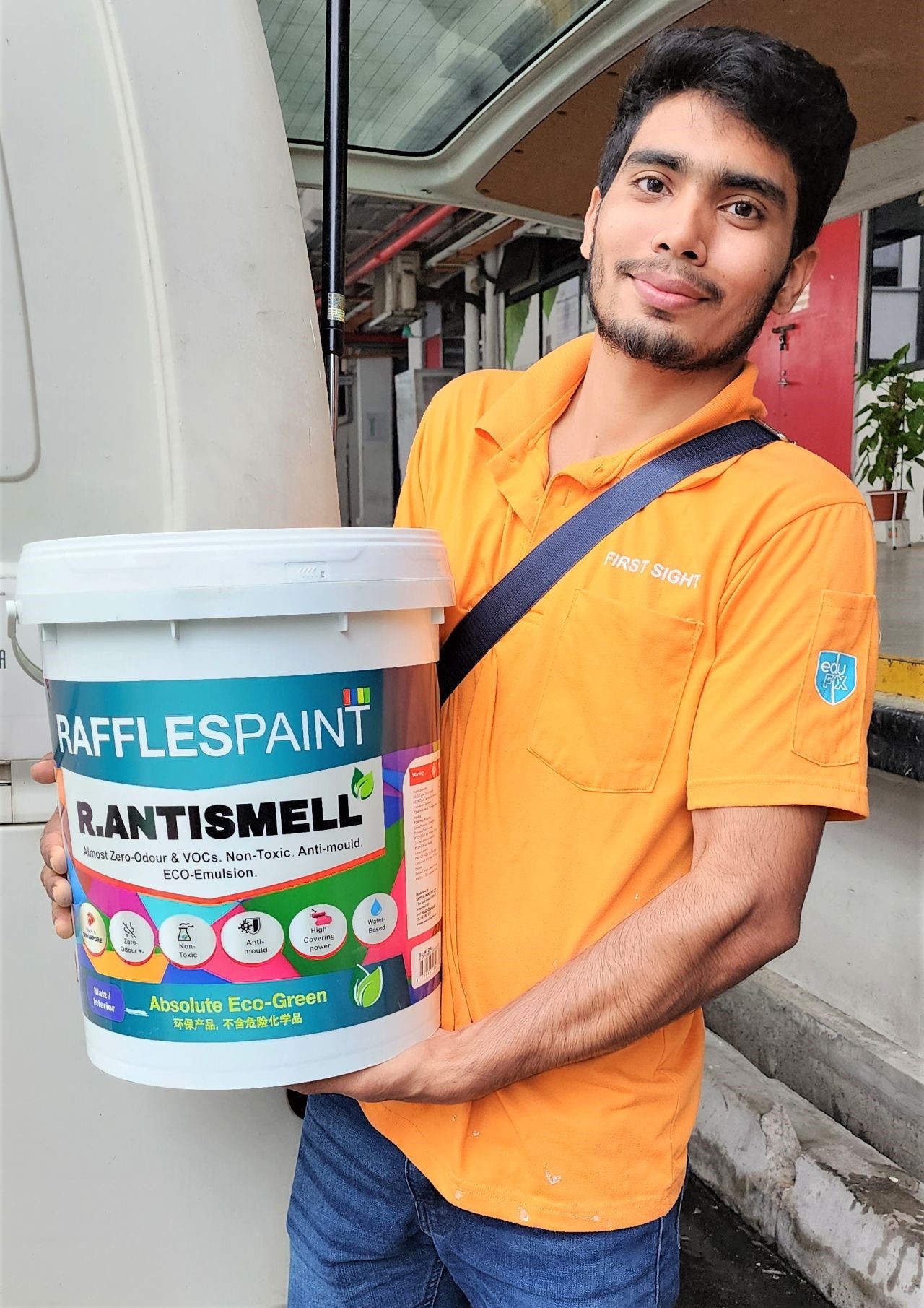 First Sight employee Noyon carrying a tub of more environmentally-friendly R.ANTISMELL by Raffles Paint for preschool maintenance projects by Edufix Singapore
First Sight uses SNS high-pressure laminates, which are certified SGBC 4 Ticks (Leader). This translates into TVOC emissions of ≤0.1 mg/m3 and formaldehyde emissions of ≤0.01 mg/m3.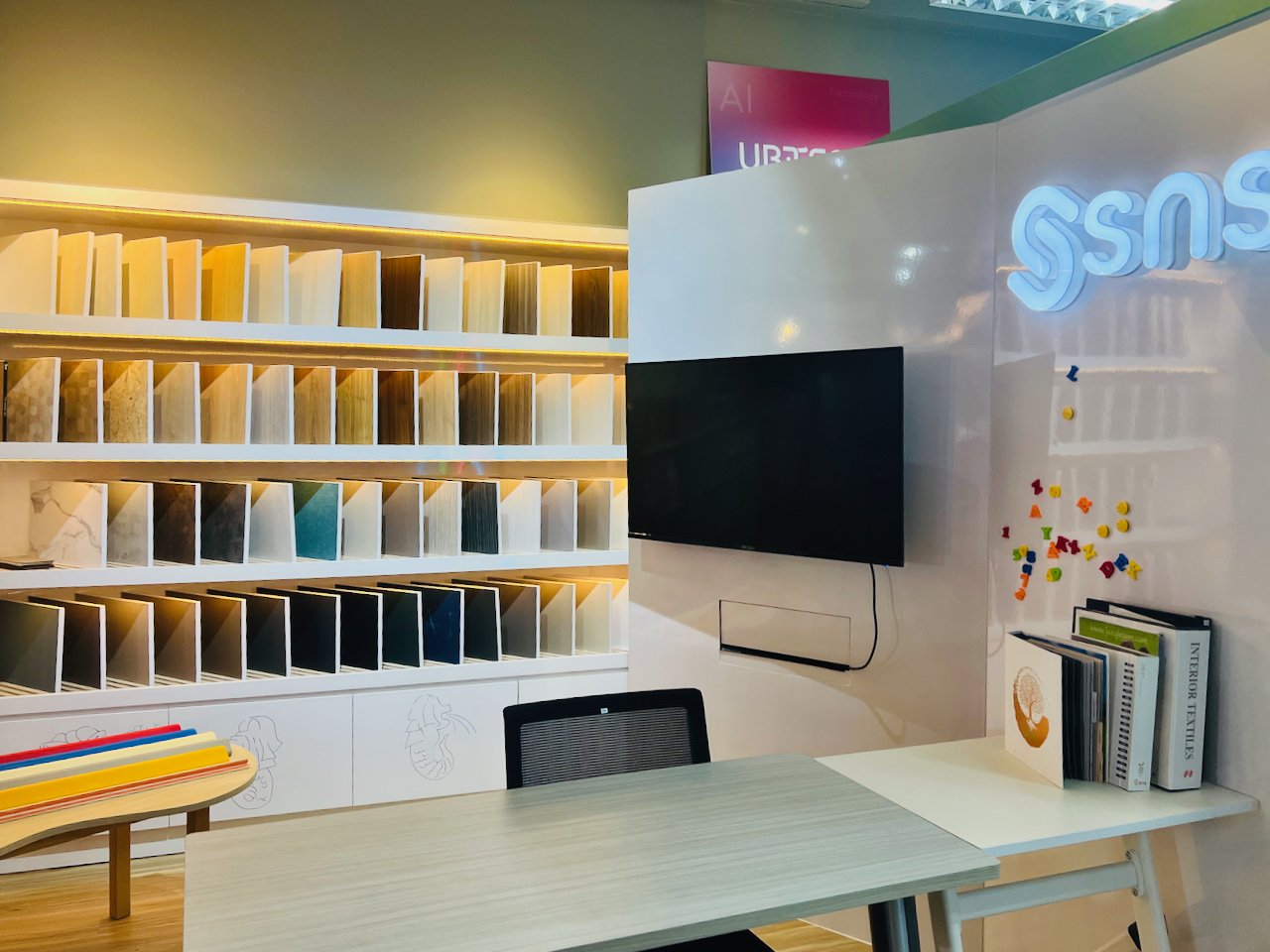 SNS High-Pressure Laminates on display at the Playscape showroom for design-and-build customers (Photo: SFIC)
Environmentally responsible sourcing:

First Sight Group has an official procurement policy, whereby the company must only work with partners / materials that are accredited with FSC or other certifications.
All wood used by First Sight Group are FSC- & SLVK-certified.
For design & build projects, First Sight International procures more energy-efficient electrical applicable where-ever possible (4-Ticks).
Where applicable, First Sight also recommends clients to incorporate vertical green walls (walls lined with plants) & solar energy systems to value-add to the sustainability of the space.
Environmentally-Friendly Materials:

First Sight International retails more environmentally-friendly toys from sustainability-centric German brand Hape, made from fast-growing bamboo & bioplastics.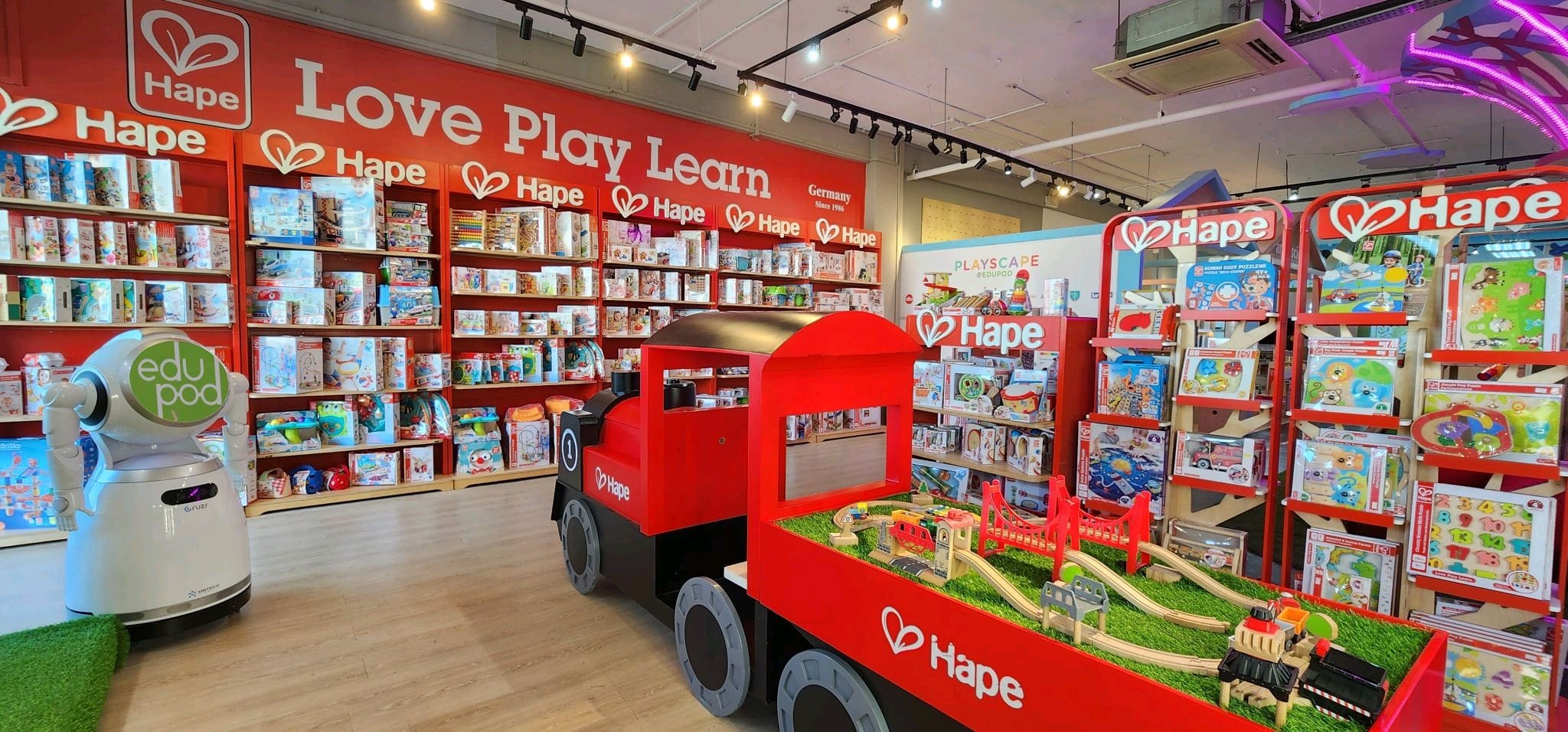 Hape toys made with more environmentally-friendly materials, on retail at Playscape
Circular Economy:

Waste / surplus materials from design & build projects are either up-cycled or donated to organisations.

Odd-sized wood go to schools for student projects.
Education x Food Security:

First Sight International is looking into the retail of infrastructure to advance food security in schools and educational institutions, such as vertical farming and aquaponic systems.
Social Initiatives:
Diversity & inclusivity:

In support of inclusivity, Edupod Singapore launched a line of furniture and play equipment for children with different requirements and learning abilities. More information is available here.
First Sight Group has an official HR hiring policy ensuring that staff are hired regardless of race, religion and other socio-cultural background.

Employee health & well-being:

Employees have a group chat whereby they can report any disputes or grievances easily to their HR manager.

Socially responsible sourcing:

First Sight has an official procurement policy, whereby the company must only work with partners / materials that are free from child labour and forced labour as far as possible.

Community Investment:

First Sight International sponsors design & build projects and/or furniture at least once a year on an ad-hoc basis, with organisations such as CDAC.
All photos are courtesy of First Sight Group unless otherwise stated.
----------------------------------------------------------------------------------------------------------------------------------------------------
---