#Sustainability Spotlight with Greenlam Laminates
Driving Environmental Sustainability Holistically
with a Green Strategy Group and Collaborative Work Culture
---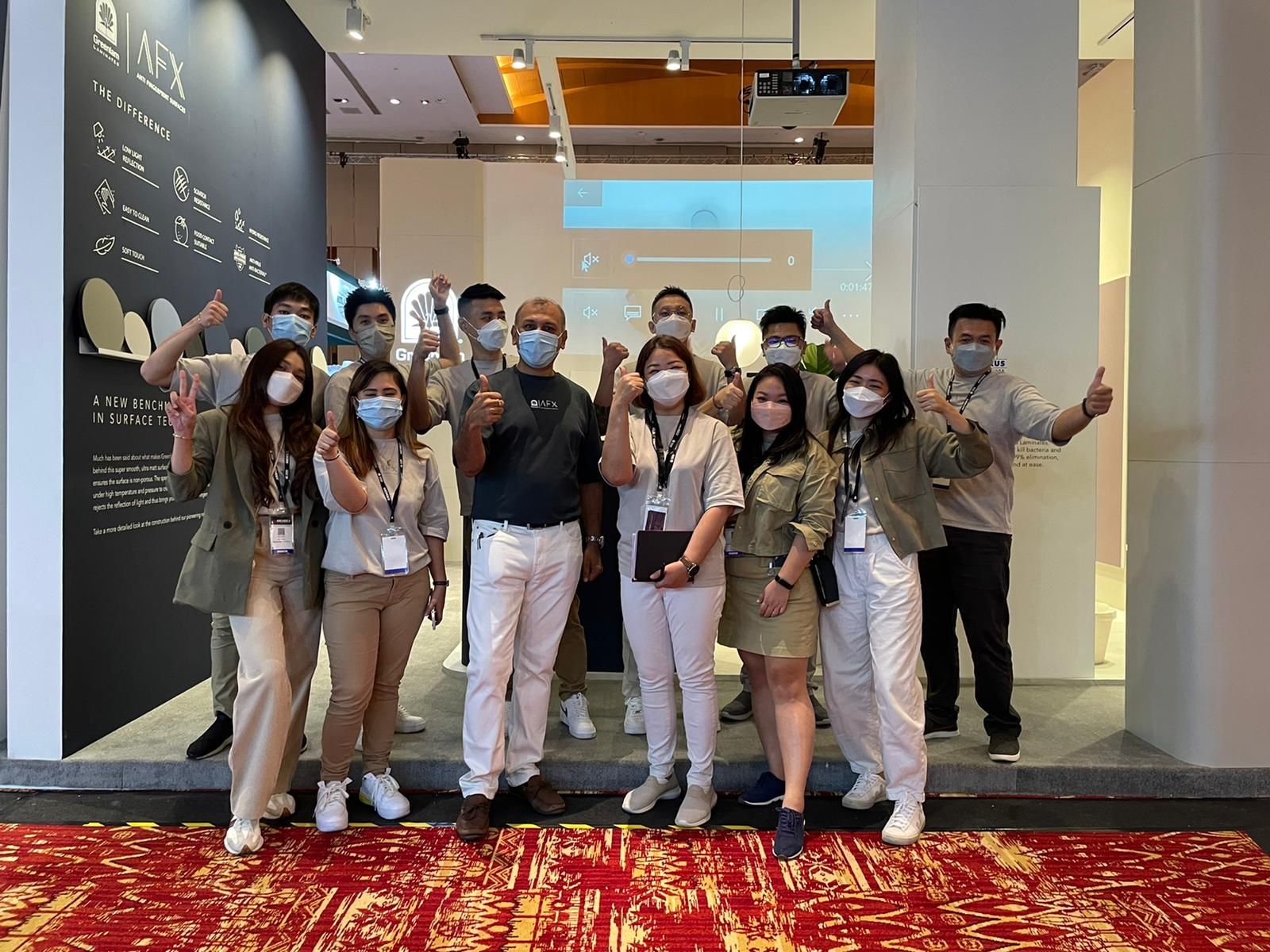 Greenlam Team at Archidex 2022
As reflected in their name, GreenLam(inates), sustainability is the core of Greenlam's business. It is spearheaded by their Green Strategy Group, which makes sure that they are heading in the right direction for sustainability.
Sustainability was a key part of Greenlam's business that they wanted to get right from the start, across all aspects of sustainability – including the economic, environmental, social and governance aspects. They believe that sustainability can go hand in hand with beauty in their laminates.
Sustainability is also the core of the Greenlam team -- they actively engage with one another to co-develop sustainability initiatives, as part of their open collaborative culture. Greenlam is committed to make our products more sustainable, such that there is a positive impact on both people and the planet.
The company's commitment and sense of responsibility -- to secure a safe working environment for our employees and to protect the health of our customers -- keeps Greenlam going on their sustainability journey. They want their brand to invoke confidence in the safety and sustainability of their products.
Greenlam's alignment with sustainability standards and certifications have helped them to reach out to a wider pool of clients, including government agencies and companies. Some of them have been specifically asking them for Singapore Green Building Council (SGBC) and Building and Construction Authority (BCA) Green Mark standards and certifications. Another common query is on their formaldehyde emissions, especially as national regulations and industry norms evolve.
The company's "safe-for-customers"-centric business approach has also enabled Greenlam to evolve needs around pandemic risks, leading them to develop anti-viral laminates in late of year 2020. These are becoming increasingly of interest amongst their clients today, in view of COVID-19.
Moving forward, the Greenlam team will continue to initiate to align with the latest energy management methods. They are also keeping a lookout for new environmental standards.
Additionally, Greenlam is looking into developing more social initiatives. Stay tuned to their social media platforms for first dibs!
-----------------------------------------------------------------------------------------------------------------------------------------------------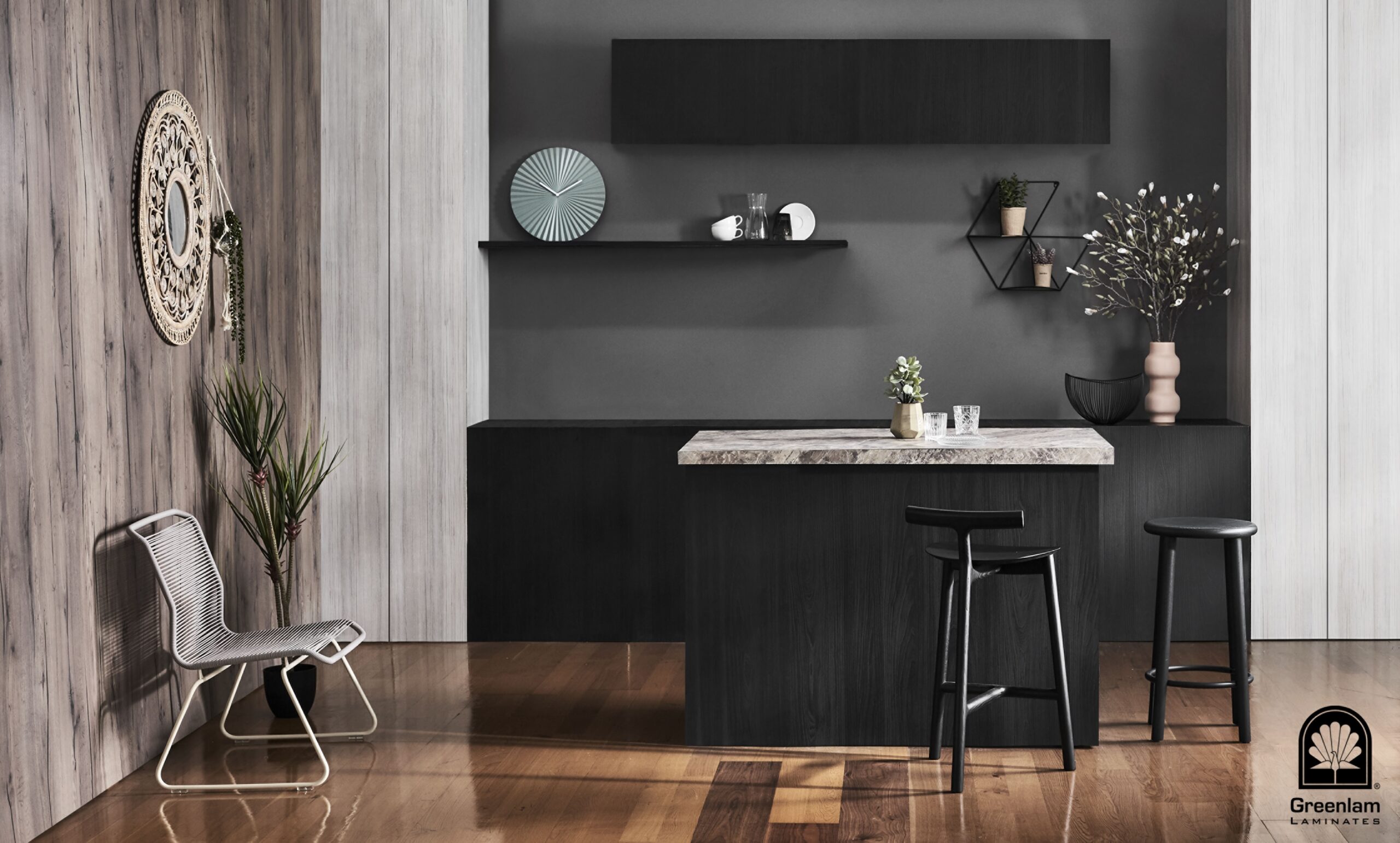 Greenlam Laminates as used in a Kitchen
Introduction to Greenlam:
GREENLAM® is a superior brand of high-pressure laminates in the industry. It is the first Asia laminate manufacturer with direct presence in Singapore; overseeing the entire business development in the Asia region namely Indonesia, Malaysia, Thailand, Philippines, Hong Kong, Taiwan and Vietnam. On top of that, it is globally distributed in over 100 countries.
Cluster: Materials, Components & Services
Website: https://www.greenlam.sg/sustainability/
Sustainability Themes:
Renewable energy, energy management, water management, waste management, environmentally & socially responsible sourcing (responsible forestry), biodiversity conservation (use of native trees), circular economy (use of recycled inputs), health & safety
Sustainability Certifications:
FSC, PEFC, GREENGUARD, GREENGUARD Gold, SG GreenLabel & EN 16516 (European standards for construction products: assessment of release of dangerous substances)
Products: Laminates
Environmental Initiatives:
Renewable energy

Uses biofuel that offsets CO2 emissions
Runs a solar energy plant
Water & energy management:

Uses a pressurised hot water process, which successfully reduced their groundwater withdrawal and power consumption
Over 2020-2021, Greenlam saved over 8 million litres of water and 80,000 kWh of electrical energy
Waste / pollution management:

Ensures zero liquid waste discharge
Uses cashew nut shells in place of synthetic and petrochemical products

This reduces VOC emissions, reduces the handling and storage of hazardous materials, eliminates the need for process washing and enables zero discharge from the plant,
Whilst enhancing the product flexibility and machinability of compact boards and achieving uncompromised performance

Leverages real-time monitoring technology to significantly reduce the waste generated, whilst saving on processing and disposal costs
Responsible forestry:

FSC and PEFC certified
Plants and uses native or adaptive tree species to generate the best biodiversity outcomes for the local environment
Organised a Plantation Drive for World Environment Day 2022, whereby Greenlam planted over 550 across its manufacturing locations in three Indian states. Greenlam will plant an additional 500 trees in phases near its Nalagarh factory Premises and nearby village areas.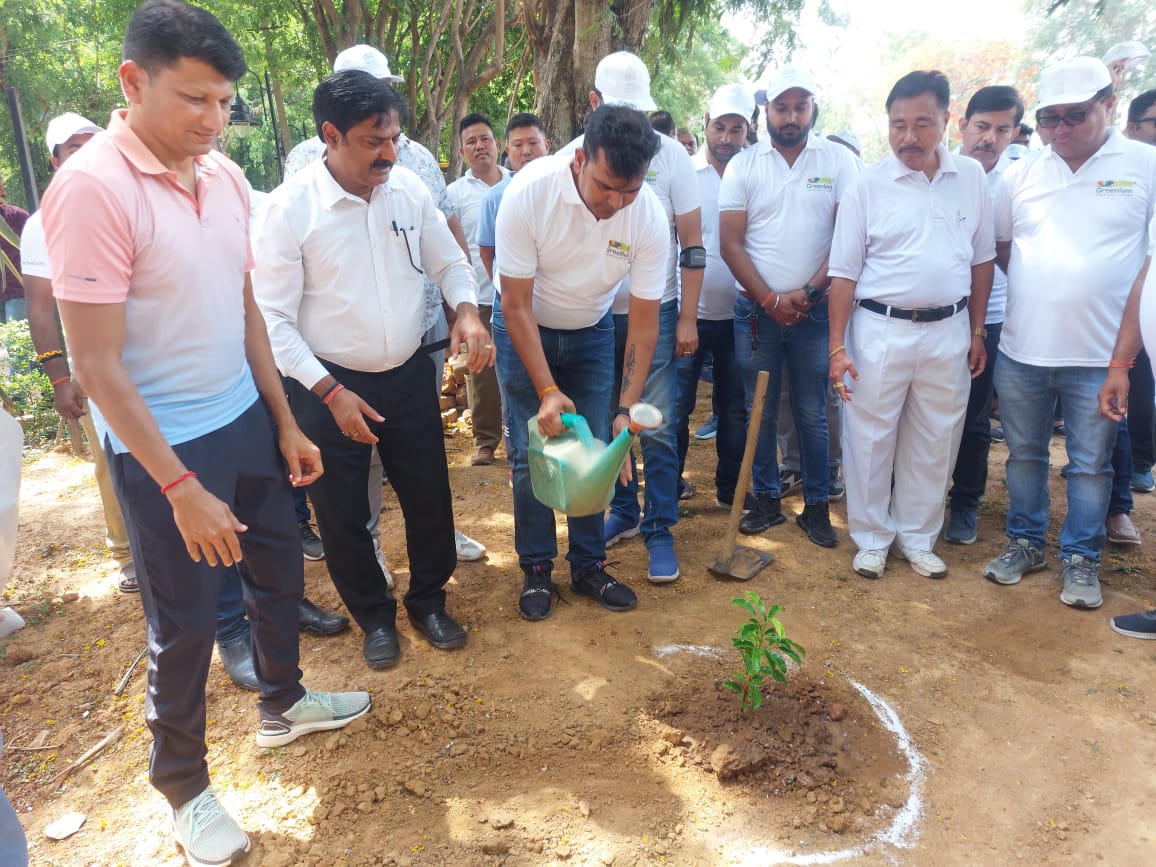 Greenlam Leadership Opening the Plantation Drive for World Environment Day 2022
Circular economy:

Uses recycled inputs in their laminates
Health & safety:

Products are guaranteed to be safe & non-hazardous
Carries out periodic indoor air quality test to ensure a safe working environment
Only uses fuel-efficient and low-gas-emitting vehicles for cleaner air, whilst reducing carbon emissions
Governance Initiatives:
Has a Green Strategy Group that develops, implements and monitors several green initiatives across the organisation
Upcoming Sustainability Initiative Highlights:
Overall:

Aligning the next Sustainability Report for 2021-2022 with GRI 2016 standards, and subsequently with GRI 2021 standards (effective 1 January 2023). The next report includes a materiality assessment of the sustainability topics that are most important to Greenlam's key internal and external stakeholders.

Environmental:

Starting to publish carbon emission measurements for Scopes 1 & 2 and the corresponding carbon management strategies.

Social:

Establishing policies for a socially responsible supply chain that accounts for human rights.

Governance:

Establishing a more stringent Code of Conduct for the organisation's leaders and a Corporate Risk Management system that accounts for sustainability-linked risks and opportunities.
All photos are courtesy of Greenlam.
-----------------------------------------------------------------------------------------------------------------------------------------------------
---