#Sustainability Spotlight with Dro of Matex
Incorporating Sustainability into the Company DNA
---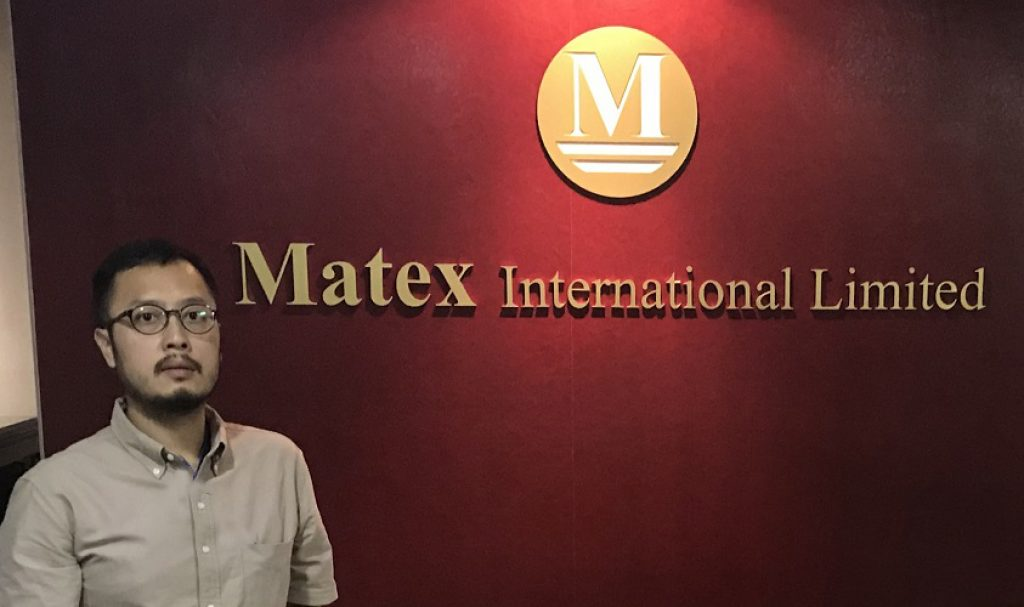 Mr Dro Tan, Executive Director of Matex (Source: Innovation Partner for Impact via Asian Scientist)
To Dro Tan of Matex, sustainability is about doing the right thing and is a value that is embedded into Matex's DNA. Being a sustainable business entails being sensitive to market demands and tailoring solutions to each partner to develop niche solutions in the market with a competitive advantage. Sustainability does not always mean the cheapest or most expensive solutions, but the best solution that aligns with both clients' needs and the Matex team's values.
Family and Academic Background Strengthened Drive for Sustainability
Dro's engagement with sustainability began even before he joined the company. He has always been interested in sustainability, and a significant part of why can be attributed to his father, Dr Alex Tan. Prior to starting Matex, Dr Tan worked in Swiss pharmaceutical company Sandoz as a Regional Technical Director. The nature of his work spurred him to look into environmental initiatives that are aligned with the European market's leading sustainability practices. Understanding the risks to business continuity that global environmental problems pose and the value of pursuing sustainability, Dr Tan made sure to incorporate sustainability into Matex's core when he set it up in 1989, bringing the Asian chemicals market higher up in the value chain.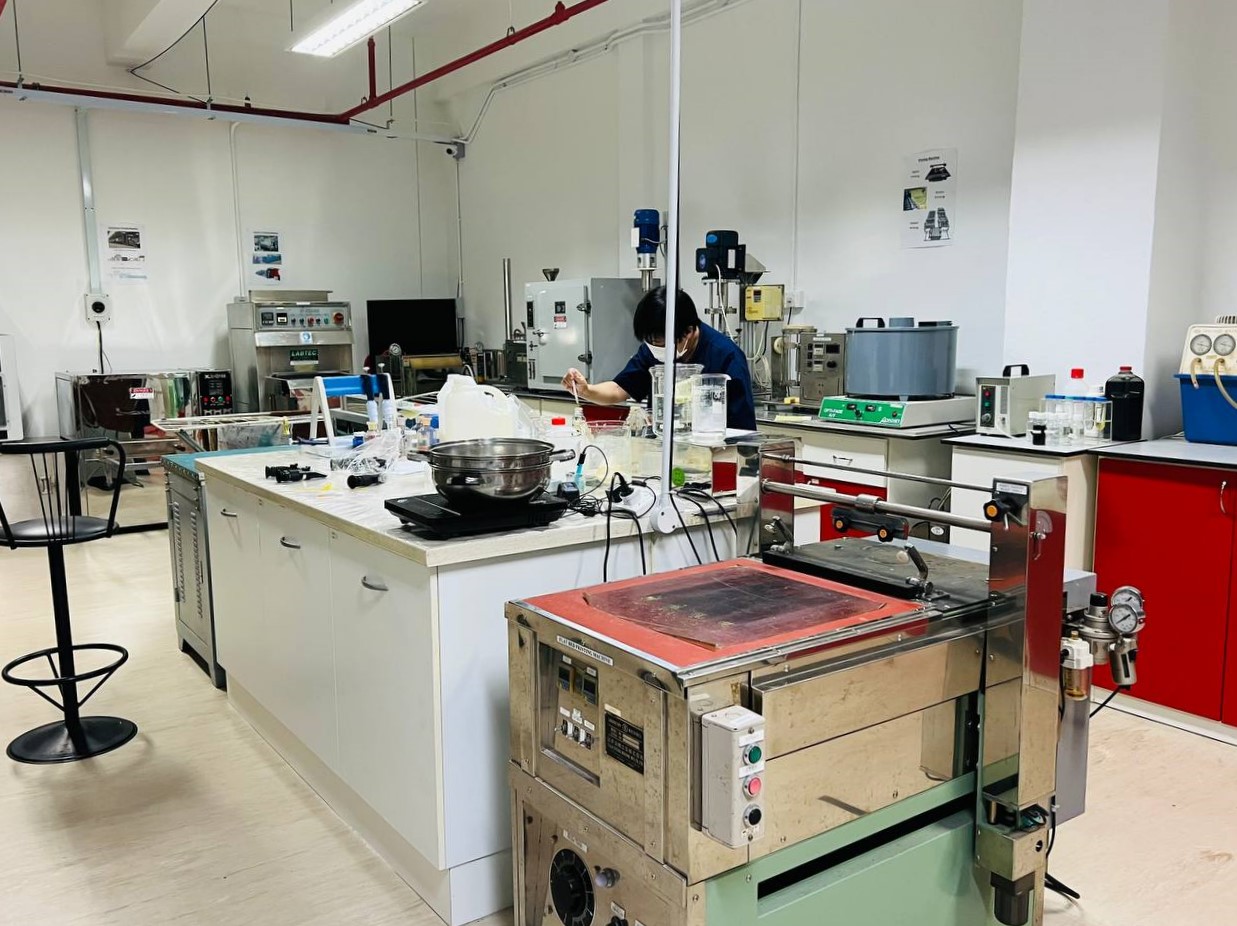 Matex staff hard at work, testing a higher-value product in their Singapore-based lab
Building on his father's influence, Dro's education has also shaped his sustainability-related interests and skillsets. Back in secondary school, being in the Green Club helped hone his understanding and application of sustainability concepts. Design and Technology (D&T) classes also helped him develop soft skills, including how to add value to materials to extend their life cycle -- in alignment with circular economy principles.
When Dro progressed to tertiary education, his academic pursuits in architecture also developed his ability to help build more sustainable and connected communities by designing and providing relevant infrastructure and systems. As part of his architectural coursework, Dro and his classmates helped to design Eco Huts, solar panels, self-collecting water systems and other more environmentally sustainable infrastructure for more liveable spaces in underprivileged suburban communities. They presented these projects to their professors and fought for their merits, which helped to further strengthen Dro's marketing and communication skills for sustainability-centric projects and products in Matex.
Beyond the influence from his father and educational background, Dro's cognizance of how textiles have contributed to significantly high levels of carbon emissions and pollution has also been a key driving force for him to continue pursuing sustainability across Matex's operations.
Advancing Sustainability in Matex

Some of Matex's certifications and commitments listed on their website footer
To help clients instantly recognise and be assured of Matex's commitment to sustainability, Dro's team at Matex regularly reviews sustainability certifications to renew or apply for. Their criteria is 80% driven by what the market and their clients need, as there is a cost to certification. The other 20% is driven by what the company values in terms of sustainability and the market developments of sustainability certifications -- certifications come and go, with some merging with other certifications and some rising or falling in popularity in the market.
Besides reviewing, renewing and applying for sustainability certifications, Matex has also been pursuing more macro-level environmental goals. Dro is happy to share that Matex has far exceeded their goals that were set in 2020 and scheduled for review in 2025. They have hence been reviewing their internal sustainability scoring rubric every year and relooking at their overall company direction every 3 years, which includes their direction for sustainability.
Regarding the company's sustainability developments, Dro is thankful that Matex's board of directors has been very supportive of their sustainability journey from the get-go. He has faith that their wide spectrum of expertise can help Matex in overcoming various sustainability and business challenges when the need arises. Looking forward, Dro will continue working with Matex's board and other partners to advance sustainability and will continue updating on Matex's sustainability progress in their annual reports.
Keeping the Flame Alive
Whilst his sustainability journey is not without its difficulties, Dro shares that what keeps him going is the knowledge that Matex is doing the right thing. Matex's business partners, who have helped him and his team drive the development of more innovative solutions in Matex, have been giving him and the team invaluable support along the way. The start-ups and other companies that Dro has engaged with, through trade associations and ecosystems like TaFF, have further expanded his and the team's perspectives on sustainability.
On a more macro level, global developments like Covid-19 have given Dro and the Matex team an additional push to pivot to more novel and sustainable innovations, such as their probiotic cleaning products in collaboration with HeiQ Chrisal SEA.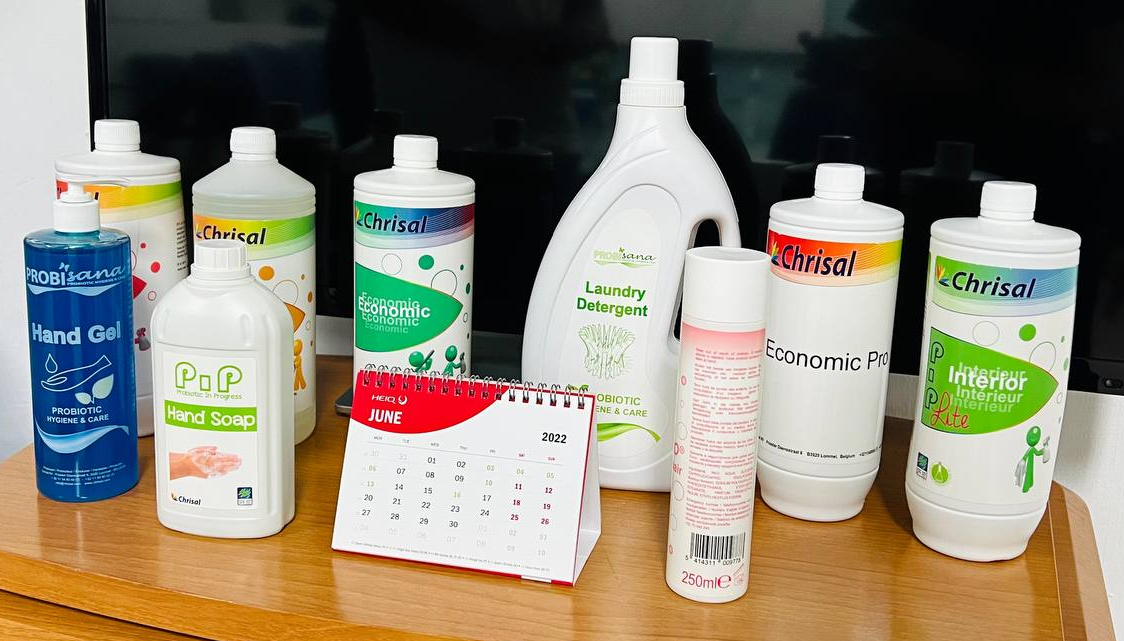 Featured products in Matex's cleaning product range
Sustainability events organised by international organisations like GCNS have also been reminding Dro of the big picture regarding climate change and other environmental issues, and the value of advancing sustainability in Matex's business operations to ameliorate these global problems.
When asked about what message he'd like to send to fellow SFIC members on their sustainability journey, Dro emphasised, "doing less is more". Quality is more important than quantity for sustainability initiatives. After taking the first step, companies need to continuously evaluate whether they are on the right track.
Additionally, Dro would like to remind fellow members to not forget to dream big. It's easy to be confined to what we are familiar with, but dreaming beyond Singapore is also important. As Dro shared, SFIC's news and programmes on international sustainability can support members in expanding horizons and rising to higher standards, like that of more sustainability-centric countries and companies.
Last but not least, Dro would like to say, "Though there will be challenges along the way, try to find joy and contentment in the things that you can do. There is only so much you can do on Earth after all - it's important to take care of your own well-being too!"
-----------------------------------------------------------------------------------------------------------------------------------------------------
Part of Matex's spectrum of product offerings for consumers
Introduction to Matex Holdings:
Matex is a homegrown Singaporean company focusing on providing colours, specialty chemicals and clean solutions to sectors such as textile, paper, leather and polymer. As a solution provider, Matex offers a comprehensive range of colourants, auxiliaries and services. We are committed to developing new product solutions, process technologies and other services that deliver enhanced sustainability performance, reduce raw material costs and generate significant overall cost savings. We partner with various corporations globally and provide both B2B and B2C solutions, including water repellent sprays and washable or disposable face masks with antiviral technologies.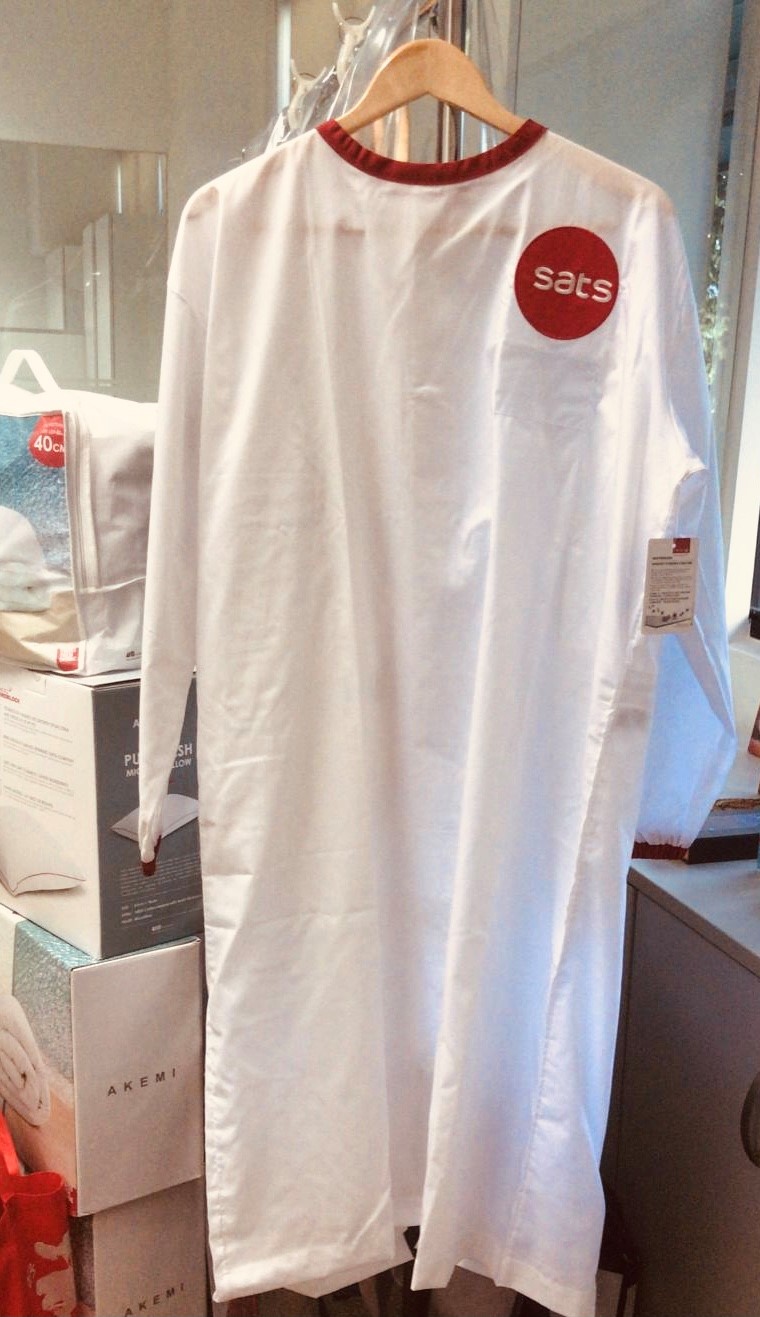 Protective Clothing for SATS Staff with Matex's antiviral technology (Source: Matex)
Website: http://www.matex.com.sg/en/sustainability
Type of Furniture Company: Materials, Components & Services (MCS)
Sustainability Themes:
Environmentally responsible supply chain, health & well-being, carbon emissions, water, energy, waste
Sustainability Certifications:
Bluesign System Partner

Intertek Green Leaf Mark

Member of:

ZDHC member brands are committed to define and develop a Manufacturing Restricted Substances List ("MRSL") for the apparel and footwear industry. The ZHDC MRSL addresses hazardous substances potentially used and discharged into the environment during manufacturing and related processes, and not just substances that could be present in finished products.

ETAD (Ecological and Toxicological Association of Dyes and Organic Pigments Manufacturers)

Zero Discharge of Hazardous Chemicals (ZDHC)

GCNS (Global Compact Network) Singapore -- LowCarbonSG Programme Pioneer

Roadmap to Zero Programme

Signed a commitment to support The Responsible Care® Initiative

Subsidiaries SMC, MCT & ACL are certified under ISO9001: 2015, ISO 14001: 2015 & OHSAS 18001: 2007 (Source)
Products: Colours, specialty chemicals and cleaning solutions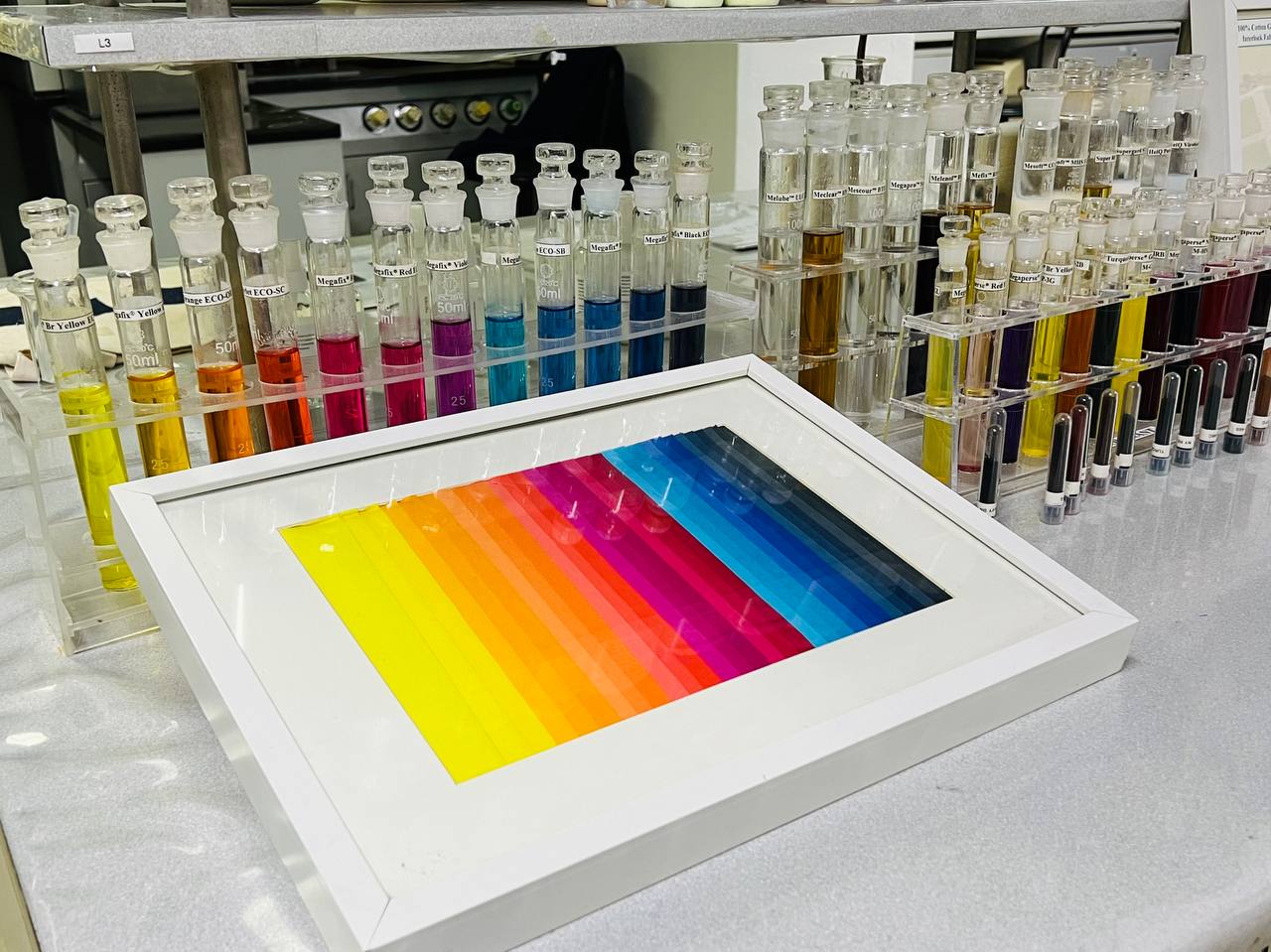 A sample of colours that Matex can develop for clients
Specific Eco Product & Service Lines:
Masks and hygienizer sprays with HEIQ Viroblock® anti-viral finish

Megapro ECO®, a system comprising a range of products which fully eliminates the need for salt in exhaust dyeing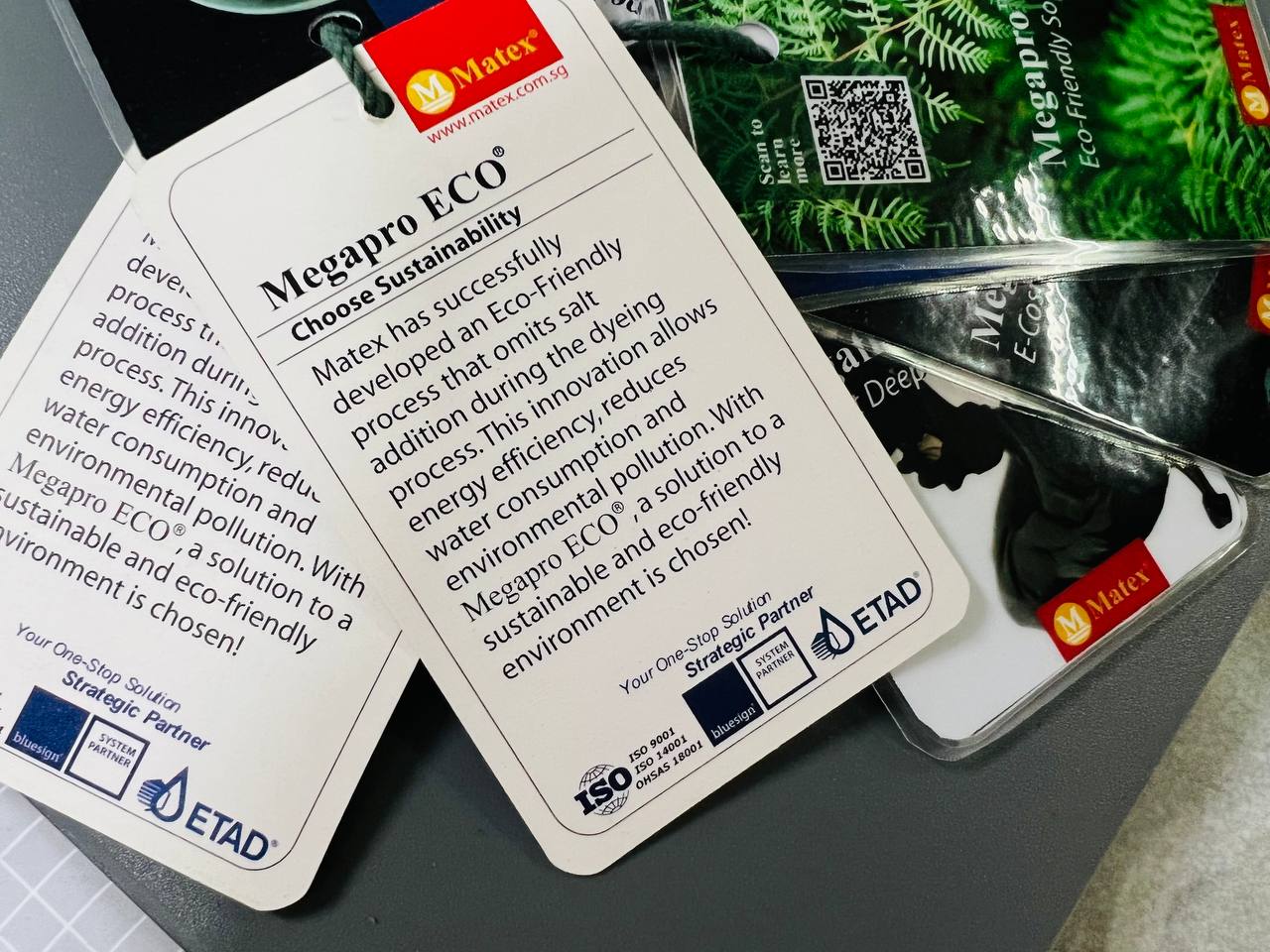 Megapro ECO® Product Introduction Tag
Other Environmental Initiatives:
Signed the Alliance for Action on Sustainable Spaces Low Formaldehyde Commitment Statement

Supports SDG3 (Health & Well-Being), SDG6 (Clean Water & Sanitation), SDG11 (Sustainable Cities & Communities) & SDG12 (Responsible Consumption & Production)

Sustainability reports are available within annual reports here
Social Initiatives
Some highlights in 2021 include:

Collaborating with Chrisal S.E Asia to dispatch to various social enterprises, eldercare residences, homes, community centres, charities and religious organisations our latest range of Probiotic and Prebiotic Solutions

Continuing to pledge its commitment to Fair Employment Practices under the framework of Tripartite Alliance for Fair & Progressive Employment Practices ("TAFEP") organised and endorsed by Ministry of Manpower of Singapore, National Trade Union Congress and Singapore National Employers Federation

Engaging with institutes of higher learning (IHLs) and the community through sharing sessions, podcasts and master classes on environmental sustainability & innovation
Governance Initiatives:
Strong sustainability governance led by a Sustainability Steering Committee.
For more information, please click here.
Future Sustainability Initiatives & Goals:
Matex's Environmental Goals for 2020 included the following:

Increase Resource Efficiencies

Reduce Energy Consumption by 30%

Reduce Direct CO2 emissions by 45%

Reduce Direct and Indirect emissions of greenhouse gas by 35%

Reduce volume of water use by 25%

Reduce volume of effluents by 40%

Reduce volume of waste by 45%

These goals are scheduled to be reviewed in 2025.

For more details, please click here.
-----------------------------------------------------------------------------------------------------------------------------------------------------
---