#Sustainability Spotlight: Lionel of Natuzz Ohme
Looking After the 3Ps: People, Planet & Profits
---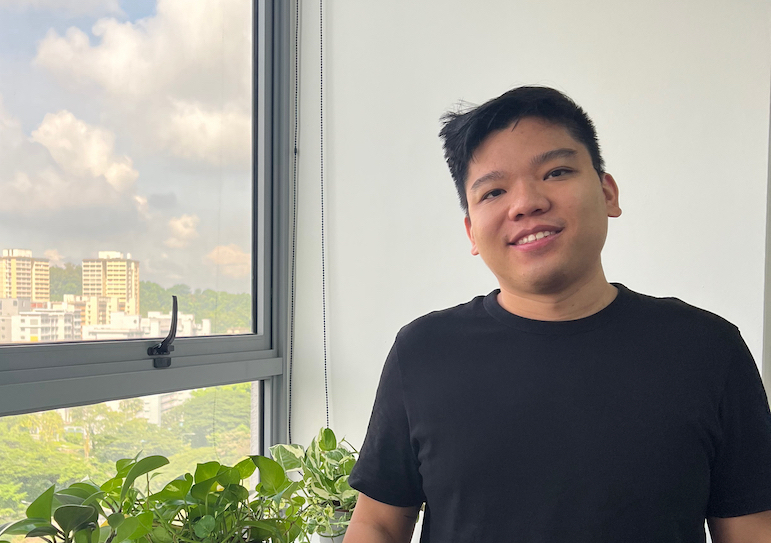 Mr Lionel Tan, Design Executive and 2nd Generation Leader of Natuzz Ohme (Photo: SFIC)
People, Planet and Profits. This sustainability-centric business concept of a triple bottom line has stuck with Lionel long after he graduated from the NUS Overseas College (NOC) entrepreneurship programme. Now, he keeps it at the back of his mind as a guiding principle for all the work that he does at Natuzz Ohme.
Inter-Generational Sustainability is Crucial
To Lionel, advancing sustainability in the furniture industry translates into transforming the global furniture supply chain in view of environmental, societal and operational concerns. In doing so, furniture can be designed to be passed down across generations.
Sustainability in furniture also means passing on the art of artisan, handmade furniture making across generations. Handcrafted furniture with natural finishes is becoming a niche category of furniture that is increasingly sought after by modern consumers today. This may be partly because consumers value the stories behind the crafting of the furniture, and can appreciate the quality of the materials by feeling the wood grains.
To rising second-generation medium-enterprise business owners like Lionel, sustainability is a crucial concept that enables them to carry on the legacy of their family businesses. Sustainability can also be a driver of business development in family businesses -- some of Natuzz Ohme's clients have married both aesthetics and sustainability and created a harmonious balance between the two for their brand. Driven by a combination of evolving consumer demands for more sustainable products and a desire as a company to do good, one such sustainability-centric client has since grown into a popular Australian furniture brand, which has amassed over 160,000 followers on Instagram since their founding in 2014. Natuzz Ohme has been their sole agent for many years.
Holistic Sustainability is Embedded into Natuzz Ohme's Business Model
Guided by the 3Ps, Natuzz Ohme strives to run a holistically sustainable business model as far as possible, driven by their desire to make a positive impact on the environment and community.
(Social Sustainability)
Community Investment / Impact
One of Natuzz Ohme's keystone social sustainability projects is community investment – they have been regularly sponsoring the education of orphans and destitute children in Indonesia, Sri Lanka and Laos. This economic empowerment builds on local communities' existing efforts in supporting children's education, so as to sustainably improve social mobility in their society.
In Laos, Natuzz Ohme donates and oversees the building of 4 schools, so that students from typhoon-stricken regions can study in weatherproof classrooms.
In Indonesia, the orphan children in Central Java often fall into the care of their grandparents, who may have challenges earning a sufficient income due to their ageing bodies. Natuzz Ohme has been paying for the orphan children's monthly allowances and school supplies since 2018 – just two years after the company was founded.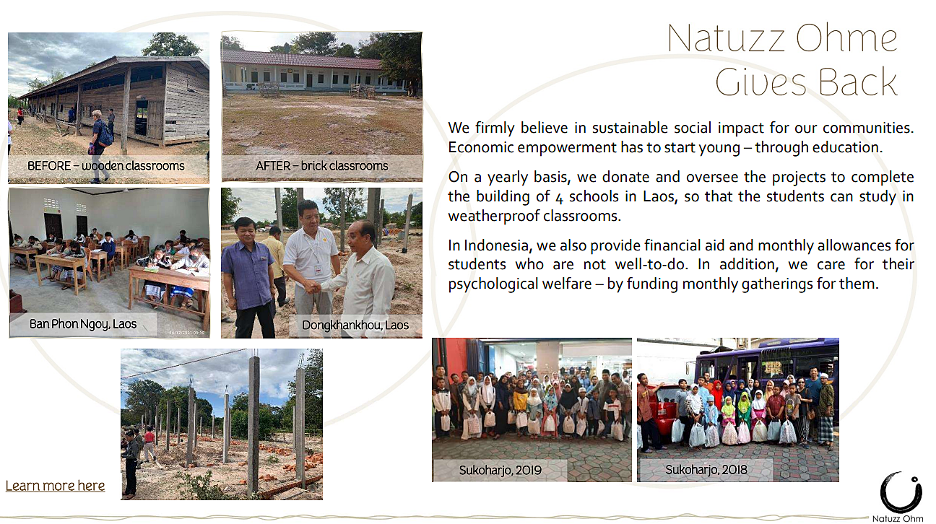 Natuzz Ohme's Regular Community Investment Programme
Socially Responsible Supply Chain
As a company that values their human capital, Natuzz Ohme makes sure that they pay all their workers fair wages and on time. They also make it a point to check potential partner factories' employment and other practices before deciding whether or not to work with them.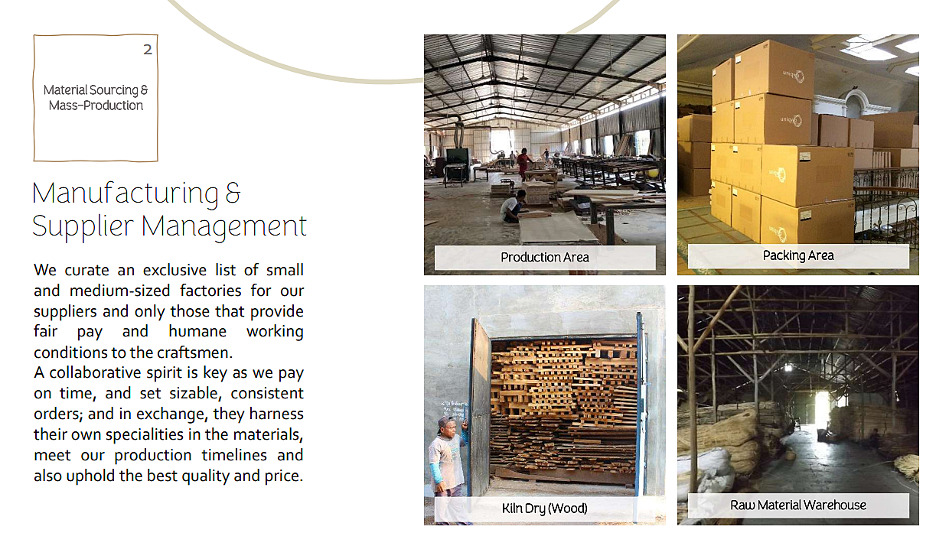 Natuzz Ohme's policy for a more socially responsible supply chain, as shared in their client deck
Health & Safety
To protect their employees' and consumers' health, Natuzz Ohme products are free from formaldehyde. They deal with solid wood and do not use laminates, adhesives or formaldehyde-emitting lacquer.
Diversity & Inclusivity
When Lionel first participated in Natuzz Ohme's Indonesia-based job interviews as an observer and later an interviewer, he was initially concerned about the Indonesian norm of asking about potential job candidates' family background. This will often be seen as taboo in Singapore, where the boundaries between professional and personal lives are drawn more clearly than in Indonesia.
However, he realised that this Indonesian norm enabled employers like Natuzz Ohme to account for their caregiving needs, as many employees in Indonesia are caregivers. With questions on family background embedded into the interview process, Natuzz Ohme's team has been able to offer flexible working arrangements for caregivers in Indonesia wherever possible.
Personally, Lionel is a strong supporter of empowering persons with disabilities, being a person who is hard of hearing himself. He was part of the diversity and inclusivity committee in his previous role as an IT consultant before joining Natuzz Ohme. In that role, he worked on initiatives to empower fellow persons with disabilities. On a personal capacity, Lionel has given talks to Facebook and other organisations to share about his story of becoming more confident despite his disability.
Natuzz Ohme is open to employing any persons with disabilities if they are a good fit with the relevant job scope and requirements.
(Environmental Sustainability)
Materials
In terms of environmental sustainability -- on top of the more environmentally-friendly materials that Natuzz Ohme offers (more details below), Natuzz Ohme has been looking into more sustainable packaging. This has been required by some of their suppliers – particularly those from the EU. Currently, the Natuzz Ohme team is exploring more sustainable packaging designs and materials such as the honeycomb design and recyclable/recycled paper respectively, inspired by one of Natuzz Ohme's partner factories in Vietnam.
Circular Economy / Waste Reduction
In alignment with circular economy principles, the Natuzz Ohme team has been recycling teak wood from Javanese houses that are due to be 'upgraded' and demolished to make way for brick-and-mortar religious infrastructure in Indonesia. This teak wood is repurposed into raw materials to make furniture.
Surplus raw materials are also processed into recycled mixed hardwood. Driftwood from the sea is upcycled into wall decorations. Teak roots are used to make countertops or console tables, which are in very high demand. Teak branches from younger teak trees, which are not very strong and are hence felled in teak plantations before maturity to make space for stronger teak trees, are repurposed into wood furniture and other accessories as well.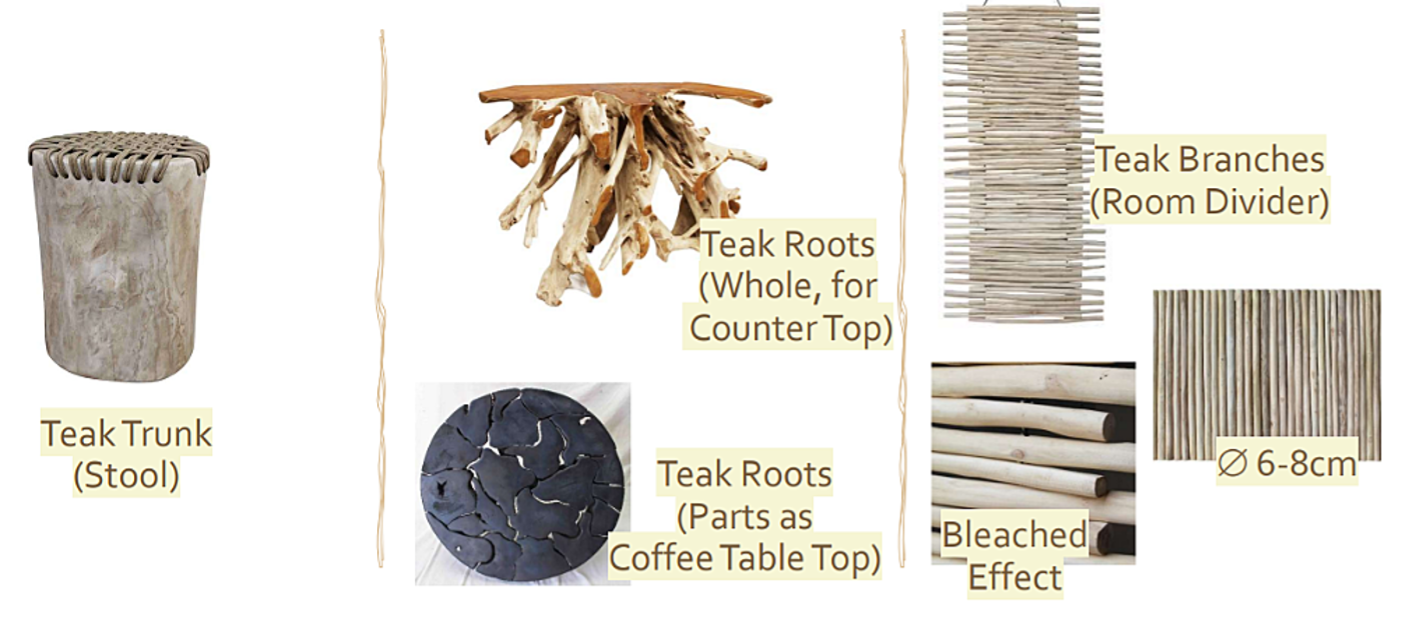 Natuzz Ohme's products using underutilised teak trunks, roots and branches

Natuzz Ohme's recycled wood products
(Economic / EESG Sustainability)
Partnerships for Sustainability
Overall, Natuzz Ohme places emphasis on building long-term, mutually beneficial partnerships with their suppliers, clients and other stakeholders for the R&D of more sustainable products, as part of their economic sustainability strategy.
The team is currently exploring how to make these partnerships more socially and environmentally sustainable as well, in alignment with SDG 17 (Sustainable Development Goal (SDG) -- Partnership for the SDGs).
Moving Forward – Sustainability Plans for the Next 3 Years
In terms of Environmentally & Socially Responsible Supply Chains, Natuzz Ohme plans to further explore how they can align with EU environmental standards to advance their environmental management systems.
Their team is also looking into leveraging digitalisation for sustainability. For instance, blockchain can be used to increase operational efficiency for economic sustainability and supply chain traceability for environmental, social and governance (ESG) sustainability -- especially for e-commerce, helping us to advance sustainability holistically.
Natuzz Ohme will be drafting and publishing an Official Supplier Code of Conduct to ensure that workers in partner factories are paid fairly, on-time and without unfair discrimination due to their age or gender et cetera.
In terms of Carbon, the Natuzz Ohme team is exploring how they might start developing a carbon inventory and embark on their carbon management journey, in support of Climate Action Week 2022 in Singapore – Towards a Net Zero Future.
~
On top of the myriad of sustainability initiatives that Natuzz Ohme currently runs, Lionel looks forward to more collaborations with similarly sustainability-centric companies in SFIC and beyond. He would like to see larger companies exploring more opportunities with SMEs to pool resources and capabilities and co-develop a blockchain system for the furniture sector. This can significantly advance industry-wide operational efficiency and supply chain traceability for sustainability!
-----------------------------------------------------------------------------------------------------------------------------------------------------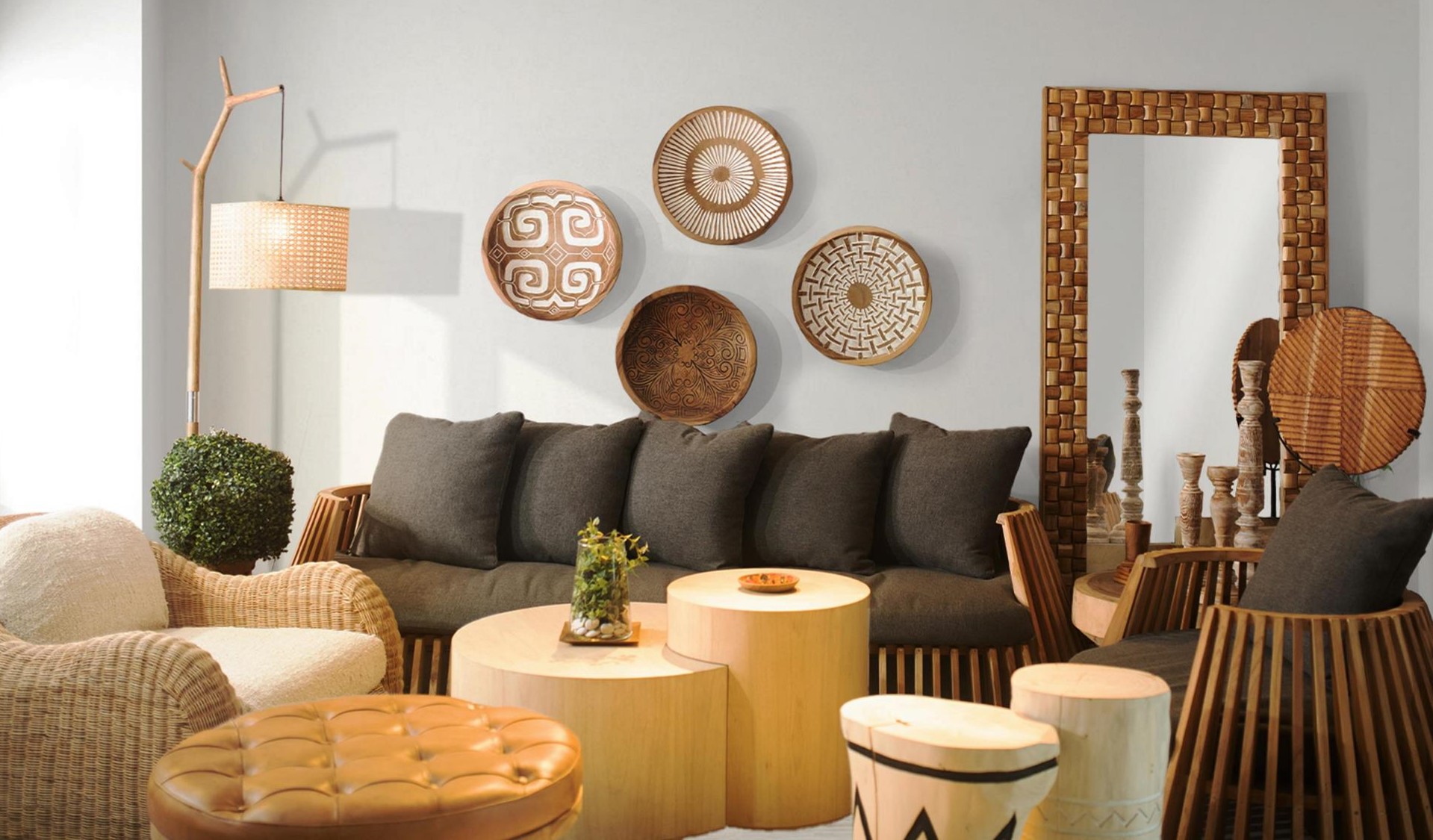 A Select Range of Natuzz Ohme's Products
Introduction to Natuzz Ohme:
Natuzz Ohme is founded by Mr Jeffrey Tan who has over 25 years of experience in the field of furniture design. His unique design ideas combine natural raw material with human handcraft to form unprecedented integrated pieces. The company is known for clean minimalist, with raw, unfinished and handcrafted modern elements. One of the major players in this range of designer furniture, its 10 production divisions are located in Indonesia, with highly professional, dynamic and reliable teams. Each specializes in its own material and is constantly looking for ways to bring the best collections to our partners worldwide.
Behind the Company Name:
Humans have lived harmoniously with nature ever since our existence. With Mother Nature being all around us, we have enjoyed and incorporated nature into our lives. This is the inspiration of our name "Natuzz", while "Ohme", signifying how our designer thinks out of the box, and each and every piece is unique in itself. With our products in your home, we guarantee that the "art of living" will be simpler and easier. At Natuzz Ohme, our motto is to have our customers bring a functional yet beautiful art piece into their homes.
Website: https://natuzzohme.com/
Cluster: Manufacturing
Sustainability Themes:
Environmental:
More Environmentally-Friendly Materials
Circular Economy / Waste Reduction
Health & Safety
Social:
Socially Responsible Supply Chain
Gender Inclusivity
Disability Inclusivity
Community Investment (Child Education)
Environmental Initiatives:
More Environmentally-Friendly Materials

Offers greener materials, including fast-growing rattan and weaving materials like kubu rattan, palm tree, seagrass, panama, loom, hyacinth, recycled teak, abundant and fast-growing munggur wood/suar (raintree), and driftwood (waste)
Compares the environmental sustainability of different materials for clients to choose from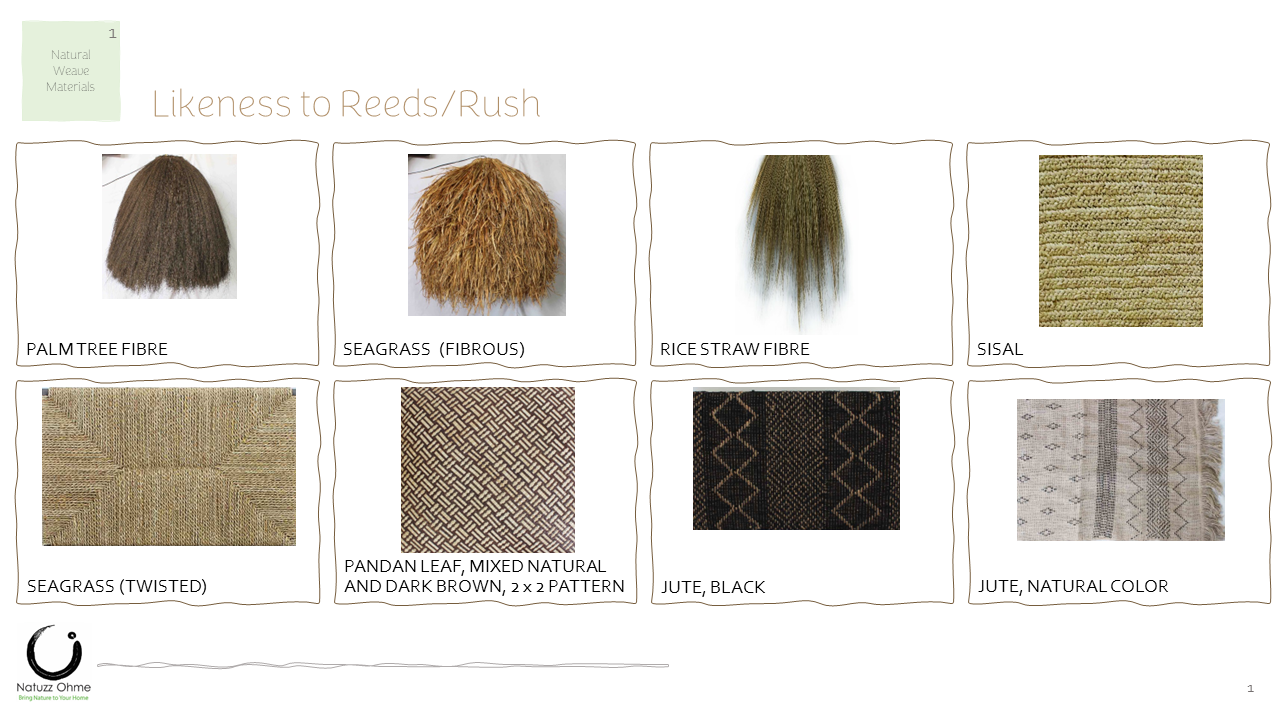 Some natural reed-like weaving materials offered by Natuzz Ohme
Reviews partners on their sustainable forestry management and only procures wood materials from partners with more sustainable practices
Circular Economy / Waste Reduction

Leverages recycled wood and other underutilised natural materials to craft furniture pieces
Health & Safety

Almost all products are made from natural materials without adhesives and are hence formaldehyde-free
Social Initiatives:
Socially Responsible Supply Chain:

Natuzz Ohme has internal supplier selection criteria to ensure that all the factories they work with pay their workers fair wages and on time, in line with the policy of the Natuzz Ohme HQ.
Gender Inclusivity:

The Natuzz Ohme is 45 employees strong across their Singapore and overseas teams and has an almost equal representation across two genders, with 45% women and 55% men.
There is no difference in pay between genders for employees of the same role and experience.
Disability Inclusivity:

Natuzz Ohme welcomes staff with disabilities and caregivers so long as they are a good fit with the relevant job scope and requirements. Natuzz Ohme can offer support to them in terms of work arrangements.
Community Investment (Child Education):

Natuzz Ohme is currently sponsoring the education of 11 orphan children in Indonesia, and manages 20 other sponsorships funded by their clients. They are also sponsoring 4 children in Sri Lanka.
These sponsorships provide everything for education purposes, including uniforms, school supplies and other school expenses, for these children to be able to study without worry. This also relieves the financial burden on the family members of these children. In addition, Natuzz Ohme also embarked on projects to build schools in Laos.
Natuzz Ohme believes that a conducive environment is essential for productive learning, and hence strive to provide well-facilitated schools for children in Laos. To date, they have finished building four schools – Dongkhankhou Lower Secondary School and Ton Tanh Primary School and two which were yet to be named.
By providing the place and opportunity for many children to receive proper education, it is to their hope that they will have the capacity to break out from poverty and go on to realize positive change in their own ways.
Sustainability Plans:
Environmental

Investing in more sustainable packaging material
Looking into certifications for environmentally responsible supply chain management
Exploring carbon management

Social

Drafting an Official Supplier Code of Conduct to ensure that workers in partner factories are paid fairly, on-time and without unfair discrimination due to their age or gender etc.

EESG

Looking into leveraging digitalisation for sustainability.

For instance, blockchain can be used to increase operational efficiency for economic sustainability and supply chain traceability for environmental, social and governance (ESG) sustainability -- especially for e-commerce, helping us to advance sustainability holistically.
All photos are courtesy of Natuzz Ohme unless otherwise stated.
-----------------------------------------------------------------------------------------------------------------------------------------------------
---