#Sustainability Spotlight with Neupanel
Sustainability as the Core of the Company's Philosophy, Value & Strategies
---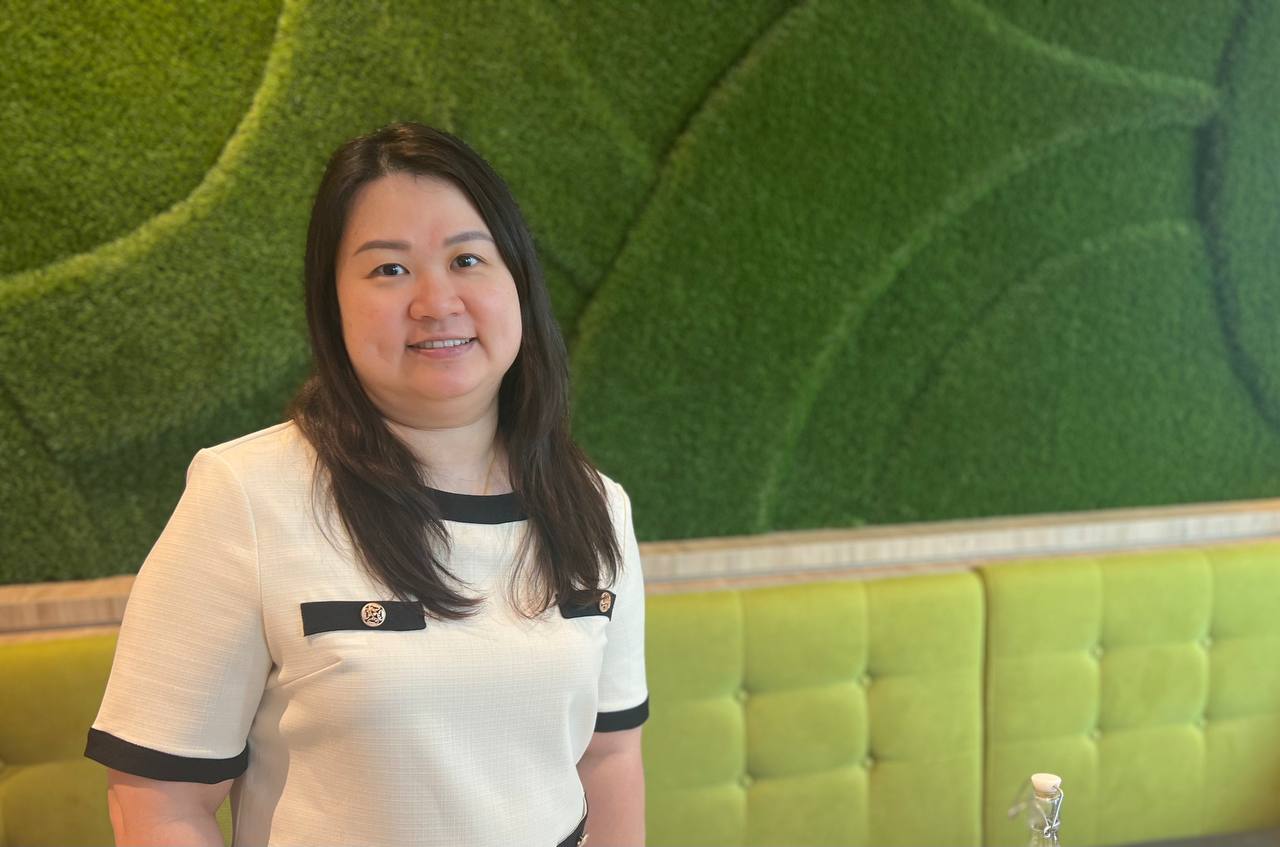 Ms Annie Koh, Director of Neupanel (Photo: SFIC)
To Annie, sustainability is a necessity for business. Under her thought leadership, Neupanel's approach to sustainability can be viewed from three aspects -- Philosophy, Value and Strategies.
1. Neupanel's business philosophy has evolved to encompass sustainability as a means to business success. To them, being sustainable is a responsible and low-impact way to operate a business.
2. Neupanel recognises the value of sustainability -- sustainable business practices positively impact the environment and society. On the flip side, when companies fail to undertake responsibility, environmental degradation and societal costs can result. Hence, Neupanel pursues sustainability with the position that their short-term profits must not translate into long-term liabilities for society at large.
3. Neupanel has three sustainable business strategies:
Strategy 1: Using More Sustainable Materials During Manufacturing
Neupanel uses renewable wood materials for their panels. This translates into the use of trees like poplar that can grow easily and quickly, as well as materials from sources that adopt green forestry practices. They are also continually on the lookout for green materials that can be used for their products in interior furnishings. Neupanel encourages the use of green materials such as cork sheets, Oriented Stranded Boards (OSB) and reconstituted timber.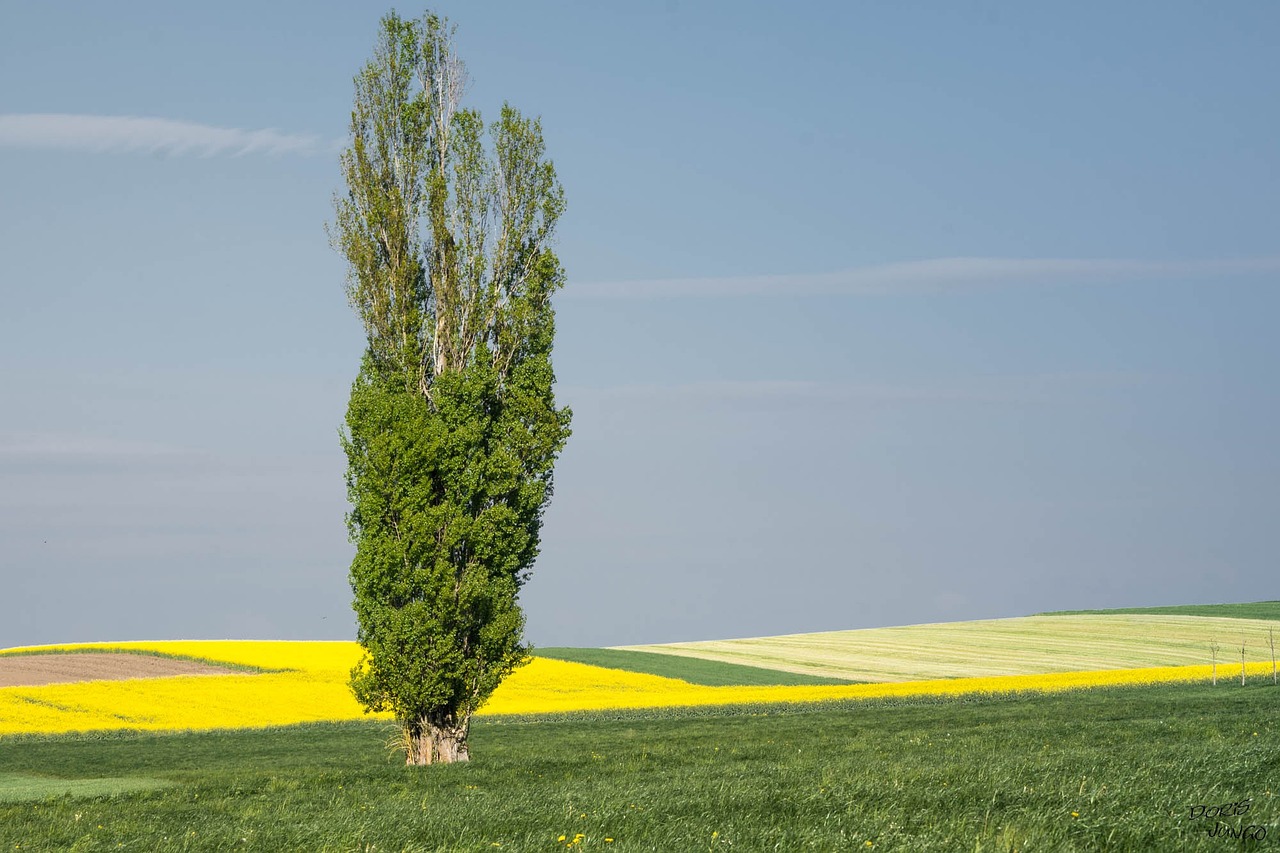 Fast-growing poplar tree, a more environmentally-friendly material used by Neupanel (Copyright: Darby Media)
Strategy 2: Optimising Supply Chain to Reduce Greenhouse Gas Emissions
Digitalisation
Going digital was a painful but necessary reform in 2021 (during the height of COVID-19). Aided by the Singapore Government, Neupanel analysed their processes, equipment and products and have taken up many initiatives to embark on a digital journey, reducing their consumption of paper resources and thereby greening their business operations. In 2022, they implemented their e-commerce website.
As far as possible, they use the power of data and digital technology to operate. From the start from procurement of raw materials to delivering the finished wood panels to their customers, they digitalise their operations as much as possible.
Neupanel's staff have gone through training and induction to acquire new skills to embrace digital technology, enabling them to succeed in an increasingly digitally driven work environment.
Demand Forecasting
Neupanel's made-to-order and custom-designed melamine wood panels for mammoth-sized projects are based on demand forecasting. This not only provides a wide range of designs, but also eliminates unnecessary wastage in the supply chain.
Carbon Accountability
Neupanel treats carbon as a business cost. To them, carbon is a cost they incur when they produce end-products for their customers, including architects, interior designers, contractors, builders, developers and furniture manufacturers.
Before, they took it for granted that it was not mandatory to internalize the cost of producing carbon. Now, they have an internal carbon price list for everything they use from Scopes 1-3, including electricity, company cars, delivery vans and business travel (see diagram below).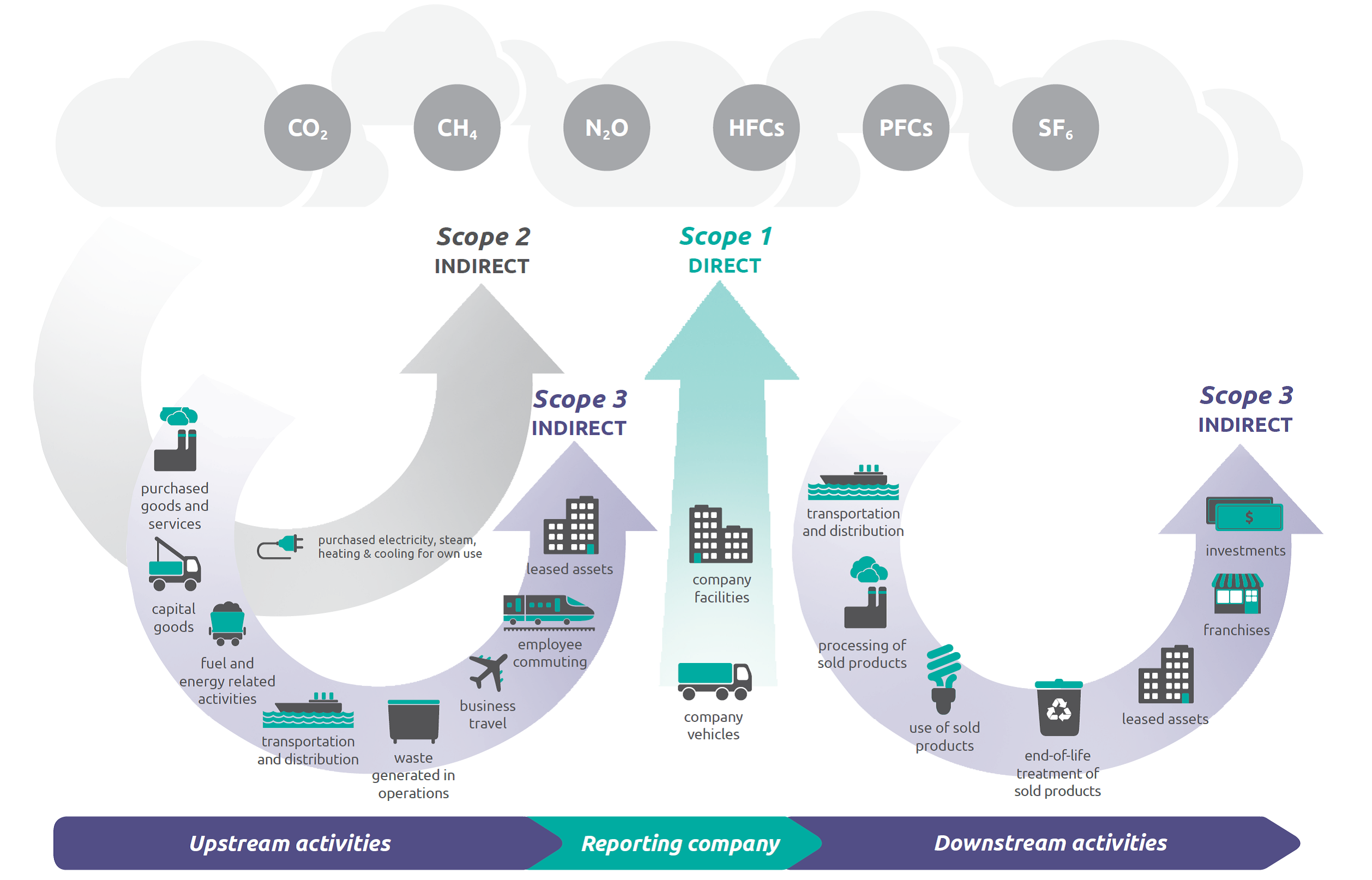 An Introduction to Carbon Scopes 1-3 (Source: WRI/WBCSD Corporate Value Chain (Scope 3) Accounting and Reporting Standard (PDF), p.5)
Having an internal carbon pricing mechanism has helped Neupanel staff to become very conscious of their resource consumption and their impact on the environment. With this new consciousness, staff are now better able to look at the bigger picture, drive down their carbon emissions and contribute towards the company and nation's collective climate goals, such as the Singapore Government's SG Green Plan 2030.
Strategy 3: Deployment of Renewable Energy
Neupanel is currently exploring the use of solar energy systems in their upcoming new factory.
~
Keeping the Flame for Sustainability Alive
Making sure that sustainability is well-incorporated into the company's Philosophy, Value and Strategies is no easy feat in reality. Annie is kept going by three main drivers – her personal interests, like-minded industry friends and industry awareness.
Annie's personal interest in sustainability is fuelled by her belief that taking care of the earth is taking care of ourselves. She has many interests aligned with improving mental well-being, such as tea appreciation, mountain getaways and nature, undergirded by her alignment with Buddhist practices. The friends that she surrounds herself with also have similar interests & care for animals.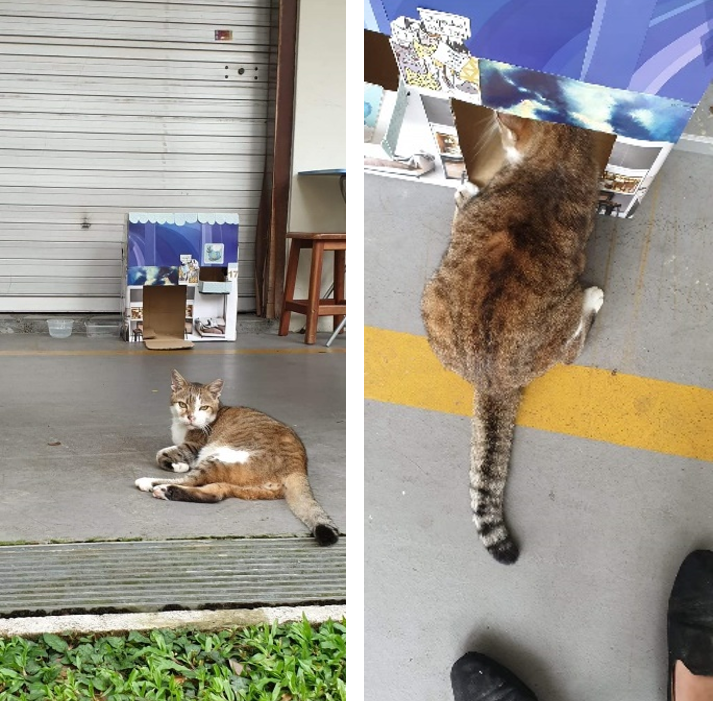 Annie and her friends share a common love for nature, including animals, which has been fuelling Annie's drive to advance sustainability. Some of Annie's friends, like Ms Veronica Ng, Publisher/Director of Darby Media Pte Ltd, have been taking care of street cats. The cats are given their own cat houses -- upcycled from surplus carton boxes, furnishing materials and magazines from their industries -- to keep them warm in the rainy season.
Besides her personal interests and social circles, Annie is driven to advance sustainability by her like-minded industry friends. For instance, she exchanges news and intel about various sustainability initiatives and trends with friends like Mr Kimming Yap, Managing Director of brand and design management consultancy and fellow SFIC member Creativeans, and her friend in the marketing space, Ms Veronica Ng, Publisher/Director of Darby Media Pte Ltd.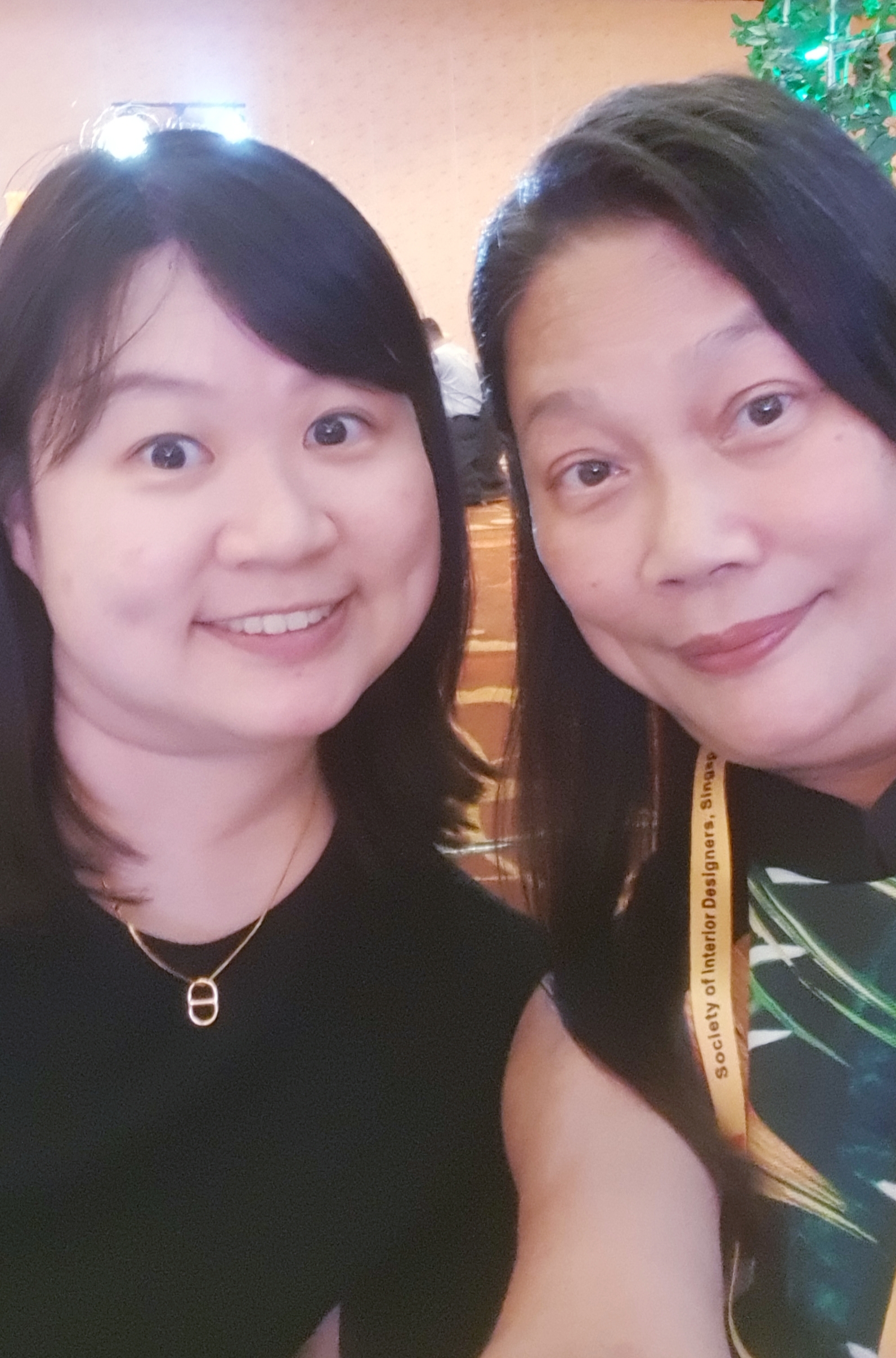 Annie and Veronica (right), her friend at an industry gala dinner for interior designers. They sometimes exchange news and intel about various sustainability initiatives and trends.
Last but not least, keeping an eye on the latest sustainability-related industry developments has been motivating Annie to continue exploring and adopting the latest developments in the sustainability space for Neupanel. Under her leadership, Neupanel will continue to keep a lookout for more relevant, environmentally-friendly and innovative materials to advance sustainability in the materials, components and services sector of furniture.
Beyond the industry, Annie has also been expanding her understanding of how companies across industries have been advancing sustainability. For instance, in line with many other companies' efforts to align with Singapore's goal of reaching net-zero by 2050, Annie has been driven to develop carbon management capabilities in Neupanel. Their team will be reviewing their internal carbon pricing system at the end of its inaugural round. Furthermore, in alignment with the circular economy, Neupanel is also exploring the use of more waste materials to make panels, such as oil palm trunks that will otherwise be burnt.
~
Remembering Why She Started Her Sustainability Journey
Whilst there are ongoing driving factors that keep Annie going on her sustainability journey, reminding herself of why she started is also crucial in sustaining Annie's endeavours.
Annie realised that being sustainable in her business practices is the new direction that her father's business, Thiam Peng Trading, must embark on in the future. After helping her father's business for some time and understanding more about the industry, Annie strongly believes that the company cannot remain stagnant and that there is a need to explore new grounds.
Hence, Annie started to consciously investigate ways to green Thiam Peng Trading's products and business operations. In the meantime, increasing numbers of their clients have been enquiring about more environmentally friendly materials and requesting for certifications. When the Singapore government started focussing on procuring more environmentally friendly products, Thiam Peng Trading was spurred to obtain the SG GreenLabel.
"Having sustainability certifications like the SG GreenLabel has enabled us to access much better opportunities to get business; it's almost like a requirement now," Annie shares.
This led to Annie's decision to establish Neupanel, her new sustainability-centric subsidiary company under Thiam Peng Trading.
Through Neupanel, Annie hopes to be better able to communicate the value of more sustainable products to her clients. For instance, with more environmentally-friendly Neupanel panels, carpenters can save costs as they do not have to purchase and assemble individual components like glue/adhesives, laminates and wood. At the same time, their clients can also increase their brand value and reputation.
There is a growing business imperative to adopt more environmentally-friendly materials as well -- more and more young interior designers are requesting for low-formaldehyde panels, spurring carpenters to use them in their projects.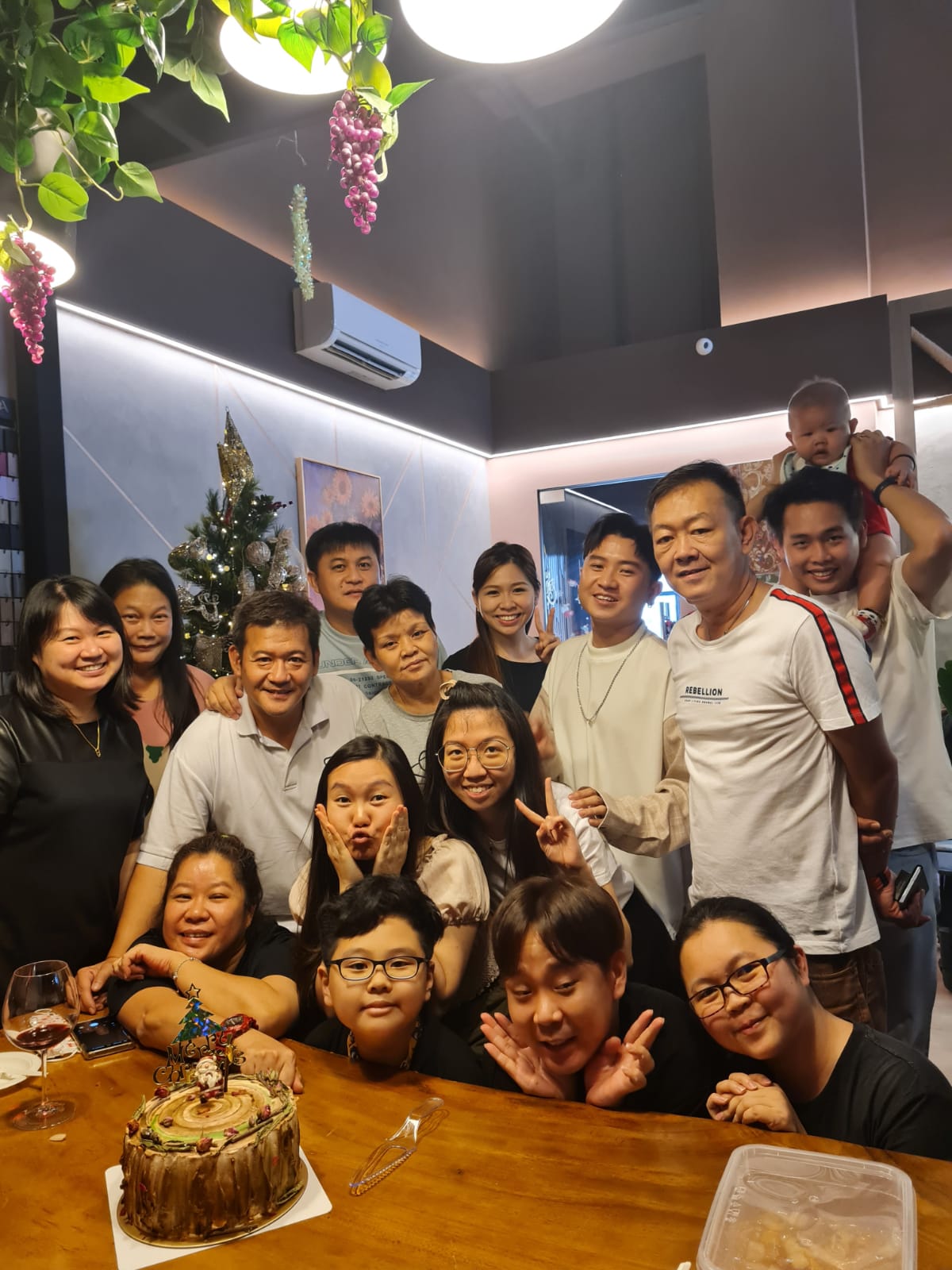 Annie (leftmost) at interior design company CAD Associates' networking session. Sessions like this give Neupanel an opportunity to introduce the green attributes of their melamine wood panels.
~
Closing Message for Fellow SFIC Members
To fellow SFIC members who are interested in embarking on their sustainability journey, Annie would like to say:
"To develop a more sustainable business and offer more sustainable products, it is key for company leaders to start, even if it's from the smallest steps. Adopting sustainability as a corporate goal is a thought leadership process, which comes from the top-down to inspire and produce successful results from the bottom-up."
----------------------------------------------------------------------------------------------------------------------------------------------------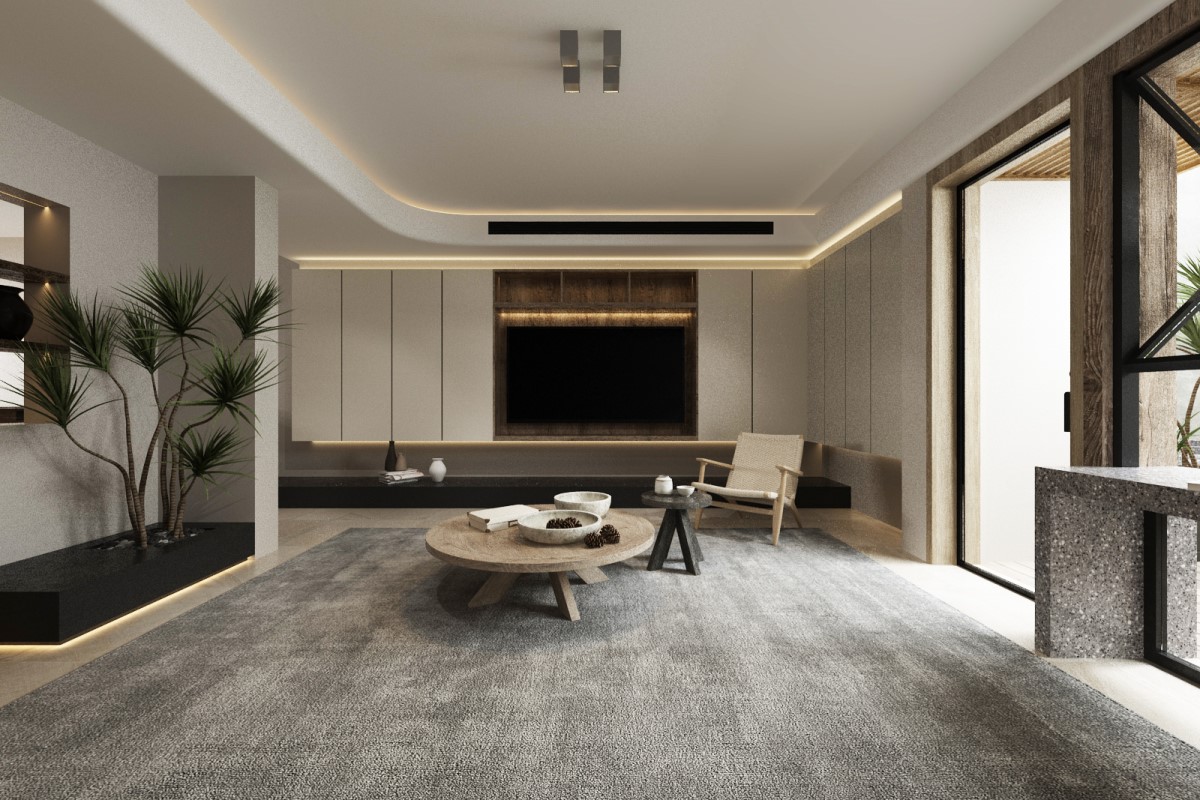 Neupanel products used in a Zen living room
Introduction to Thiam Peng Trading:
Established in 1978, Thiam Peng specializes in supplying wood panels such as plywood, block board, MDF and OSB etc. Other products include decorative PVC laminates, natural/recon veneers and wood materials to the furniture and building industry. Thiam Peng is well recognized by its clients for reliability and quality services. Its clientele includes Marina Bay Sands, F1 Night Race, Resorts World Sentosa, many iconic buildings and international retail brands.
Introduction to Neupanel:
Neupanel Pte Ltd is a subsidiary of Thiam Peng founded in 2018. Neupanel's complete lifestyle range of panels allows the magic mix of styles, finishes and thoughtful design in soothing tonal colours for a space people never want to leave. Let the designed spaces take a beautifully texture-like turn with the use of Neupanel. From marvelous Marble to classic fabric Weaves, occupants are set to relive nostalgic and treasured moments. Or let the wood panel Monochromes speaks of trendy tones and layers. Surfaces deserve a glamorous treatment and a warm ambience is only a panel away with Neupanel's products and services.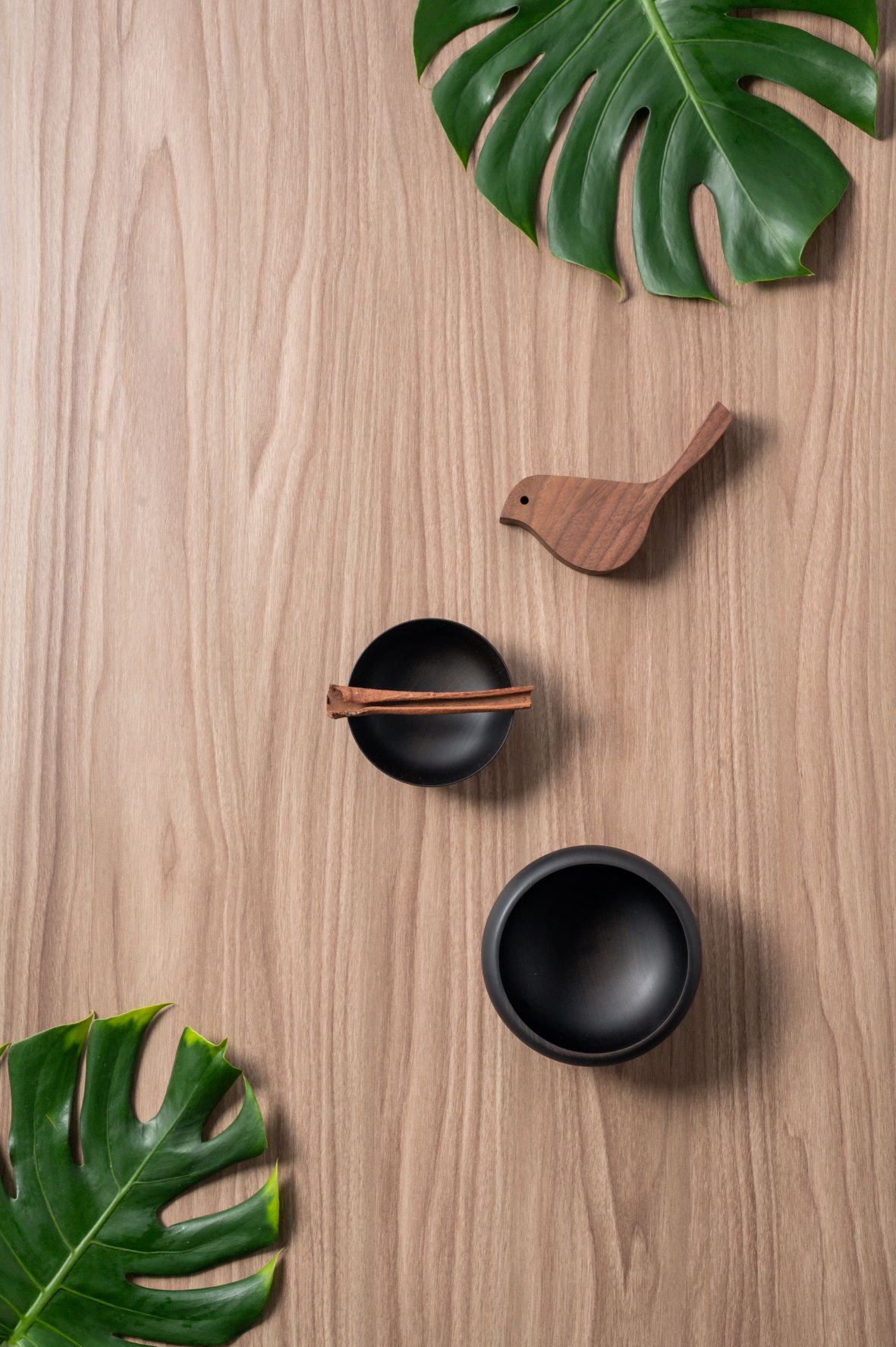 Melamine wood panel from Neupanel
Website:
Type of Furniture Company: Materials, Components & Services (MCS)
Sustainability Themes:
Environmentally & socially responsible sourcing, health and safety, carbon management
Sustainability Certifications:
FSC, SG GreenLabel, Responsible Forestry by SCS Global Services
Products:
Laminates, wood panels, veneers etc
Environmental Initiatives
Environmentally and Socially Responsible Supply Chain

Neupanel ensures that they only purchase from suppliers that are FSC-certified or have FSC-certified materials.
Additionally, Neupanel embarks on factory visits 3 times a year to engage with suppliers and ensure that all workers are well taken care of.
Health & Safety

Neupanel signed the Alliance for Action on Sustainable Spaces Low Formaldehyde Commitment Statement
All panels are either E0 or F 4-Star (the most stringent European and Japanese low formaldehyde standards)
Circular Economy / Waste Management

Neupanel recycles all paper waste and leftover wood pallets as far as possible.
Carbon Management

Neupanel implemented an internal carbon pricing system, which encourages employees to reduce business travel etc.
Meat-free staff meals are arranged once a week.
Social Initiatives
In terms of community engagement, Neupanel donates wood planks and panels to Buddhist temples when they need them for construction.
Neupanel also sends surplus wood to educational groups to build playgrounds and wooden structures for children to play with.
Neupanel has been donating their surplus wood to educational groups like ForestPlay adventure by Kidz Treehouse (Photo: Kidz Treehouse)
Sustainability Plans
Carbon Management

Neupanel will review their internal carbon pricing system at the end of its inaugural round.

Circular Economy

Neupanel is exploring the use of more waste materials to make panels, such as oil palm trunks that will otherwise be burnt.
All photos are courtesy of Neupanel unless otherwise stated.
----------------------------------------------------------------------------------------------------------------------------------------------------
---