#Sustainability Spotlight: Jamie of Scanteak
Collaborating to Reduce Waste for a Circular Economy
---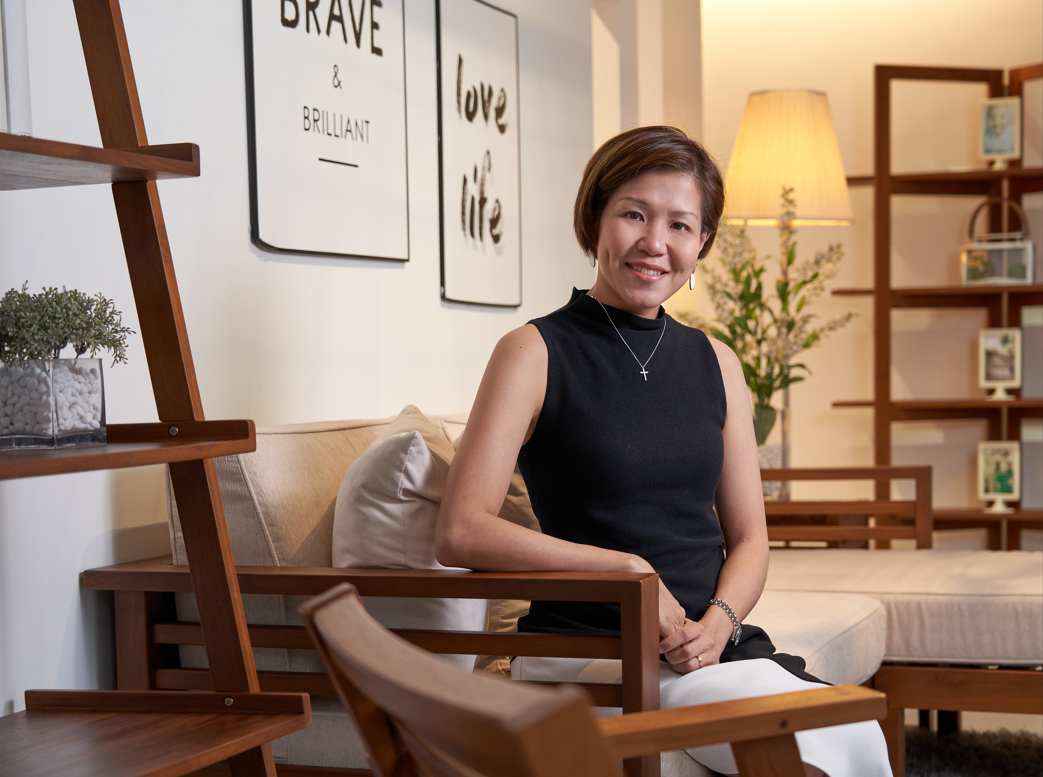 Ms Jamie Lim, CEO of Scanteak (Photo: Scanteak)
To Jamie, sustainability means feeling at home with your family, friends, and the environment – which aligns with Scanteak's vision, "Inspiring family moments worldwide." Adding a dose of pragmatism, she believes that sustainability needs to be practical as well – economic sustainability must go hand in hand with social and environmental sustainability.
Developing a More Sustainable Business Model and Products
Sustainability is an up-and-coming consideration in clients' demand for furniture, as reflected by the Scanteak team. More markets - the Japanese market, in particular - are demanding for more sustainable logging processes. Occasionally, customers across countries have expressed a common interest in Scanteak's alignment with the Indonesian timber legality assurance system Sistem Verifikasi Legalitas Kayu (SVLK) and US California Air Resources Board (CARB) low formaldehyde certifications.
Amidst a rising environmental consciousness amongst consumers, Jamie was particularly driven to look into social sustainability topics like health and safety, to have a peace of mind that her children can play safely around Scanteak furniture and ensure the same for Scanteak's customers.
She and the Scanteak team were further spurred to start looking into more sustainable business models and supply chains when Taiwanese and Japanese consumers and governments started demanding for businesses to attain higher environmental standards.
Hence, Scanteak started the painful but necessary process of reviewing their teak wood suppliers before the COVID-19 pandemic. They had to lose some long-term suppliers who could not comply with CARB and SVLK standards, despite the Scanteak team's efforts at empowering them to make the relevant changes.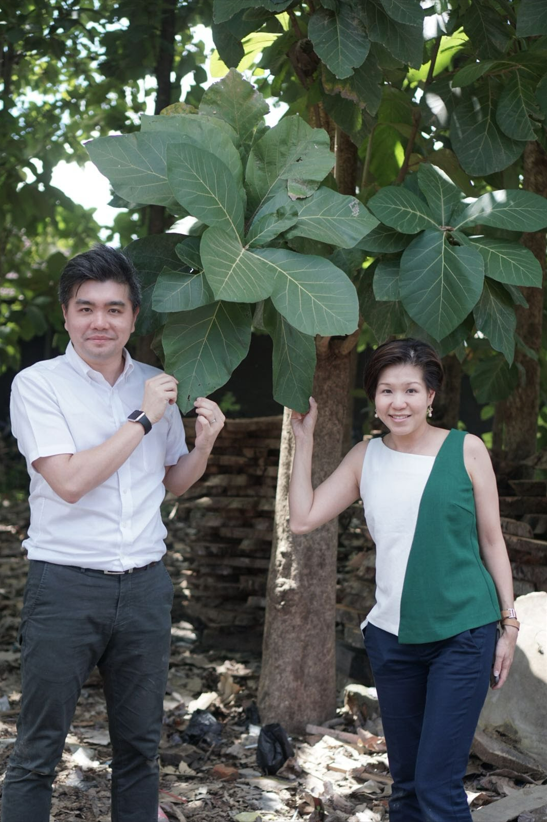 Ms Jamie Lim, CEO of Scanteak, with Mr Julian Lim, Regional Procurement Director of Scanteak, at one of Scanteak's SVLK-certified teak plantations. (Photo: Scanteak)
Focussing on Waste Reduction
Moving forward, Scanteak decided to focus on waste reduction, which contributes to both economic and environmental sustainability. Scanteak constantly works on R&D projects that explore how they might design and produce products that use as many offcuts as possible. Sawdust from their factories is sold to tofu sellers as cooking fuel to make fragrant smoked tofu in Indonesia.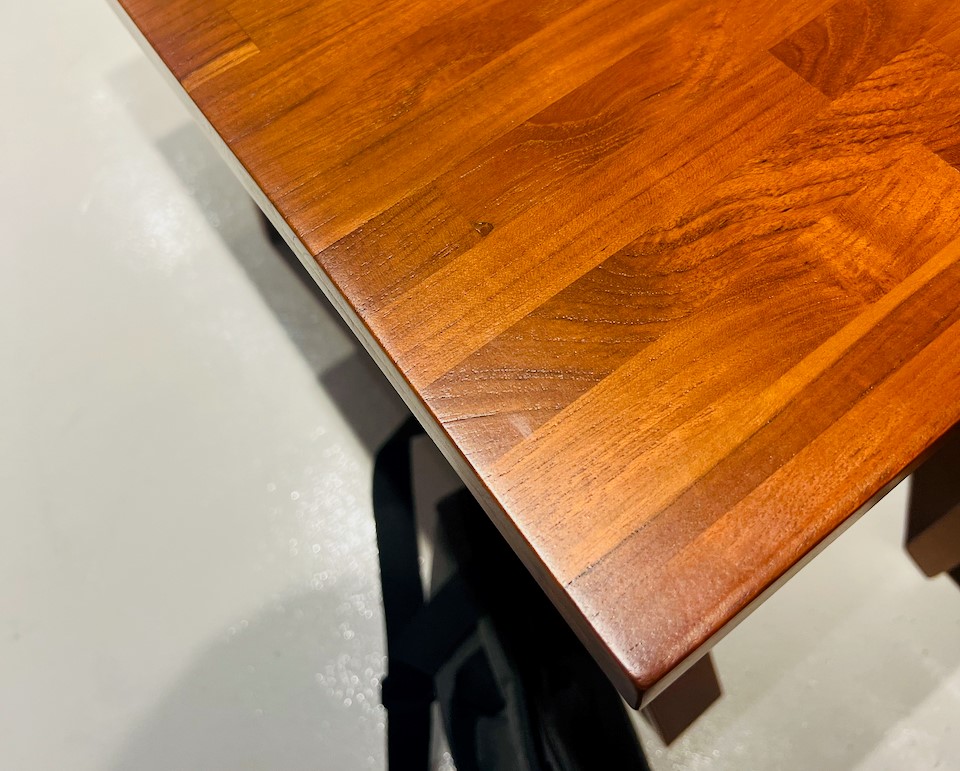 Scanteak utilises offcuts of different sizes in some tables like this (Photo: SFIC)
In line with the digitalising economy, Scanteak is also in the midst of developing and leveraging AI that can forecast (1) the number of accessories and furniture that can utilise offcuts and (2) surplus stock that can be put on sale. For furniture that can't be sold in time before new batches of furniture are delivered, some of them are distributed to other countries. These initiatives help to reduce the waste generated by the company.
Collaborating for a Circular Economy
To further reduce waste and contribute towards a more circular economy, Scanteak accepted CNA's invitation to co-organise Project Circular 2022. In this project, the Scanteak team supported students from Ngee Ann Polytechnic's School of Design & Environment and Choa Chu Kang Town Council in upcycling old furniture into new furniture pieces. The project idea was born from Choa Chu Kang Town's HaCCKathon in October 2021.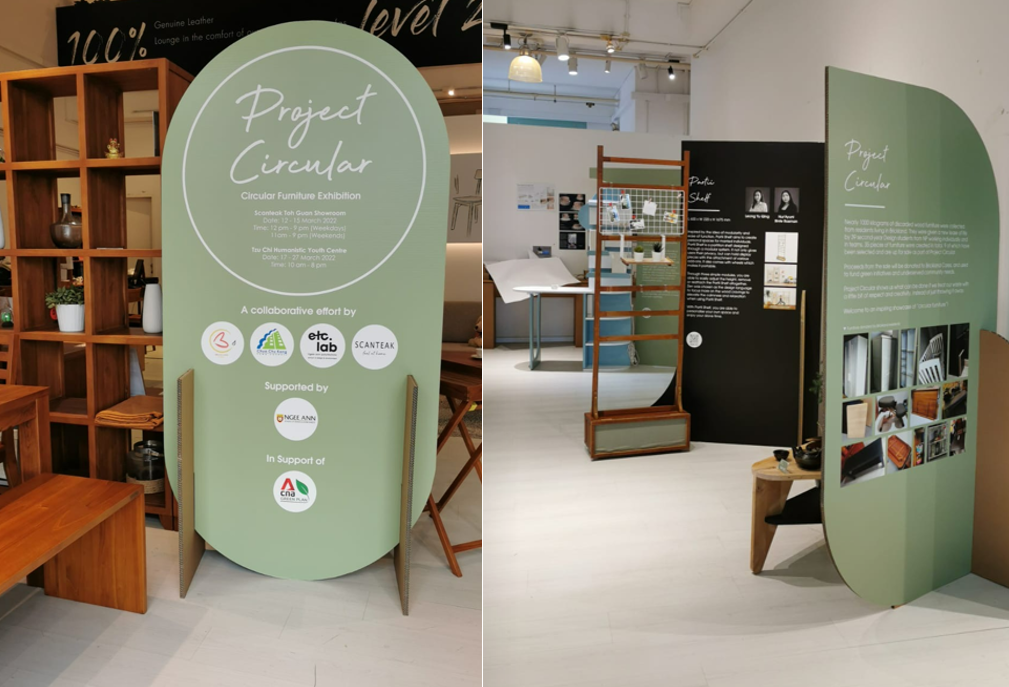 The Project Circular showcase kicked off at Scanteak's Toh Guan showroom (Photos: Scanteak)
Jamie and the Scanteak team found the experience of engaging with students to design and bring new furniture pieces to life to be a very valuable one. They believe that cultivating a more sustainable mindset and some buzz about sustainability amongst the younger generation is priceless, and can pave the way for a more conscious furniture industry. To augment the impact of Project Circular, Scanteak is open to working on similar projects again, as and when the opportunity comes by.
~
To fellow members who are starting on their sustainability journey, Jamie would like to say: "Start researching economically viable sustainability transformation projects that you can take reference from. Reach out for lower hanging fruits first, like transitioning to digital namecards and QR codes in place of extensive printed product labels in showrooms. These can save trees and generate cost-savings – benefitting both the environment and your business at the same time!"
-----------------------------------------------------------------------------------------------------------------------------------------------------
Scanteak stands for Scandinavian design Teak furniture – where form and function come together. (Photo: Scanteak)
Introduction to Scanteak:
Scanteak, Hawaii Furnishing's homegrown brand, seeks to create beautifully designed and lasting furniture. Its design and craft are inspired by Scandinavian ideology, whereby simplicity and functionality take precedence. Scanteak's lifelong vision lies in furnishing home solutions to the hectic pace of executive living. The company also believes that the colour and grains of teak, which exude natural beauty, coupled with simple and uncluttered designs, are a perfect mix for the executive's home. To date, Scanteak has more than 180 offices, retail outlets and flagship stores in Singapore, Taiwan, Brunei, Japan and USA. In Taiwan, it is currently the biggest furniture chain store retailer, with over 80 showrooms across the country. Wherever it may be, Scanteak wishes to bring the warm, restful and inviting experience to its visitors and make its guests feel at home from the moment they first meet.
Website: http://www.scanteak.com.sg/
Type of Furniture Company: Retail
Sustainability Themes:
Environmentally responsible sourcing, waste reduction, product longevity, circular economy
Products:
Bedroom/ Dining/ Living/ Occasional /Outdoor
Environmental Certifications:
Environmental Initiatives:
Designs furniture for intergenerational use
Maximises the usage of every single wooden log (more info here).
Co-Organised Project Circular 2022, which is:

A collaboration by Scanteak, Ngee Ann Polytechnic's School of Design & Environment and their mentoring design team etc.lab NP
A key feature of a TV episode by CNA on the Singapore Green Plan 2030
Students from Ngee Ann Polytechnic upcycled old furniture into new pieces for a charity sale, with proceeds going to Brickland Cares to fund green initiatives in Choa Chu Kang Town
CNA feature video here (12 Mar 2022)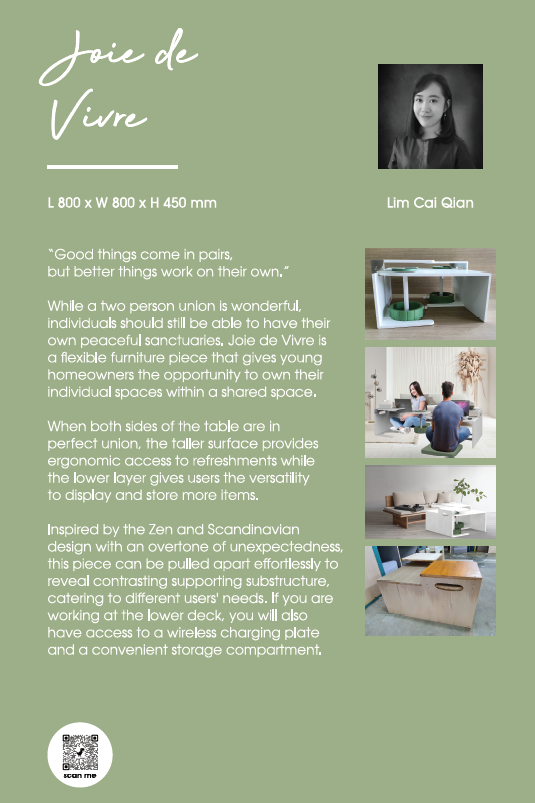 One of Project Circular 2022's multifunctional furniture project
(Source: Choa Chua Kang Town Council)
-----------------------------------------------------------------------------------------------------------------------------------------------------
---