#Sustainability Spotlight: Matthijs of STUDIO DAM
Sustainability Can Be Quirky and Aesthetic!
---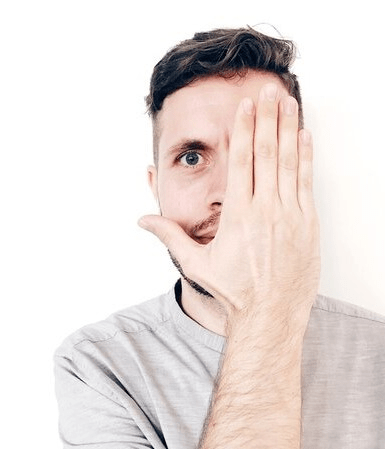 Mr Matthijs Rikken, Co-Founder at STUDIO DAM
Once you open the door of STUDIO DAM's graphic design workshop, which is nestled within Geylang East Ave. 3 Industrial Estate, you will most probably be wowed by the modern, bright-coloured and slightly minimalistic aesthetic, which contrasts greatly with the rest of the industrial estate's overall vibes. Then, you may spot a rustic coffee table slightly to your left, alongside a small couch. That is in fact a giant used industrial fiber optic cable spool, which was recently rescued from the lift lobby and adopted into the STUDIO DAM family by a resident designer. With a fresh layer of black paint, it has now found a new life as a slightly quirky centerpiece of the staff lounge, whilst aligning with the space's overall aesthetic.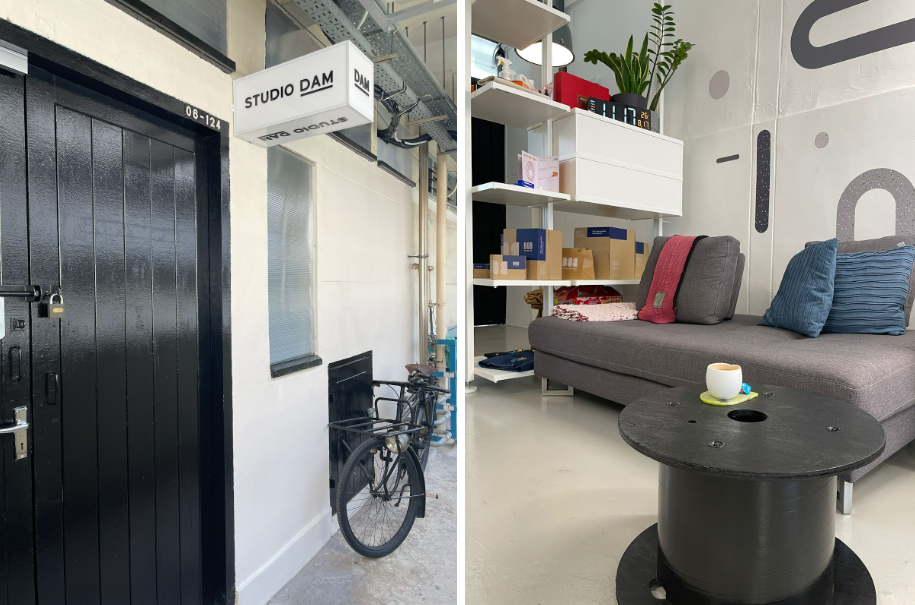 The industrial fiber optic cable spool rescued by STUDIO DAM – after a fresh layer of black paint, living its new life as a coffee table and centerpiece of the staff lounge (Source: STUDIO DAM)
This rescue operation was inspired by Matthijs' long-time practice of bringing random objects and materials into the workshop from the lift lobby. These items and materials have been reused or upcycled to decorate the studio and workshop, but are mainly used to prototype and make mockups for their design projects. This is an extension of Matthijs' habit as a design student -- he found meaning in scavenging for materials from one of the old Philips buildings in Eindhoven, which was abandoned after Philips moved its headquarters to Amsterdam.
Matthijs' scavenging tendencies had been laughed at by the rest of the STUDIO DAM team till not too long ago, when they gradually came to realise the value and creativity of this practice and embrace it as part of their sustainability-centric culture.
Understanding STUDIO DAM's Roots in Sustainability
Evidently, STUDIO DAM's embrace of sustainability has been very much influenced by their founders Matthijs and Debby. Their approach to sustainability is very experiential and hands-on, shaped by their educational background as former design students of Design Academy Eindhoven in the Netherlands.
Matthijs' keen focus on sustainability has also been substantially influenced by his upbringing. He was raised partly in Latin America and Indonesia – developing countries which continue to have very visible waste management problems. During his childhood, Matthijs' parents often highlighted this and emphasised the need to keep the environment clean. Hence, Matthijs has always had an interest in sustainability.
Exploring STUDIO DAM's Sustainability Initiatives
To learn more about STUDIO DAM's sustainability-centric initiatives like DAM GOOD PLASTIC, read on as we go on a mini tour of their workshop!

This is STUDIO DAM's separate workshop space on the same floor. On the bottom right, you'll see a bag of plastic...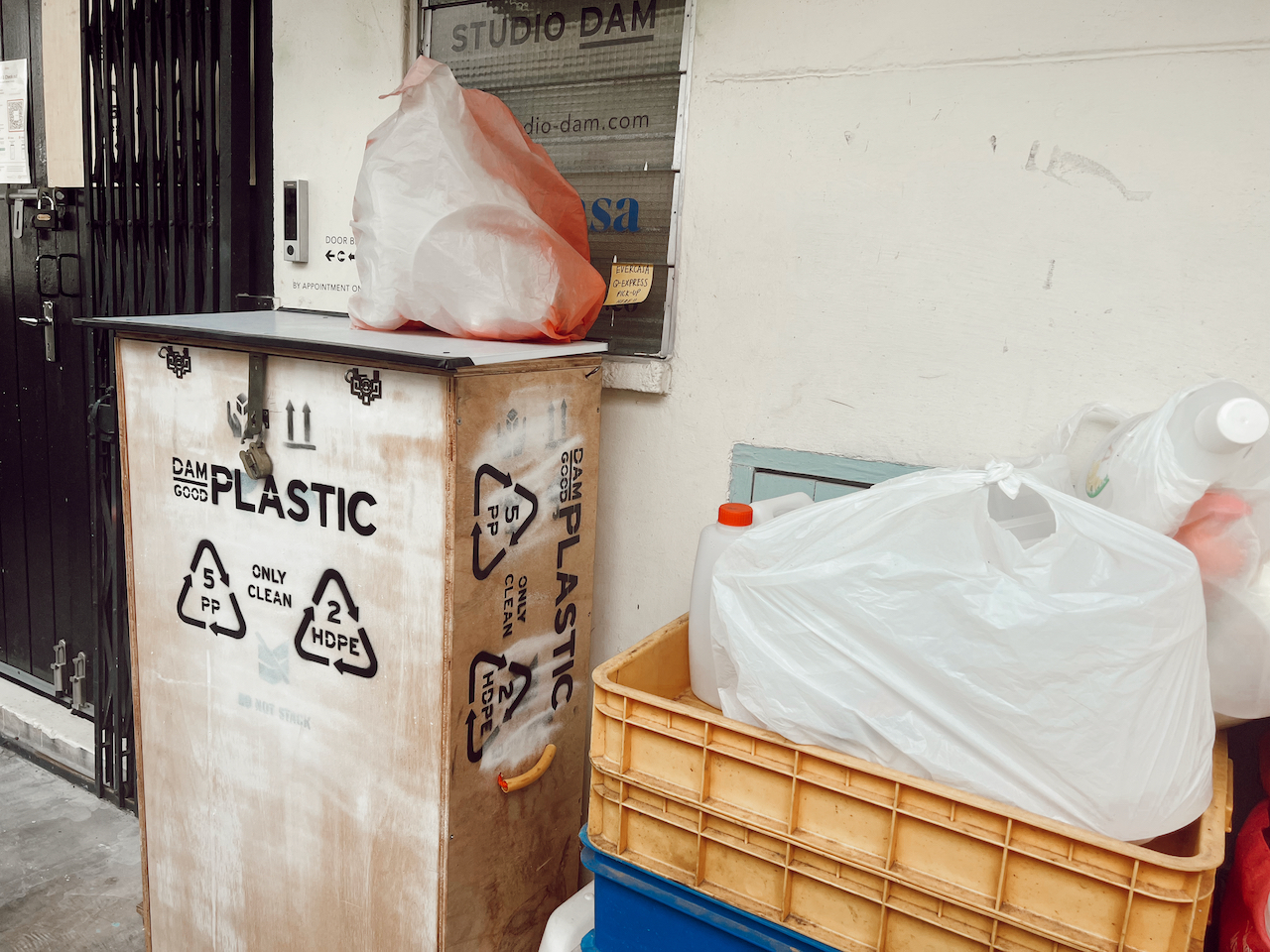 Which is the top of DAM GOOD PLASTIC's drop-off point. STUDIO DAM accepts PP (polypropylene) or HDPE (high density polyethylene) plastic items. The public can contribute their cleaned plastic here, which they will manually clean again before recycling them into different products. They hope to scale up their production and automate this cleaning process in the future, with the help of third-party innovation.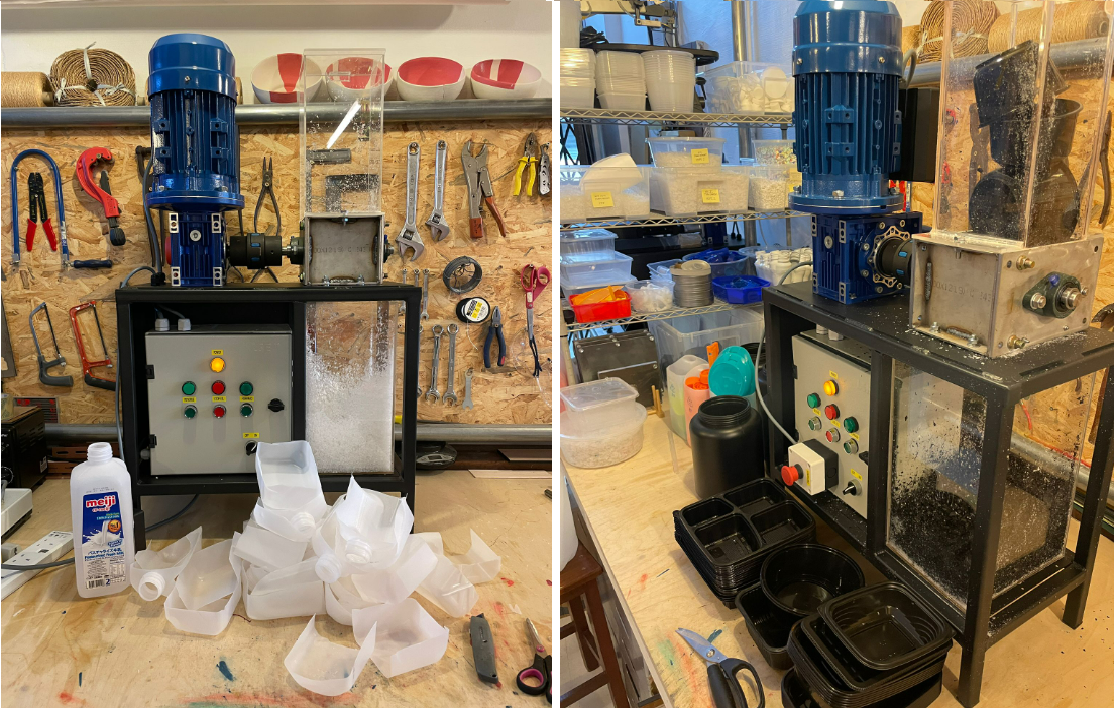 This is their essential plastic recycling machine (aka The Plastic Shredder) inside the workshop, which grinds the plastic into pieces that are small enough to be easily melted down. (Source: STUDIO DAM)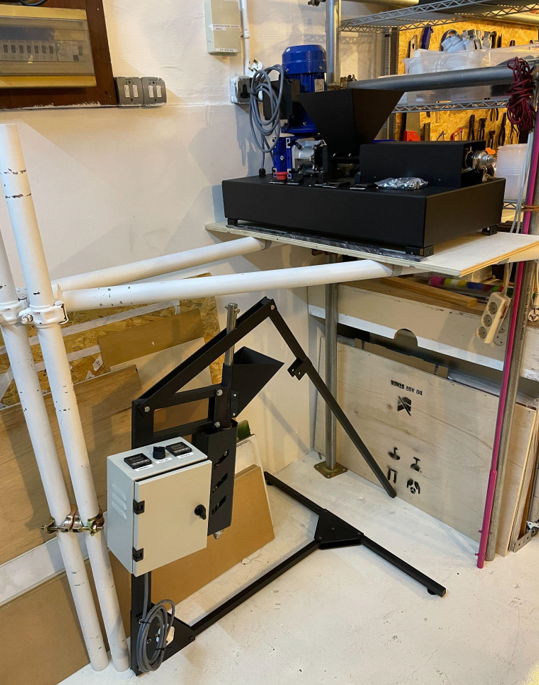 Here is a photo of the extrusion and injection molding machine. All the machines are designed by Matthijs' and Debby's former schoolmate Dave Hakkens (Precious Plastic) back in the Netherlands, who made the design for these machines open-source. (Source: STUDIO DAM)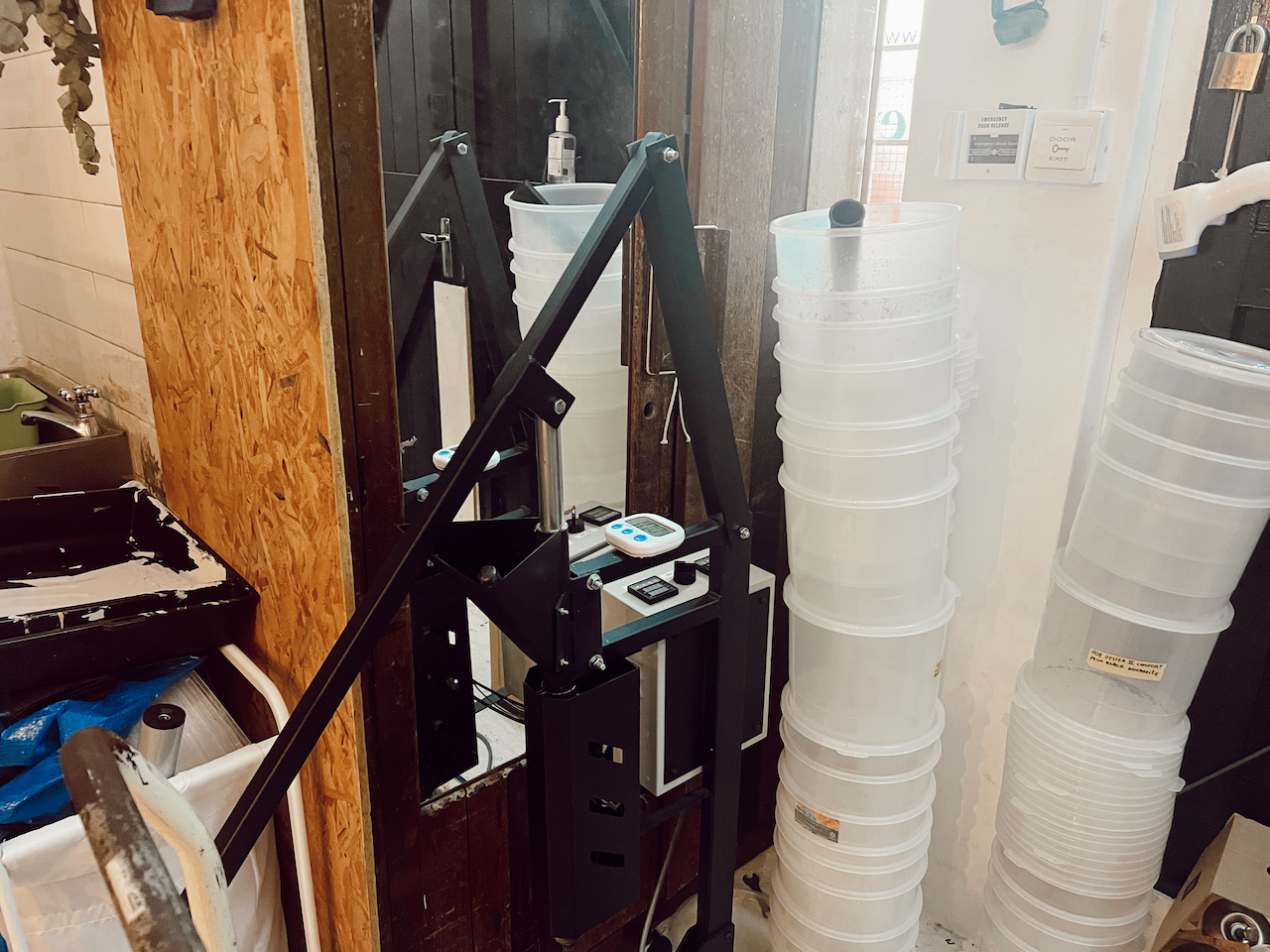 Next to the injection molding machine, you can see lots of good-quality, food-grade plastic buckets which were used to store and transport waffle batter. Matthijs gets a steady supply of these from a family member who regularly picks them up from a nearby bakery.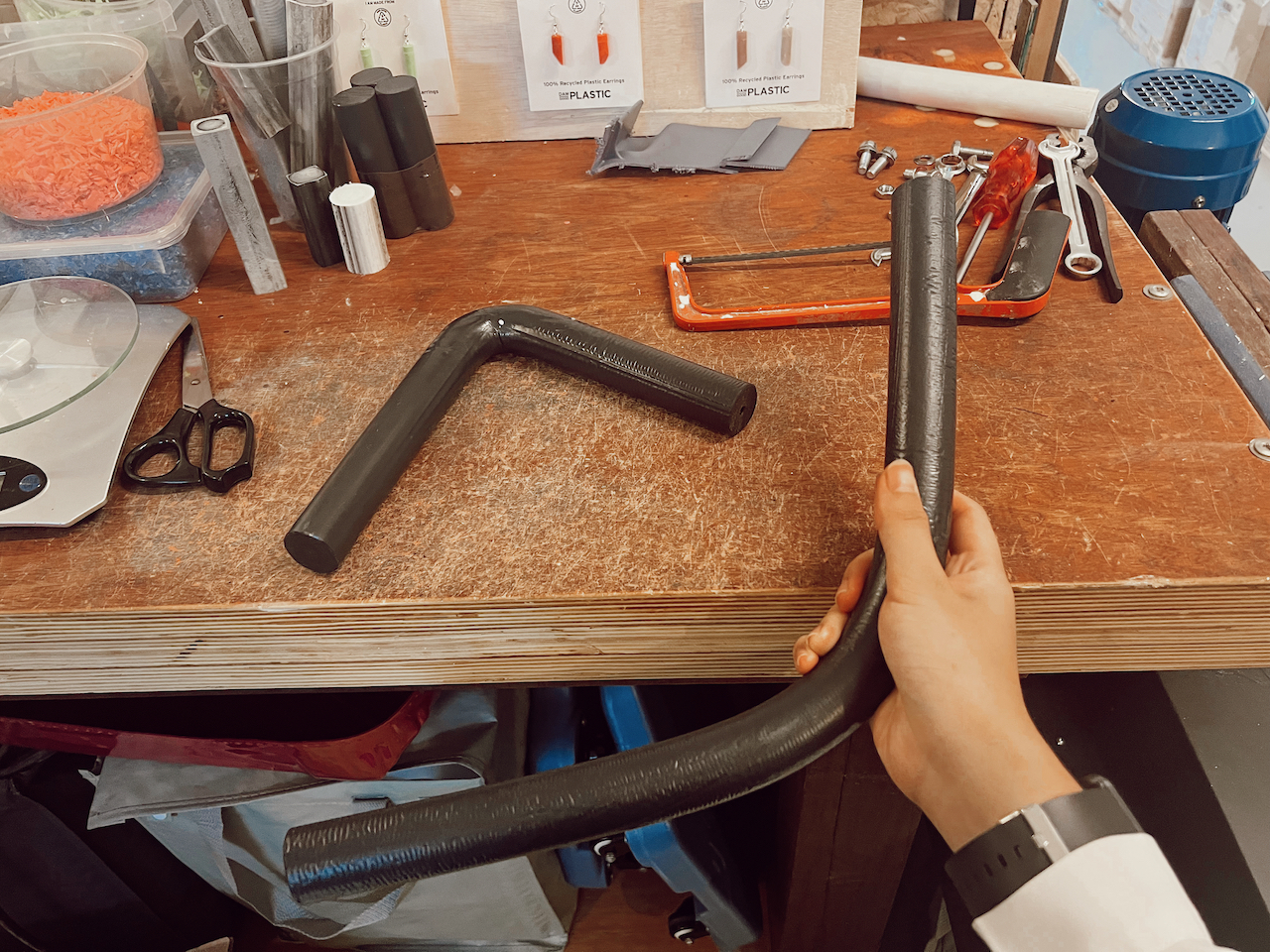 STUDIO DAM's extrusion machine can produce these super sturdy HDPE beams. These beams can be heated up, bent into angles and used as furniture parts. The base of these are made from recycled plastic Meiji milk bottles.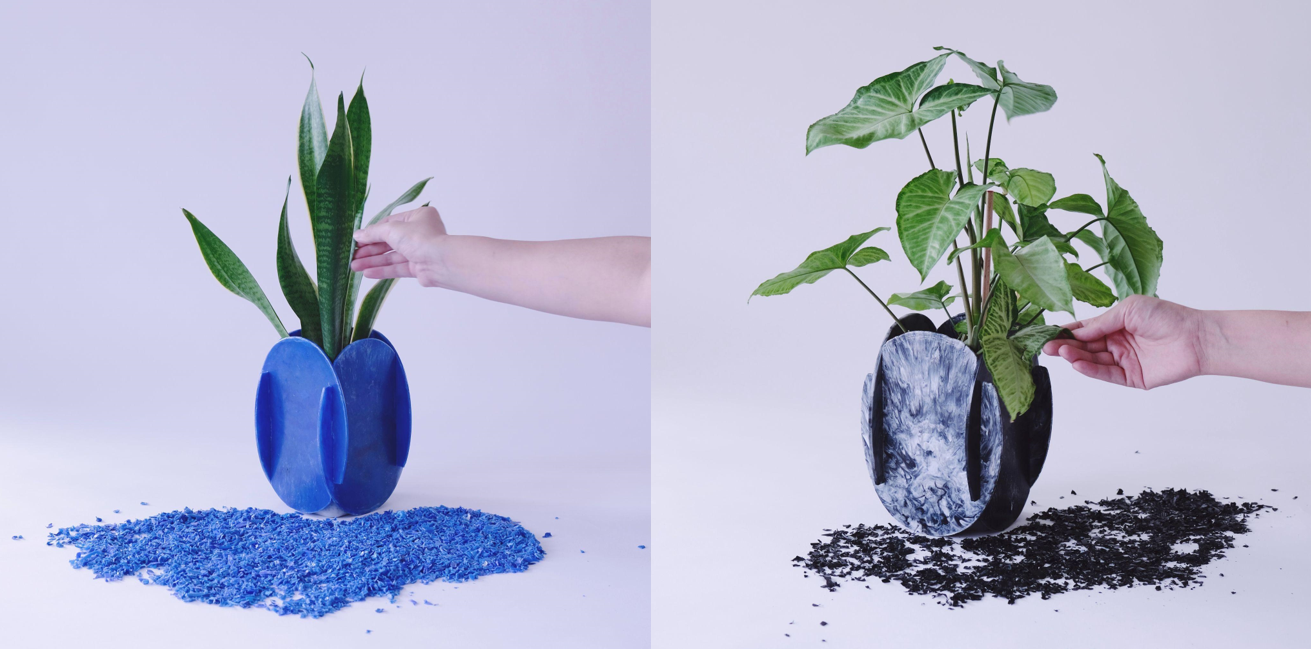 Plastic has also been recycled into unique DAM GOOD PLASTIC planters. (Source: STUDIO DAM)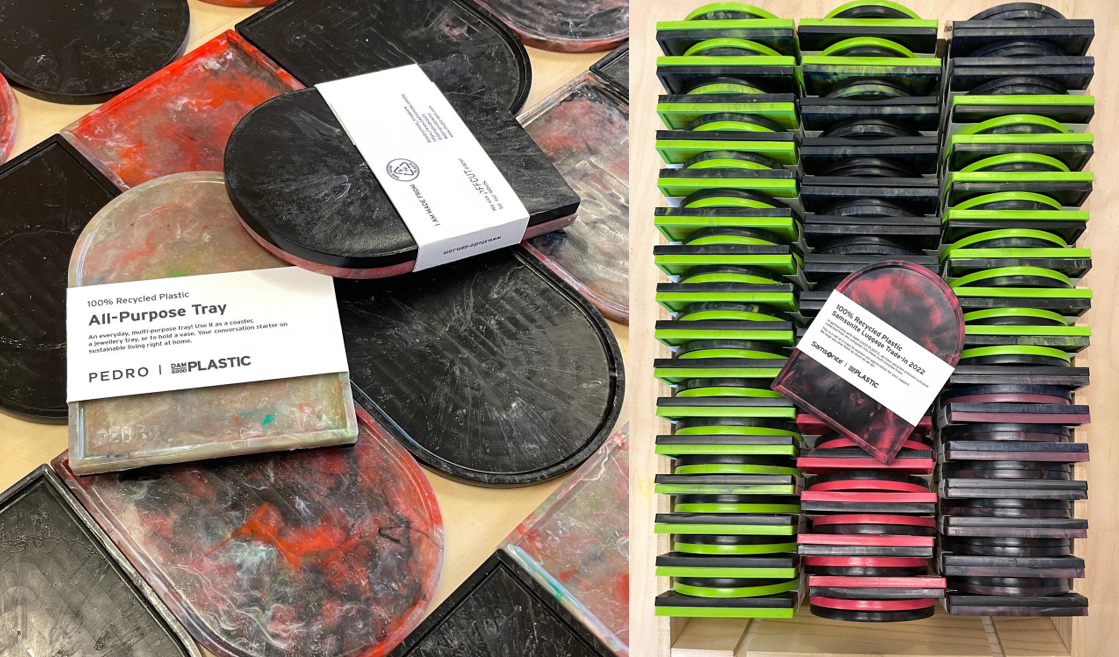 With the support of brands like SAMSONITE and PEDRO, STUDIO DAM has created other functional products – like these all-purpose trays. (Source: STUDIO DAM)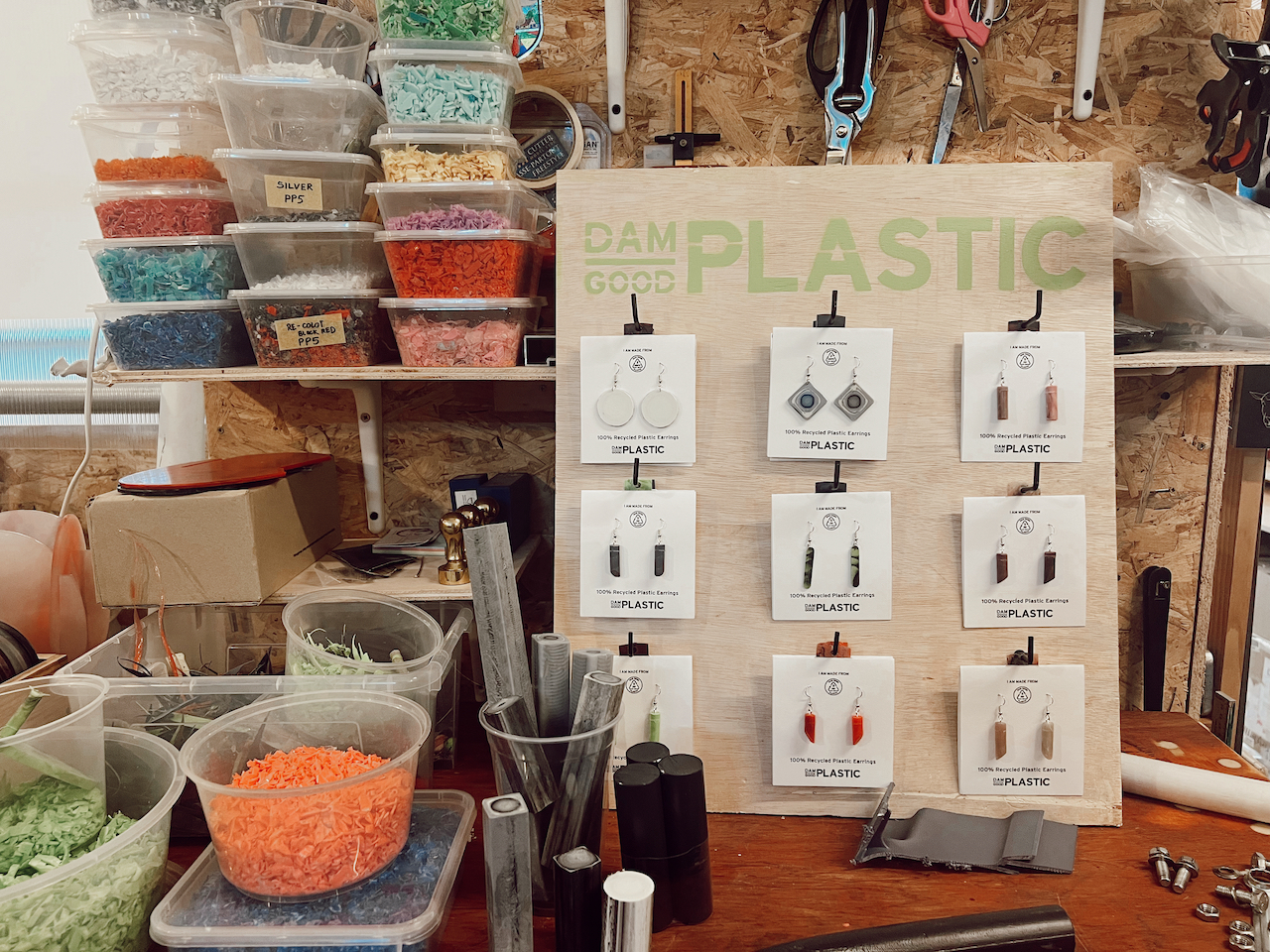 The all-purpose trays from before and these pendant earrings made from recycled plastic have been sold by STUDIO DAM at some pop-up booths, such as Sunday Social and The Bub Fair, alongside their inhouse child-centric brand evercasa products.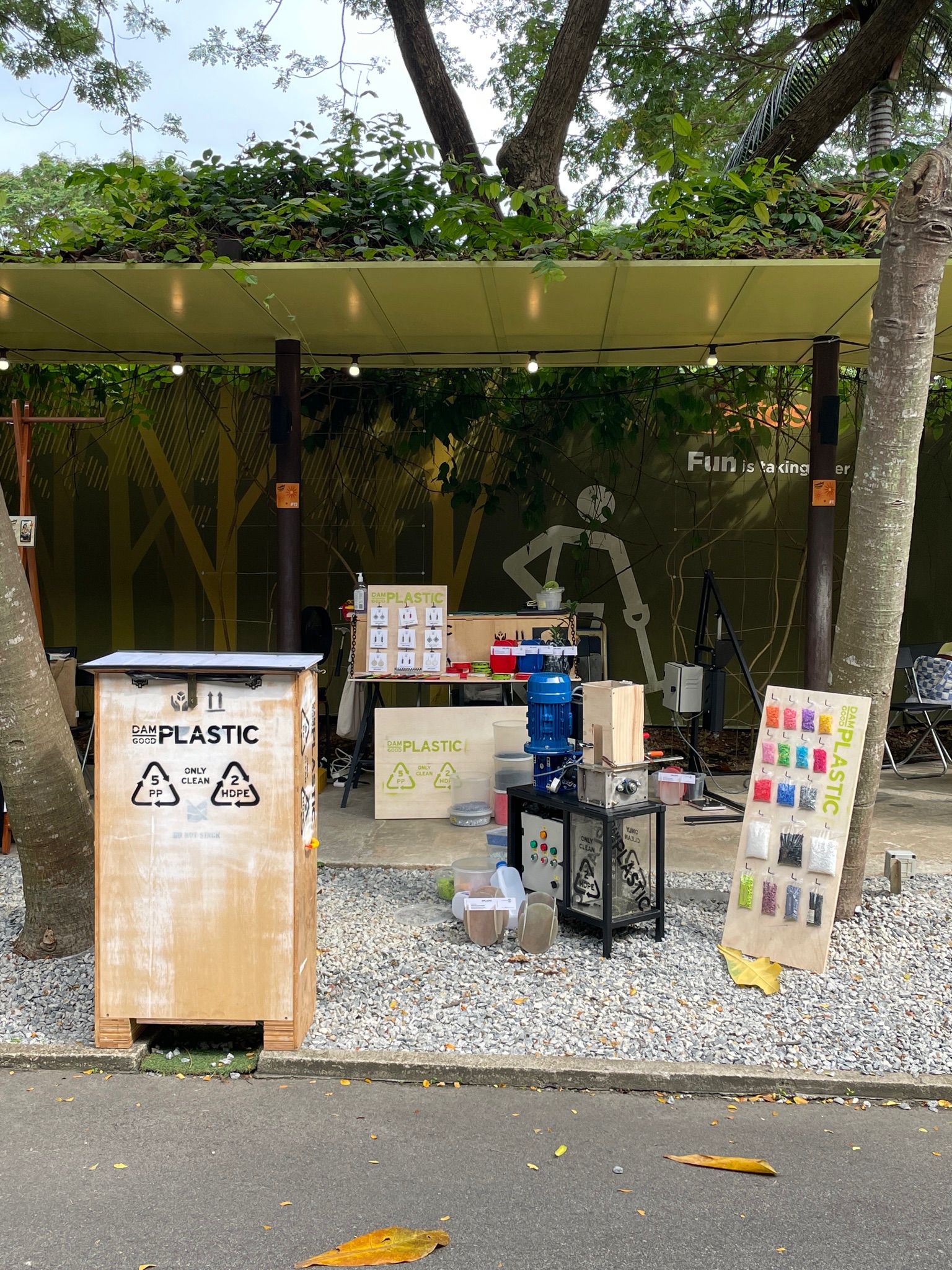 The STUDIO DAM Team always looks forward to meeting potential new clients and collaborators at such pop-up events -- they've had the opportunity to meet representatives from Coca-Cola, PEDRO and other large brands in this way. Coupled with their organic connections with other brands like Samsonite and Aesop, STUDIO DAM has been able to pave the way for more discussions about exciting sustainability-centric collaborations. (Source: STUDIO DAM)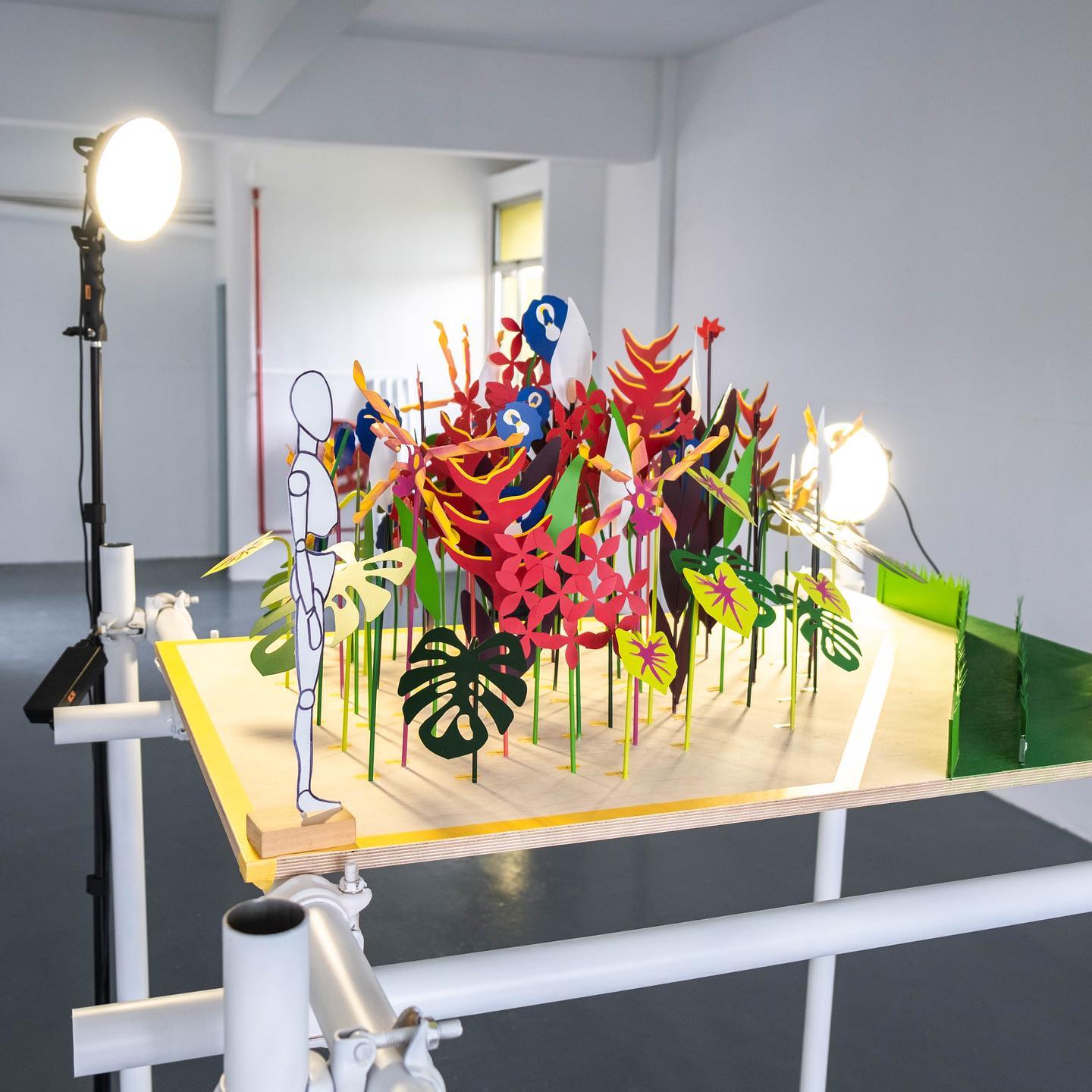 In preparation for their Health In Our Garden art installation at Tan Tock Seng Hospital (TTSH) AMK Specialist Centre and 723 Ang Mo Kio Avenue 8, commissioned by TTSH, STUDIO DAM created a sample aluminium model of the biophilic designs they wanted to create for the space. (Source: STUDIO DAM)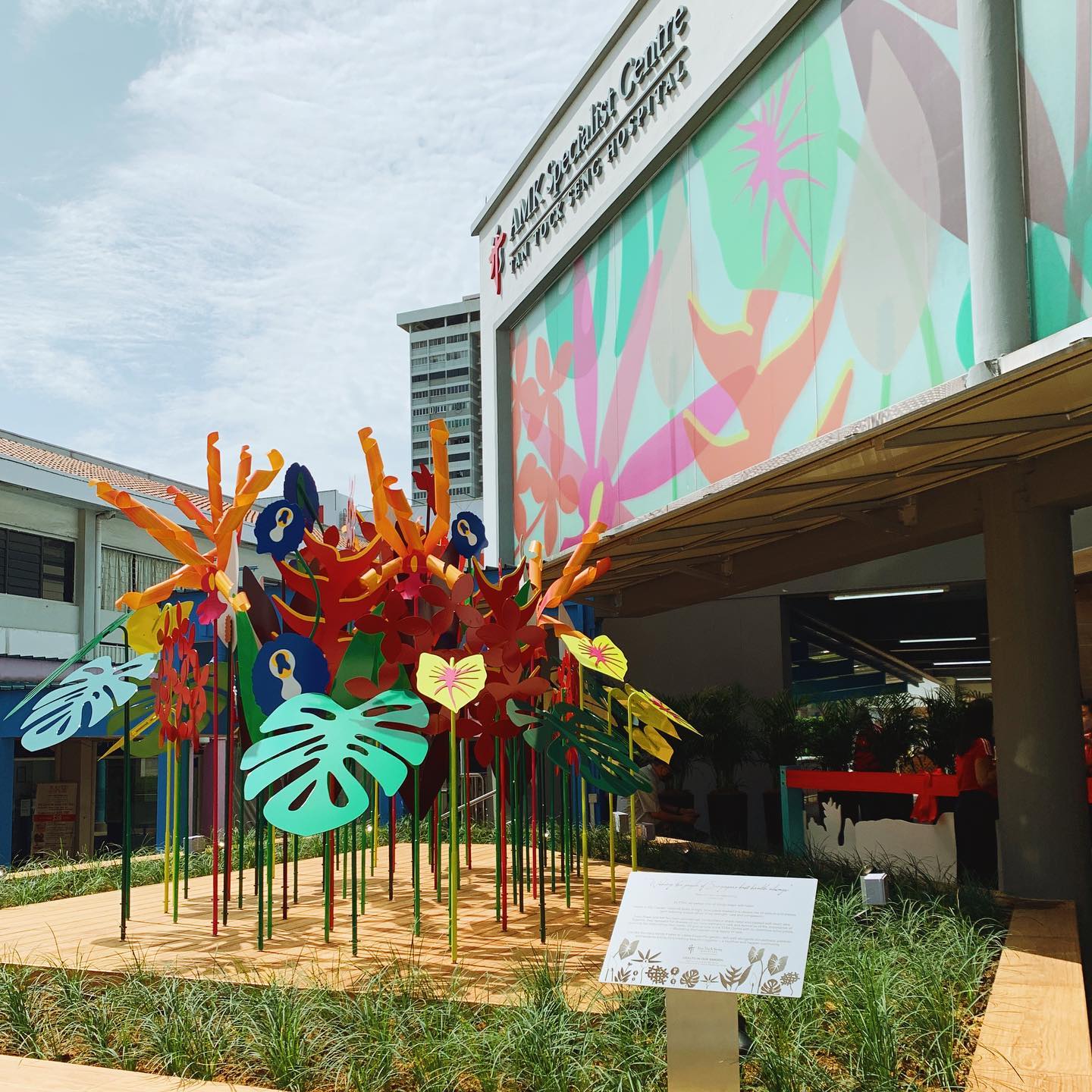 Presenting miniature models to their stakeholders and leveraging these to discuss potential changes they can make for the actual installation can enable them to save a lot of time, effort and resources for their entire project. (Source: STUDIO DAM)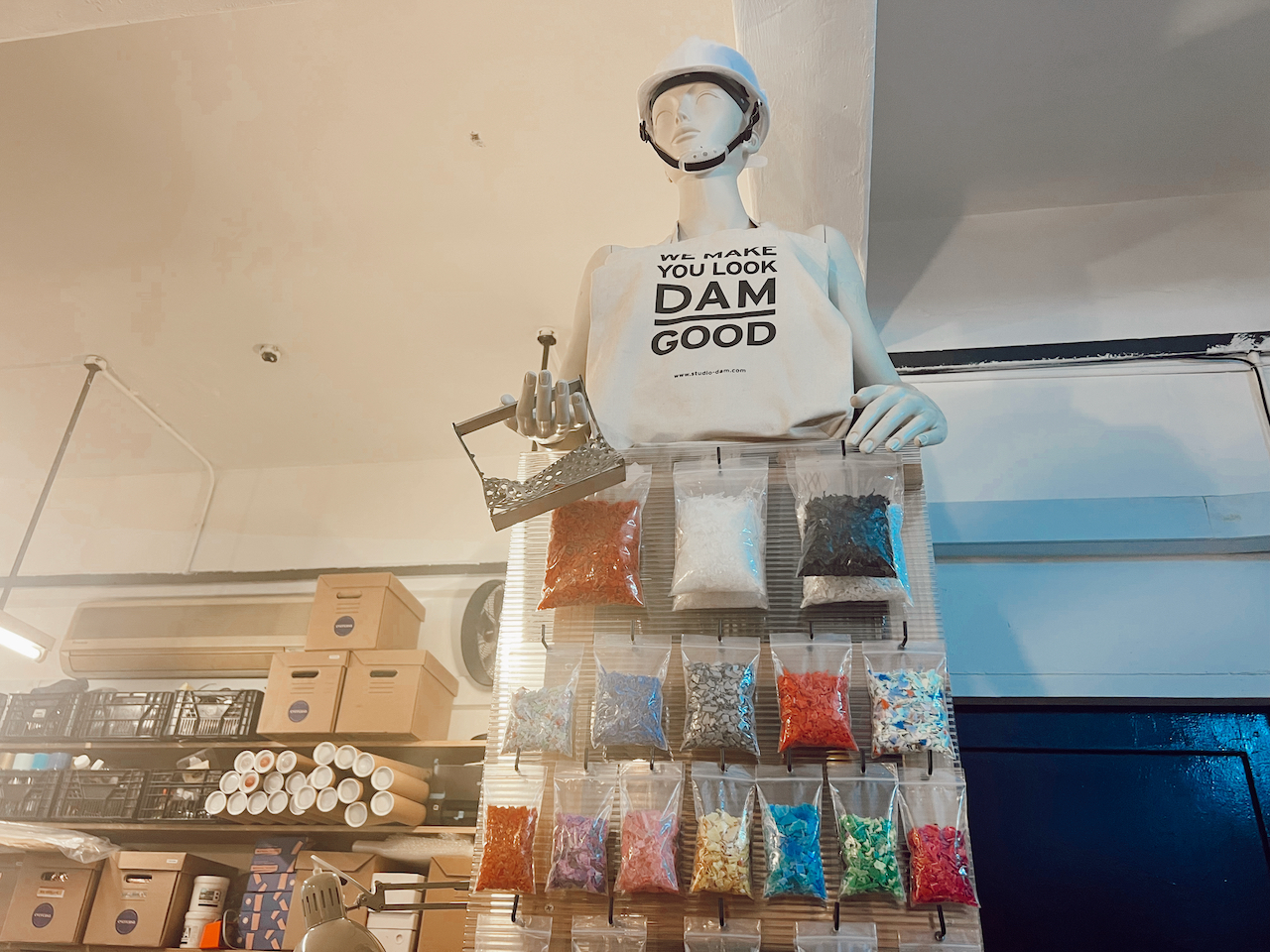 The Health In Our Garden art installation required STUDIO DAM to purchase and wear a plastic helmet during the construction phase. After that project, the helmet was crowned atop their resident workshop mannequin, which Matthhijs rescued from the lift lobby. Their helmet-equipped mannequin now introduces DAM GOOD PLASTIC's range of coloured plastic nurdles or pulp, which clients can choose from for their needs. This is how Matthhijs and STUDIO DAM try to incorporate sustainability into every nook and cranny of their design studio, with whatever resources they have.
Tackling Challenges Whilst Championing Sustainability
Whilst STUDIO DAM's sustainability initiatives are impressive for a small design studio, they have had to deal with various challenges along their sustainability journey. For instance, DAM Good Plastic is very small-scale for now as it has just started to form its roots. Though that means that the team has the capacity to do a lot of customised work for their clients, they are also limited by their manpower and resources to embark on larger projects.
It has also been a challenge for STUDIO DAM to find clients that are truly sustainability-driven or conscious. They require a lot of research and quotations in this pursuit, which translates into a lot of time (and salary for their staff's efforts) that has to be spent.
Some of STUDIO DAM's sustainability-minded clients have also been sharing their challenges with them. For instance, The Dog Grocer can no longer supply their biodegradable plastic waste to their farm partner, as the farm's customers who visited them were not comfortable seeing bits of plastic in the farm's soil. Moreover, in Singapore's context, the production and use of biodegradable plastics may also be more environmentally damaging if they are not properly composted, as they do require more environmental resources to produce. Hence, packaging in Singapore should ideally be kept to a minimum, and customers can be encouraged to bring their reusables wherever possible.
Beyond STUDIO DAM, Matthijs' and Debby's other brand evercasa has also had challenges in becoming more sustainable. evercasa was founded in Nov 2020 during the pandemic, driven by Matthijs' and Debby's personal experiences as parents. One of their products is reusable, educational stickers catered for kids. Whilst they wanted to keep their packaging to a minimum, they still require packaging for their products to be displayed and sold in conventional retail stores. Hence, they have been trying to use recyclable corrugated packaging and focussing on the aspects of their business that they have better control over.
Looking Ahead
Moving forward, STUDIO DAM is looking into scaling up their current sustainability-centric projects and exploring new materials, especially for DAM GOOD PLASTIC. More specifically, Matthijs is looking into sourcing larger machines like plastic grinders for this goal. In the meantime, Matthijs is also searching for mould makers that can offer SMEs like STUDIO DAM more affordable options for smaller scale projects.
Matthijs also looks forward to meet and network with more corporations through various platforms. He would be greatly appreciative if larger corporations with a greater influence could spread the word about small design studios like theirs who are working on sustainability, so that they can join forces and scale up the sustainability scene in Singapore together.
To fellow SMEs in the design space who are also exploring sustainability, Matthijs would like to share, "Currently, we know that it might be more expensive to produce more environmentally-friendly products, especially as they are usually produced in smaller quantities for sampling or testing. Whilst our profit margins for more sustainable products may be narrower, we need to balance it with the knowledge that we can be more responsible for the environment. Profits aren't necessarily everything -- aligning with our personal values and company values is important too. Collectively, we need to take a step forward for our global environmental situation to change!"
-----------------------------------------------------------------------------------------------------------------------------------------------------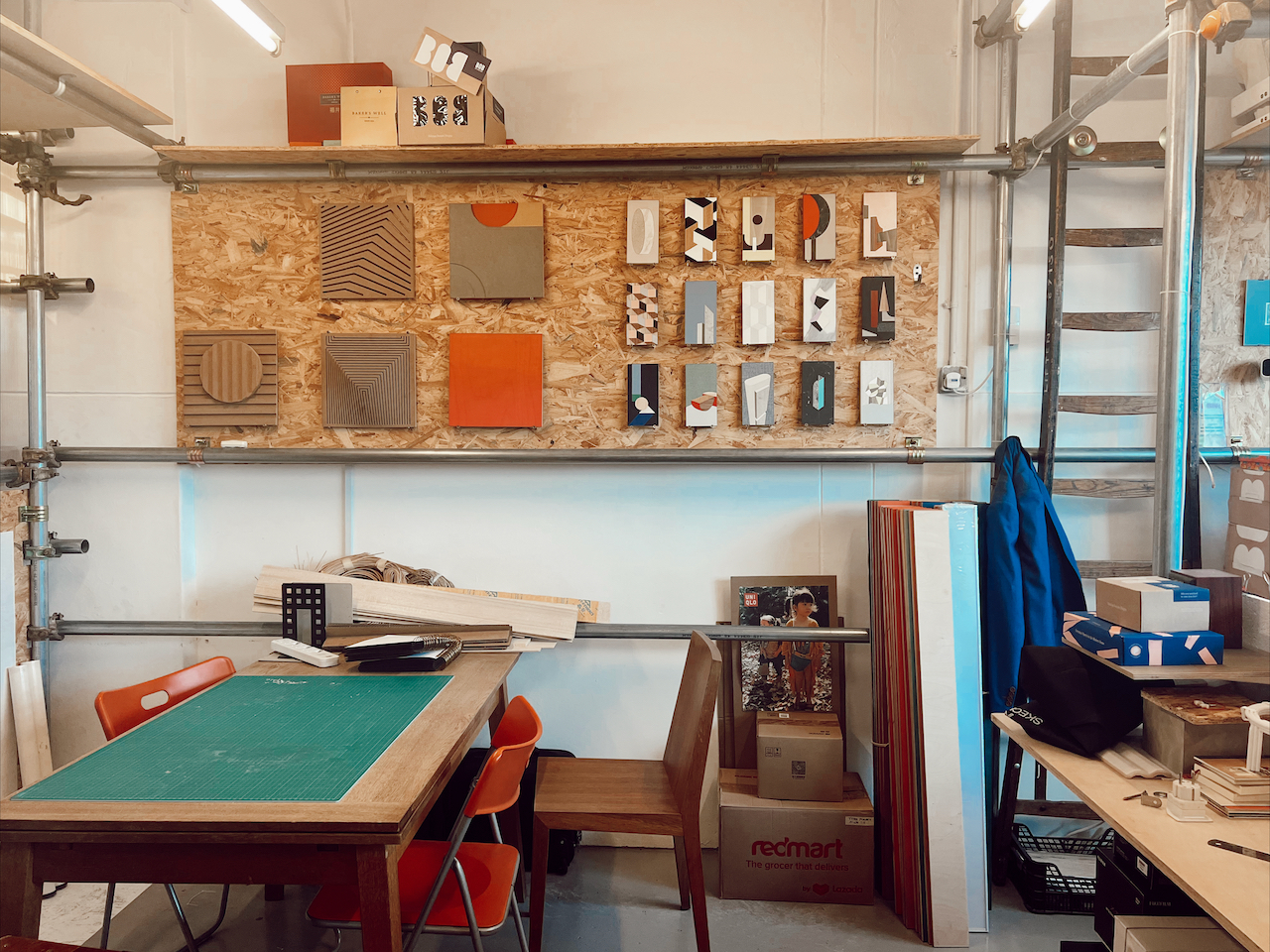 A Display of Laminate Designs in Studio DAM's Workshop
Introduction to STUDIO DAM:
STUDIO DAM is a multidisciplinary design studio founded by Debby Yu (Singapore) and Matthijs Rikken (The Netherlands). Their creative works span from visual branding projects to bespoke furniture and spatial identities. Their distinct approach to object and furniture design projects is to work intuitively with their hands and directly with materials during the conceptualizing phase. Their knowledge of different materials is what propels them to push boundaries in manufacturing processes and old-making techniques. This way of working leads to their signature style and unique outcomes.
Cluster: Design
Products:
Accessories and Decorative Items / Lighting / Living / Occasional / Soft Furnishings / Systems / Woodworking Machinery
Sustainability Themes:
Health & safety, circular economy, recycling, waste management
Environmental Initiatives:
Signed the Alliance for Action on Sustainable Spaces Low Formaldehyde Commitment Statement.
Repurposes waste for use in prototyping and model-making, and as props in photoshoots and decorations for their office and workshop.
Upcycles HDPE and PP waste plastic into planters, coasters, earrings, furniture parts and other products for brands like Samsonite, PEDRO and Aesop, as part of DAM GOOD PLASTIC.
Give educational corporate presentations or workshops about recycling and upcycling plastic to brands like PEDRO.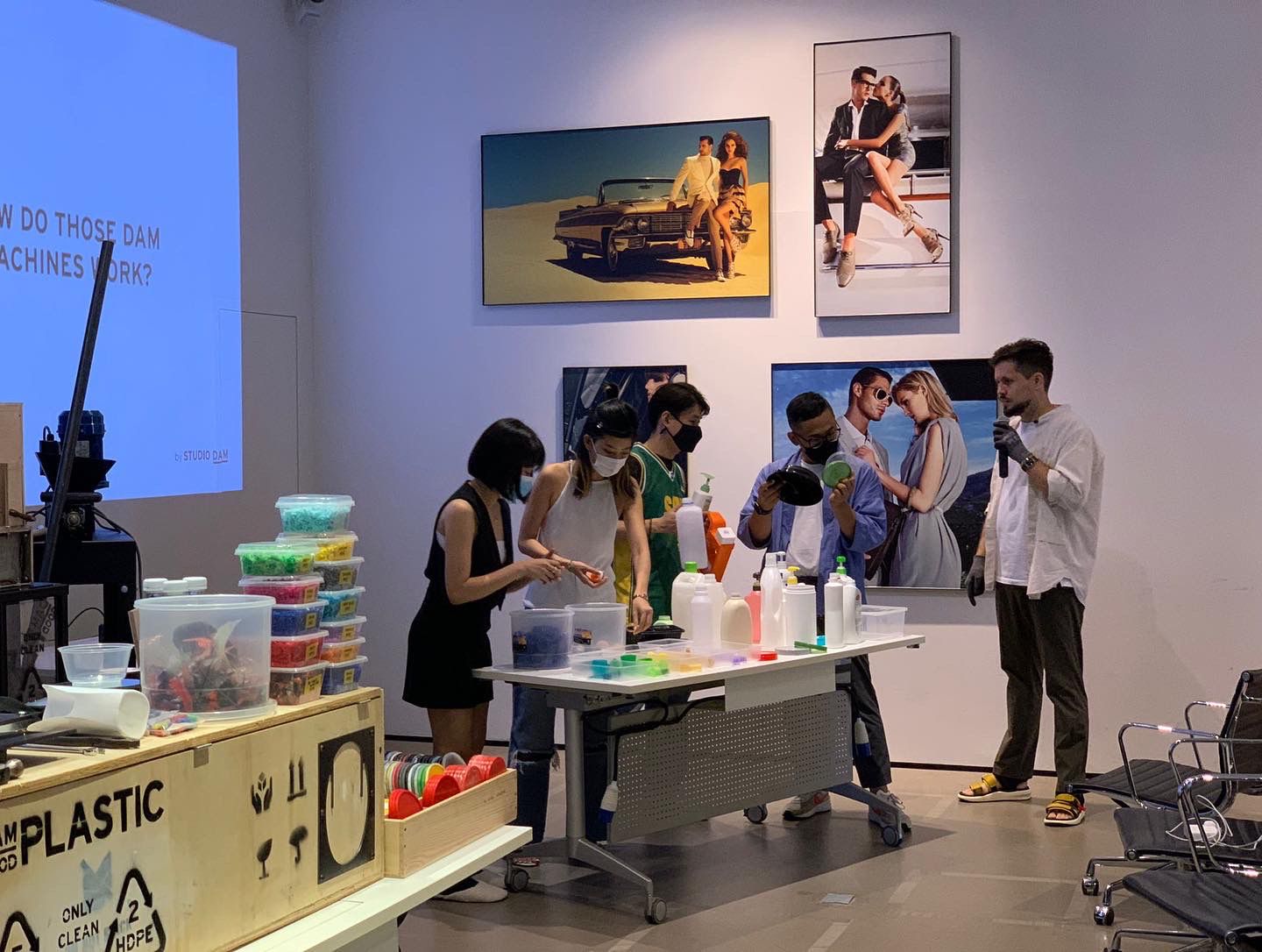 Matthijs facilitating a plastic recycling/upcycling workshop for PEDRO staff in 2022 (Source: STUDIO DAM)
-----------------------------------------------------------------------------------------------------------------------------------------------------
---